Hitting a baseball is supposedly the most difficult thing to do in sports.
And in 1931, neither Babe Ruth nor Lou Gehrig could do it against someone who threw like a girl. Seventeen-year-old Jackie Mitchell struck out both of the legendary sluggers in an exhibition game in Chattanooga, Tenn. That moment is credited as the turning point for taking women's sports seriously. Before that, women's softball games were nothing more than traveling burlesque shows, akin to foxy boxing. Games were billed as Blondes versus Brunettes and attracted only turn-of-the-century pervs. Now, though, women throw a softball underhanded at ridiculously high speeds. I still can't figure out how they do that.
In Pittsburgh, it turns out, we have a pretty good women's softball team in Oakland. The Pitt Panthers went to the Atlantic Coast Conference championship game last year, but lost to Florida State in the final. On the way, head coach Holly Aprile led her team to upset victories over Notre Dame and North Carolina — take that, traditional sports powerhouses! In 2015, Pitt compiled its best season in program history, going 37-22. Aprile begins her eighth season at the helm of this burgeoning program.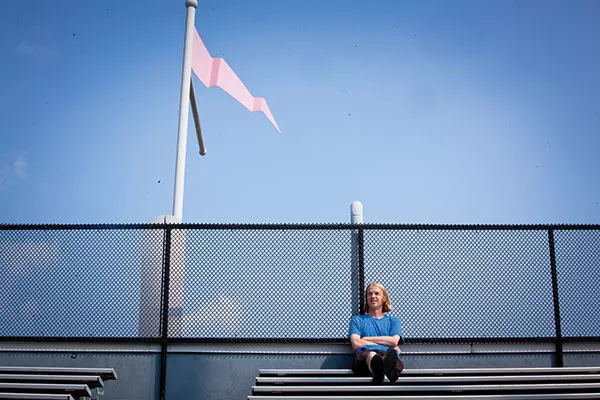 CP file photo by Heather Mull
Mike Wysocki
Softball at Pitt has been around only since 1998, so the program is barely old enough to vote or buy a scratch-off ticket. Aprile is just the second coach in team history, and this year she has eight players returning. Leading the way is second baseman Maggie Sullivan. The San Diego native batted a Tony Gwynn-like .359 last season, tops on the team. Next to her on the field is power-hitting shortstop McKayla Taylor. She's only a sophomore, but she clubbed 14 home runs last year — good enough for fifth in the ACC. Shelby Pickett would be a great first name for a first baseman, but it works well for a catcher, too. The Ohio State University transfer holds Pitt's all-time single-season records for at-bats, runs and hits in a season. Pickett is like Pete Rose minus the bad hair and gambling problem. Every good team needs a clutch player. Jenna Modic is that player. Modic hit .538 in the ACC tournament, when it counted the most. She added two jacks, and one of them was a grand slam. If that's not enough, she can pitch, too.
This team has a lot of California love: Seven players hail from the Golden State. From Oakland (Calif.) to Sactown, Pitt is where California girls come to get their softball groove on. Cali native Ashlee Sills patrols the Pitt outfield and can cover a ton of ground.
Pitt's pitching is in pretty good shape, too. The aforementioned Jenna Mordic is in the rotation, as is Kayla Harris. The Chesapeake, Va., native led the conference in saves and also won 13 games. Nine of those wins were complete games, and two were shutouts. The Pirates should consider her for the fifth spot in their rotation. Also joining the team is freshman Sarah Dawson. Last season, at her Massachusetts high school, she struck out 41 batters in 41 innings pitched. She also threw two wicked no-hitters. This team is deep and ready for another ACC run. It has been picked to finish seventh in the league, but expert predictions and a buck will get you one item at Dollar Tree.
The Panthers start the preseason traveling to tournaments in Georgia, Florida and California before the regular season starts in early March. The team plays all of its home games at Vartabedian Field, right on the campus, at the Petersen Sports Complex. For the record, Vartabedian Field is not named after Sheldon Cooper's third-story neighbor on The Big Bang Theory. But it would be cooler if it was.