Location: 1837 Washington St., Heidelberg. 412-279-7900
Hours: Tue.-Thu. 11 a.m.-11 p.m.; Fri.-Sat. 11 a.m.-midnight.; Sun. 11 a.m..-9 p.m.
Prices: Appetizers $8-14; entrees $13-34
Fare: Seafood
Atmosphere: Family dining room, writ large
Liquor: Full bar
Smoking: Designated sections
It's an irony of modern dining that, just as seafood has undergone a revival in the past decade, some of our most venerable seafood restaurants have faded away. Stalwart Poli's closed after eight decades of serving fish in Squirrel Hill, and Wright's Seafood Inn, little Heidelberg's culinary claim to fame, was flooded out after a century along Chartiers Creek. Poli's remains shuttered, but after more than a year closed and presumed gone forever, Wright's has been revived by a new family.
We never visited the original Wright's, but we overheard an older couple getting a tour of the new. Apparently the 1970s-vintage, single-story structure has been opened up inside into two dining rooms and a bar. According to an old photograph, the bar hasn't changed much, other than the addition of the inevitable TVs: There's still dark wood, a mirrored bar back and a few small tables. Another new addition is the tiny sushi bar that's been set up in a sort of enclosed arcade running across the front of the building.
Our table was in the Tap Room, the larger and somewhat less formal of the two dining rooms. It's a bit noisy, but convivial; our neighbors included families, birthday parties and young couples on dates. The White Room was more hushed when we peeked in. The menus for the two rooms overlap, with slight differences (more sandwiches in the Tap Room, for instance, and more fancy fare in the White), but the staff is happy to offer both menus in either room. Both honor Wright's history while catering to modern sensibilities. For instance, the Carpetbagger entrée pairs steak with fried oysters in a combination that brings to mind Diamond Jim Brady, while tamarind chicken would surely have stumped the original proprietors.
The sushi offerings are limited but distinctive. The Tap Room Cali is a California roll made with actual blue crab, not crabstick, and it was delicious. The crab's flavor -- salty, not merely sweet -- played much more interestingly off the creamy avocado and crisp, juicy cucumber than the traditional style. With the taste of the sushi lingering in our mouths, we were salivating for the dishes to come.
Chesapeake crab dip was creamy and rich, with welcome vegetal notes from tomatoes and celery. But unlike in the California roll, where the crab was the central attraction, in the dip the crab was hardly in evidence, with just a few shreds here and there. At least the toasted pita chips, dusted with Old Bay Seasoning, were special.
Grilled cobia was a daily special -- although, curiously, it was also on the regular menu -- and Jason was sorely tempted. But he found the frutti di mari (fruits of the sea) with lobster-brandy cream sauce irresistible. It lived up to its promise, and the hand that had been parsimonious with crab was profligate with lobster; there was as much of it as there was of shrimp or clams. With every bite richly flavored by the sauce and the angel-hair pasta properly al dente, the dish was a success. A chunk of pan-roasted cod in the midst of all the shellfish was a particular pleasure, its flaky texture just right, and its flavor subtle in a way that cod all too rarely achieves.
After flirting with lobster ravioli, a dish she can hardly ever resist, Angelique succumbed to the temptations of a recently acquired taste: scallops. An appetizer of Cajun-grilled sea scallops offered beautifully cooked shellfish, but overall, the dish was less than the sum of its parts. Cajun seasoning had been applied, but not built up, so the flavor lacked depth, and jalapeño peppers were little in evidence in the jalapeño cornbread.
Similarly, the jumbo Atlantic scallops in Angelique's entrée were plump and savory. But the garlic-herb sauce was so mild, it was barely there, and Tuscan risotto was too wet. Fried cherry tomatoes did add welcome bursts of bright, juicy flavor, however.
We loved Wright's menu -- both of them, in fact -- and enjoyed the comfortable, attractive surroundings. Service was friendly and prompt, and the food was well prepared. Yet even with so much, so good, we felt that Wright's next 100 years hold room for improvement.
JR:
AB: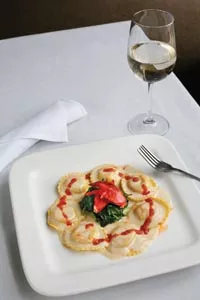 Lobster ravioli Florentine