Look out, it's winter! And it's been challenging for man and monsters alike. We've learned new words like "polar vortex" and how to rock a scarf wrapped around our heads. But there's plenty more to learn — and do — locally. Below, we've compiled a selection of local happenings through March that should provide entertainment, edification and exercise.
ART/EXHIBIT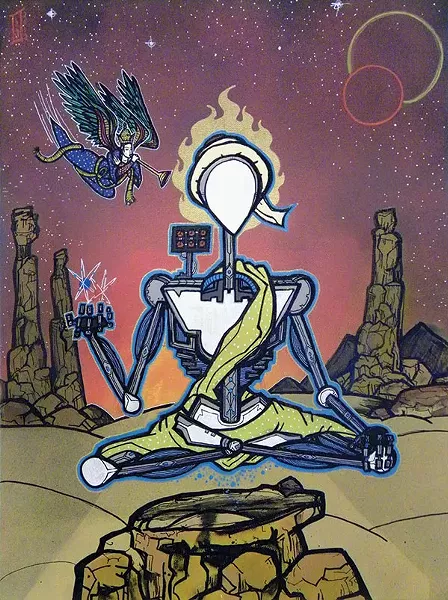 "Singularity," by Brian Gonnella, at Westmoreland Museum of American Art
The Westmoreland Museum of American Art has temporarily moved to new digs while the old space is being expanded. The museum is hosting month-long Pop-Up Exhibits throughout the winter. January features the work of Laurie Trok, with Sam Thorp and Brian Gonnella getting the space in February. Greensburg. 724-837-1500 or www.wmuseumaa.org
In Dwellings, Pittsburgh-based Ryder Henry makes little worlds from what you throw away. His intricate buildings, neighborhoods and spaceships — all constructed from cardboard and other packaging — are inspired by everything from Victoriana to futuristic fantasies. Through Jan. 25. The Gallery 4, Shadyside. 412-363-5050 or www.thegallery4.us
Check out tomorrow's future visual and literary artists at Art. Write. Now., a nationally touring exhibition that offers original work by winning 6th-through-12th -grade students from the Scholastic Art & Writing Awards. Andy Warhol was one such winner in 1945, and now this exhibit will be held in the museum named for him. Feb. 5-March 2. The Andy Warhol Museum, North Side. 412-237-8300 or www.warhol.org
One of Pittsburgh's favorite artists gets a huge solo show at Pittsburgh Center for the Arts. Robert Qualters: A Life is a retrospective of his paintings, prints and drawings, plus photos of some of his many public murals and site-specific installations. Feb. 7-April 20. Shadyside. 412-361-0873 or www.pittsburgharts.org
Contrasting styles define the new two-person show Halfway to Somewhere at Pittsburgh Glass Center. Granite Calimpong, of Seattle, and Brent Rogers, of Chicago, both did six-week PGC residencies this year. But where Calimpong's work is formally simple and clean, Rogers uses imagery, lamination and more. Feb. 7-April 20. Friendship. 412-365-2145 or www.pittsburghglasscenter.org
Toby Atticus Fraley builds robots up to 5 feet tall out of vintage Thermoses, picnic coolers and other found objects; some of them even move a little, or light up, and they're all charming. Fraley's new exhibit at SPACE Gallery, The Secret Life of Robots, imagines robot life behind the scenes, at home. Feb. 21-April 27. Downtown. 412-456-6666 or www.spacepittsburgh.org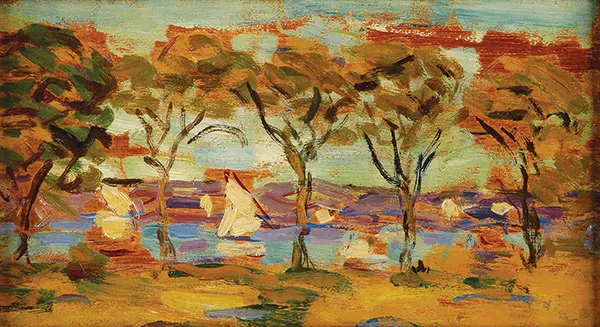 Courtesy of the Warner Foundation on display at the Westervelt Warner Museum of American Art
"Rockland Lake," by Maurice Brazil Prendergast, from Odyssey at Frick Art & Historical Center.
The works in this exhibition, An American Odyssey: The Warner Collection of American Painting, span much this nation's history — from the 18th century through the arrival of the 20th. Included are paintings from the American Impressionist movement, as well as the popular Hudson River School. Starts March 1. Frick Art & Historical Center, Point Breeze. 412-371-0600 or www.thefrickpittsburgh.org
Race is a provocative subject, and that's not a bad thing if it fosters discussion and illumination. RACE: Are We So Different? is a nationally touring exhibition that explores the experience of living with race in America, using interactive multimedia components, photographs, iconic objects and historical artifacts. Starts March 29. Carnegie Museum of Natural History, Oakland. 412-622-3131 or www.carnegiemnh.org