In 2008, Eric Shiner recalls, he was driving across Pennsylvania from New York City to Pittsburgh, where a job awaited as the
Milton Fine Curator of Art
at
The Andy Warhol Museum
. But the New Castle, Pa., native found the move at least a little ironic. He remembers thinking, "What have I done? I escaped, but now I'm heading back."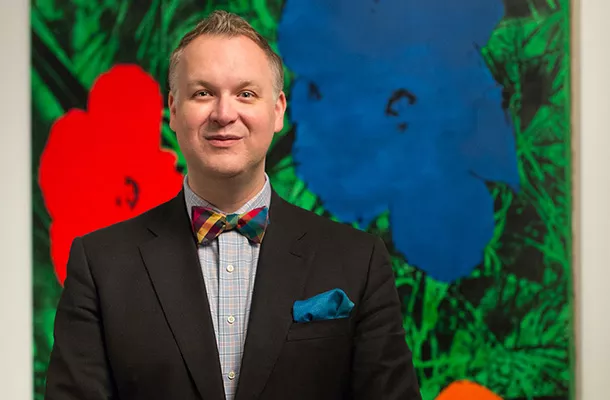 Photo courtesy of The Andy Warhol Museum
Eric Shiner
Now, after a stay in Pittsburgh that included a memorable stint as
director of The Warhol
, Shiner is reversing that journey. Yesterday, the Carnegie Museums of Pittsburgh announced that Shiner would step down Aug. 15 to take a position as senior vice president of the Division of Fine Art at legendary auction house
Sotheby's
, in New York City.
But his thoughts about first returning to Pittsburgh notwithstanding, Shiner says he never once regretted the move, and in speaking with
City Paper
this afternoon had only positive things to say about his eight years here.
Many Pittsburghers who worked with him seem to feel the same: Shiner, who
succeeded Tom Sokolowski as the museum's director in January 2011
, has been a popular and highly visible presence on the local art scene. (Highly visible partly because, at 6'5", he's hard to miss.)
"Eric will be very missed in Pittsburgh," Renee Piechocki, director of Pittsburgh's Office of Public Art, wrote
CP
in an email. "He is everything you want in a colleague: smart, genuinely friendly, able to make things happen, all with an excellent sense of humor."
Numerous local artists have flooded Facebook with testimonies to Shiner's supportiveness over the years, among them Vanessa German. The nationally exhibited artist says that Shiner was among the first people in Pittsburgh to recognize the worth of
her art
. "He always let me know he saw me," she says. Shiner even championed German's work nationally, making the nomination that ultimately led to her inclusion in the
Crystal Bridges Museum of American Art's big State of the Art exhibition
a couple years back.
Shiner, 44, grew up in New Castle and graduated from Pitt. He actually served as an intern at The Warhol in its first year of operation, 1994, before moving on to graduate studies in art history at Osaka University, in Japan. He's a scholar of contemporary Asian art.
As director of the Warhol, his signal achievements included the complete revamp of the internationally known museum's seven floors, a massive project that took nearly two years, Shiner says. New features included a series of smartly done exhibits illuminating Warhol's earliest days in Pittsburgh and his formative years as an artist. Also incorporated have been new features like the "screen-test machine" that lets visitors pose for a version of one of Warhol's famous film screen tests.
Most recently, Shiner played a key role in bringing to Pittsburgh world-renowned Chinese artist and activist Ai Weiwei for the opening of the
Andy Warhol | Ai Weiwei
, a new exhibition organized by The Warhol in partnership with the National Gallery of Victoria, and Ai Weiwei.
Asked what he's proudest of at The Warhol, Shiner said, "I'm most proud of the innovation and the huge creativity of my team."
In a statement issued yesterday by the Carnegie Museums of Pittsburgh, Shiner said, "It has been an honor to lead The Andy Warhol Museum, and I enter this new phase in my career knowing that the museum is on incredibly solid ground — strong in both financial health and in future potential."
"Eric led the museum with a true passion for the work and legacy of Andy Warhol, and a great enthusiasm for the power and reach of contemporary art," said Jo Ellen Parker, President and CEO of Carnegie Museums of Pittsburgh, in a statement.
The Warhol's managing director, Patrick Moore, will serve as interim director upon Shiner's departure. The museum plans to begin a search for a new director.
Meanwhile, Shiner's new job will involve working on private sales of contemporary art for Sotheby's, evincing the combined passion for both business and art for which Warhol himself was famous. His new employers seem enthused: Amy Cappellazzo, who manages Sotheby's fine-art division,
told the New York Times
, "There is probably not a greater Warhol expert on the planet" than Shiner.
Shiner says that, as in his current job, he'll still be interacting with art collections, art collectors and art institutions. However, "Instead of selling ideas and concepts, I'll now be selling actual objects," he tells
CP
.
Shiner reflected on how Pittsburgh has changed during his time here.
"It's so incredible to see what this city has become. It truly is a city of innovation and creativity and the world is paying attention to that," he said. And he thinks the Warhol has played its role in making Pittsburgh both a more creative and a more open-minded place.
Today, he quips, "I'm leaving the hippest city in American to go to New York!"