In 1978, the year of Beijing artist Cao Fei's birth and two years after Mao Zedong's death, China drafted a new constitution and began the transition toward a market economy. Although the country lacked skilled labor due to the disruptions of the Cultural Revolution, it arranged for more than $11 billion in foreign loans to jump-start its economic development. And, oh, how it has developed. Still, Communist Party social engineering persists, as Cao Fei demonstrates in her 20-minute color video, "Whose Utopia," part of the 2008 Carnegie International, Life on Mars.
"Whose Utopia" was filmed in the OSRAM Foshan light bulb factory in Guangdong. Cao's choice of the light-bulb industry recalls Ayn Rand's 1938 dystopic novella Anthem, in which the light bulb symbolizes illuminating individualism in the comparative darkness of a collectivist society. And perhaps surprisingly, the work was commissioned by the Siemens Art Program -- part of the same corporate conglomerate that owns OSRAM.
Cao's video begins by following light bulbs through the mechanized production process. Initially, machines take center stage and humans seem absent. Yet, contrary to the early socialist contention that machines would bring liberty and equality to mankind, machines still cannot, apparently, handle production's deadening minutiae. Laborers must insert tiny filaments, test the bulbs and pack the boxes. And once the palletized boxes stand on the loading dock, there is a pervasive sense of futility and isolation.
A separate segment of the video, titled "Factory Fairytale," envisions the silent aspirations of laborers. Dancers and musicians move unacknowledged (but fully perceived and, no doubt, quietly savored) alongside laborers bent over numbing tasks. At the end of the segment, a laborer, who lives within the factory compound, lies in a bed held together by packing tape and looks out a window over rows of warehouses. So despite their individual dreams, industry (like communal living) still dominates reality.
Even without a question mark, Cao's title is inherently confrontational: It indicates that this is neither her idea of utopia, nor that of the workers who live under it. While the movie does not offer a definitive answer, Cao's broader oeuvre (though not on view at the Carnegie) offers a more obvious indictment.
Operating under the pseudonym "China Tracy," Cao creates digitally animated films like "RMB City" (RMB being the abbreviation for Chinese currency). Here, she presents a perfectly constituted island-metropolis, where candy-striped smoke stacks suggest continuous industrial production, missiles make unremitting preemptive strikes, and ships move goods swiftly in and out of port. A giant shopping cart, filled with skyscrapers and religious monuments, floats nearby. The soundtrack has the saccharine-sweet, Nanoloop-sequenced flavor of Game Boy music.
So whose utopia is it? Cao suggests that, ironically, the People's Republic is actually the wonderland of the commercial and industrial capitalist. There, they've found inexpensive labor, minimal regulation and socially conditioned submission. And isn't that the stuff capitalist dreams are made of?
Life on Mars continues through Jan. 11. Carnegie Museum of Art, 4400 Forbes Ave., Oakland. 412-622-3131 or www.cmoa.org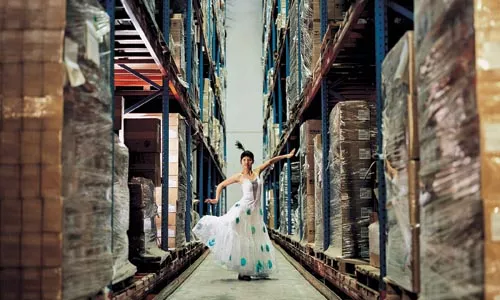 Photo courtesy of the artist and Lombard-Freid Projects, New York.
Eastern promises: Cao Fei's "My Future is Not a Dream," a production still from her video "Whose Utopia."