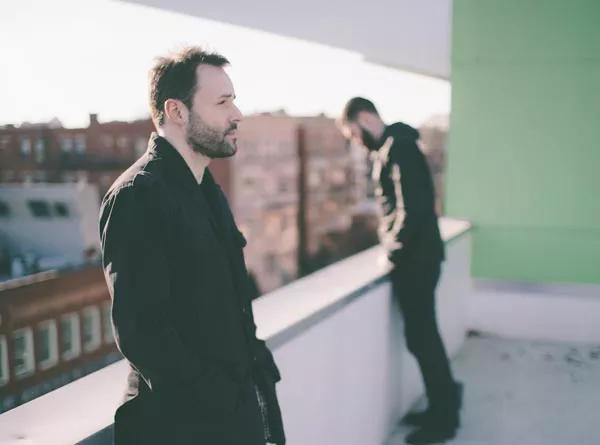 Photo courtesy of Nicole Jarock
Paul Fleetwood (foreground) and Aaron Clark are two of many Pittsburgh-affiliated musicians playing this year's VIA Festival
Now in its fifth year, the VIA Music & New Media Festival has grown into an internationally recognized event and creative collective. This year, the innovative music and arts festival joined forces with the International Cities of Advanced Sound, putting Pittsburgh on a map that includes events like Montréal's Mutek, Seattle's Decibel and Manchester's Future Everything Festival, among others. Not only has the group behind VIA had the honor of learning from some of the world's top names in about curating music experience, but it has expanded to encompass two cities, with festival events happening concurrently in Chicago this year for the first time.
Throughout its history, VIA has altered the faces of Pittsburgh's music and arts scenes. The lineup still offers an array of cutting-edge talent that might be mysterious to some (though it's expanded to include everything from hip hop to hardcore to indie rock), the crew's core principles of enhancing the local community has remained intact. This year particularly, VIA joins forces with nearly every prominent local promoter. Some have even ended up on the lineup themselves.
One such promoter-artist, Mr. Owl, got involved by way of a showcase he's hosting Fri., Oct. 3. "I had the night anyway" for a monthly hip-hop event called Enforcery, he explains, "and I was starting to ramp up — I got somebody coming in from Austin, Texas, and somebody coming in from New York City. And I was flying them in, so it was like a big to-do.
"And [I heard] that it was the same night as the Lawrenceville art crawl of VIA. So I hit [the organizers] up and was like, 'Hey guys, this is what I'm doing, do you want to be cooperative about it?' And they said, 'Hell yes, that sounds awesome.' It was a really nice surprise that they said yes."
While partnerships like the one with Mr. Owl were always part of VIA's goals, the number of these local connections seems to have ramped up considerably for 2014. Being included this year in ICAS has raised VIA's profile both globally and locally. VIA's left-of-center bookings has had an effect on Pittsburgh's own talent.
"For me, VIA is kind of an excuse to be weirder than you can be at an average party," says Mr. Owl. "That's what I would really emphasize. [It's] kind of like a platform for more intellectually challenging music than what you can get here in Pittsburgh on an average weekend. And my bread-and-butter is experimental hip-hop-instrumentals-meets-weird-electronics. So VIA is like an annual influx of all of the nerd shit that I love."
Paul Fleetwood, a native Pittsburgher, also joins the VIA lineup as an artist for the first time this year after moving to Denver a year ago to lend his efforts to the Great American Techno Festival. Fleetwood was not only instrumental in the genesis of VIA, but also co-founded the Pittsburgh techno collective Humanaut, as well as the wildly popular after-hours party, Hot Mass, along with fellow VIA artist Aaron Clark.
"My music-scene experience in Pittsburgh has primarily been in the electronic partition, and I really [didn't notice] until after VIA occurred how sharp that partition was," Fleetwood explains via email. "VIA has made a direct impact in bridging multiple musical cliques and scenes in Pittsburgh.
"Right now there is an unprecedented level of balance and unity in Pittsburgh's art and music scenes, since I have been involved. This is significant progress. It would be unfair not to mention VIA as being a direct contribution to this."
The Hot Mass after-party that Fleetwood and Clark initially founded will be playing an important role in this year's VIA fest. Both DJs are slotted to play the VIA edition of Hot Mass, on Friday during the week of the fest. Clark will also be playing the Honcho event at VIA on Saturday — a gay-centric party that he runs along with DJs Clark Price and Edgar Um, who is also part of the VIA collective along with Aaron Clark. Clearly, it's a family affair.
Hot Mass has had a similar ethos to VIA as different promoters each curate a Saturday night throughout the year. While it's famous for being a site for late-night antics as chronicled earlier this year in a Vice article titled "The Secret Techno Sex Parties of Pittsburgh," the party has also offered some of the most forward-thinking club music that Pittsburgh has seen to date. There's no doubt that VIA's sense of community factored into the ideals of Hot Mass.
When asked if he thinks VIA has altered the course of the music scene here, VIA artist and Hot Mass regular Chase Smith said he believes it has.
While a local addition to the VIA lineup — he joins Fleetwood for the Friday-night afterparty, which also features Kentucky-based electronic producer Ellie Herring — Smith has also garnered notoriety abroad for his productions. Having had tracks charted by London-based techno luminary Erol Alkan and been invited to play parties across Europe as well as in New York City, Smith brings a unique perspective to the scene.
"I think it has [changed]. Like everybody says, it's a pretty small city, so if you go to Hot Mass or something, you will never hear a night of just one style of techno," Smith explains. "It will always be sort of across the board. I feel like that's a trait of people who make music here. Even [longtime local electronic musician Shawn Rudiman] who has such a distinctive style, he still makes a wide range of techno music."
---
VIA Highlights
---
The VIA Festival once again mixes top-level musical talent, multimedia arts and educational events in its program this year. For a full list of events and performers, visit www.via2014.com; here are some highlights:
Wed., Oct. 1: Dan'l Boon and Mark McGuire at The Shop, 4314 Penn Ave., Bloomfield. Real Estate at Altar Bar, 1620 Penn Ave., Strip District. MikeQ, Normaling, Badboxes at Cattivo, 146 44th St., Lawrenceville.
Thu., Oct. 2: Deafheaven, Liturgy, Slices at Rex Theater, 1602 E. Carson St., South Side.
Fri., Oct. 3: All-day music conference featuring free discussions and workshops, including Ableton demos, at Studio for Creative Inquiry, Carnegie Mellon University. Code Orange album-release show at Cattivo. Osunlade at Round Corner Cantina, 3720 Butler St., Lawrenceville. Bee vs. Moth, Jeremy Bible at Thunderbird Café, 4023 Butler St., Lawrenceville. Prof. Logik, Man of the Down at Belvedere's, 4016 Butler St., Lawrenceville. Hot Mass at Club Pittsburgh, 1139 Penn Ave., Strip District.
Sat., Oct. 4: Zebra Katz, Blue Hawaii, L-Vis 1990, Traxman, Cakes da Killa, Cities Aviv, Diode Milliampere, Troxum at Union Trust Building, 501 Grant St., Downtown. Little People, Yppa, Headphone Activist at Rex Theater. Honcho presents JD Samson at Club Pittsburgh.
Sun., Oct. 5: Steve Gunn, Circuit Des Yeux, Mary Lattimore/Jeff Zeigler Duo at Thunderbird Café.
More on the art and film elements of VIA in Short List and Last Page.