What is real and what is fake? That question looms (literally) large in Ai Weiwei: Circle of Animals/Zodiac Heads, at the Carnegie Museum of Art. On display in the Hall of Architecture, 12 sculptures representing the heads of the traditional Chinese zodiac — Rat, Ox, Tiger, Rabbit, Dragon, Snake, Horse, Goat, Monkey, Rooster, Dog and Pig — stand in a circle. On stands over 10 feet tall, and each weighing approximately 2,000 pounds, the bronze figures are reproductions of characters that once adorned the fountain-clock of the Yuanming Yuan, or The Garden of Perfect Brightness, an early 18th-century retreat made for the Qing emperors.
Now an extensive public park and one of China's most iconic monuments and tourist destinations, Yuanming Yuan has great cultural and political significance because it was destroyed and plundered in 1860 by French and British soldiers during the Second Opium War. Although it was originally made for the exclusive use of the imperial family, this historical site holds cultural significance in China, as a "national ruin" and a touchstone for discourses surrounding heritage, preservation and national identity.
The looting of cultural treasures is a contentious issue worldwide. Ethical standards are supposed to dictate museum collections, but the repatriation of objects is not always a straightforward process. There are questions of ownership, acquisition, provenance, legality and care of objects. Even if something was acquired legally, does it ultimately belong to its country of origin?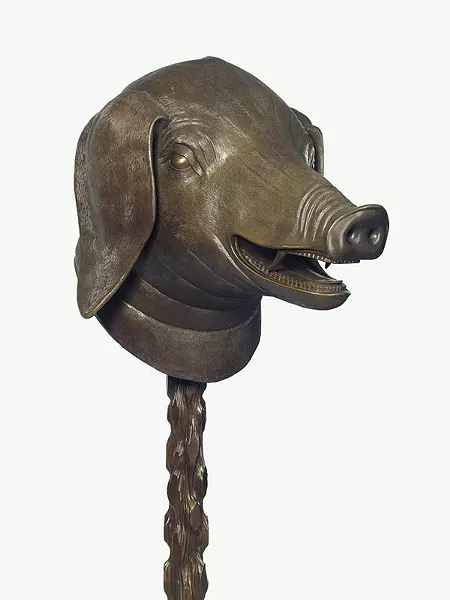 Image courtesy of Ai Weiwei; photo by Tim Nighswander
Ai Weiwei's Circle of Animals/Zodiac Heads (detail, pig)
According to a video that accompanies Circle of Animals/Zodiac Heads, Chinese antiquities that go to auction are the cause of much consternation in China, but the original zodiac was most likely designed by an Italian. By creating a replica, Ai questions purity, authenticity, mass production and kitsch. Like many of Ai's pieces, it is a commentary on lost cultural heritage at the hands of foreigners, but also internally, during the Cultural Revolution.
In the West, we are most familiar with the Chinese zodiac as kitsch, often reading our personality qualities on our restaurant placemats. But set amidst the plaster-cast reproductions of iconic Western facades and fragments from antiquity to the Renaissance in the Carnegie's Hall of Architecture, the zodiac adds an intriguing layer of complexity. The casts themselves verge on kitsch, and yet when Andrew Carnegie gave them to the museum it was so that people who did not have the means to travel could see these ancient things for themselves. These fakes are also a reminder of the hierarchies of art history, which, until recently, favored Western cultural production over all others.
Similar issues are addressed in Andy Warhol/Ai Weiwei, a partner exhibition at The Andy Warhol Museum. On the seventh floor is a neolithic pot emblazoned with a Coca-Cola logo and, on the floor below, a group of Han dynasty pots painted over in vibrant colors. Ai acquired these antiquities and then altered them. Here, too, he questions authenticity, authorship, cultural heritage and ownership. By using pre-existing objects, Ai pays tribute to Duchamp's readymades. And by employing antiquities, the dissident artist further critiques the cultural and historical rupture caused by an authoritarian state that limits freedom of expression and sanctions only certain types of art.
In a video on the sixth floor, Ai smashes a Han dynasty vase in a notorious gesture that speaks to his role as an iconoclast but also to his feelings about politics and history. The Han dynasty lasted four centuries and was considered the golden age of Chinese arts, politics and technology. It was contemporaneous to the Roman Empire. With this violent action, Ai breaks with artistic tradition but also provokes questions about the value of traditional Chinese arts and the role of the craftsmanship in an age of mass production and commodification.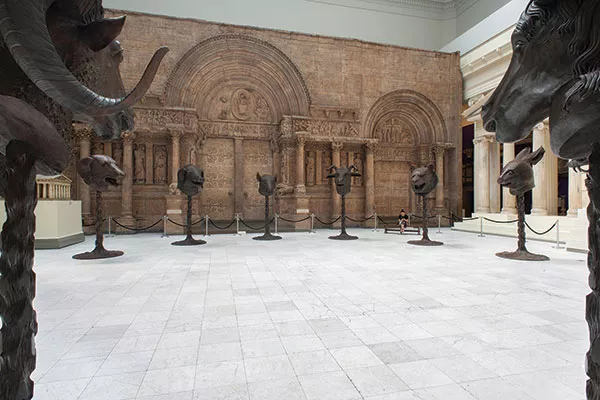 Photo courtesy of Bryan Conley, Carnegie Museum of Art
Ai Weiwei's Circle of Animals/Zodiac Heads
As a much more overtly political artist, Ai's work is more critical of capitalism, whereas Warhol was clearly fascinated by it. Surrounding the "Neolithic Pottery with Coca-Cola Logo" are examples of Warhol's earliest paintings, in which he began to use comics, ads, brands and icons. There are images of Coke, Campbell's, S&H stamps and the American flag. A Warhol quote here gives insight into why it was a compelling subject for him. He explains that no matter whether you are rich or poor in America, a Coke is a Coke and "no amount of money can get you a better Coke."
It is these types of shared interests, styles and experimentations that form the foundation of the exhibition, which is broken up into themes or "dialogues." For the most part, it is striking to see the similarities. But ultimately Warhol and Ai are very different artists, and some of the groupings are more successful than others.
On the sixth floor is a dynamic pairing of Warhol's early silkscreen print "Elvis 11 Times" and a triptych based on photos of Ai dropping the Han dynasty vase, here interpreted in black, white and grey Legos, Ai having updated the series of photographs from 1995 to reflect the pixilated look of digital technologies. This is significant because digital media has been a crucial aspect of Ai's work and political activism. In 2009, his blog of five years was shut down due to his criticism of Chinese government policies. Ai has, nonetheless, continued his commentaries through Twitter and Instagram. It is interesting to note that Lego refused a bulk order for his show at the National Gallery of Victoria, a partner with The Warhol in developing this exhibition, stating that it could not approve the use of its product for political art.
Ai's use of media to chronicle his life and work is very much like Warhol's, albeit with slightly different tools. This shared proclivity for documentation is spectacularly displayed through countless photographs and films.
Ai lived in New York in the 1980s and early '90s, and though he did catch a glimpse of Warhol, they were living in quite different circles. While Warhol was focused on celebrity and socialites, Ai was documenting his ex-pat friends as well as protests and demonstrations in places like Washington Square Park and Tompkins Square Park. But like Warhol, he photographed street scenes and interiors and intimate moments, perhaps laying the groundwork for his future agility with social media.
Both savvy and prescient, Warhol and Ai share an uncanny ability to both absorb and create culture. Warhol responded to modernity and the American century, while Ai addressed an authoritarian government and the ascendance of China and globalism post-Cultural Revolution. While Warhol's politics were rarely overt, Ai's dissidence is inseparable from his art and his persona. Yet these two artists, through their creativity and experimentation, were and are cultural arbiters and keen observers of everyday life.