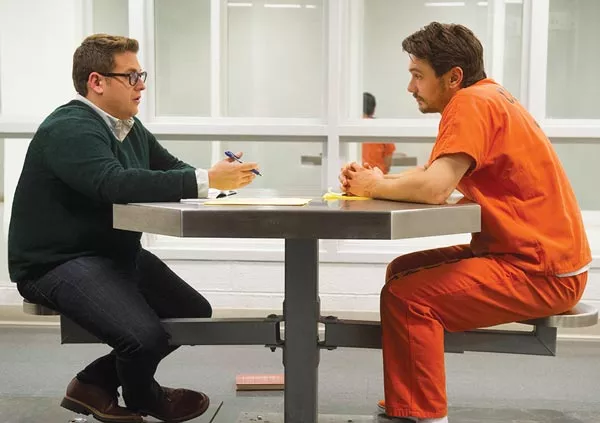 Truth can be stranger than fiction, but beyond that accepted assertion, the distinctions between fact and fiction can be slippery. Rupert Goold's drama is adapted from Michael Finkel's eponymous account of his bizarre encounter with various truths. In 2001, Finkel (portrayed by Jonah Hill) was fired from his writing job at The New York Times, after he admitted fabricating parts of a news story about child slavery. Soon after, he learned that a man named Christian Longo (James Franco) was in an Oregon jail, accused of murdering his wife and three young children. Longo was denying those charges, but freely admitted to posing as "Michael Finkel, New York Times reporter," while previously on the run in Mexico.
Finkel hopes to interview Longo about the case for a comeback article, and Longo wants to tell his story, so the two set up partnership of sorts. Each is using the other to bolster their "true presentations" — intrepid reporter, bereaved family man — of themselves. But it fast becomes a slippery slope, where Finkel (and the viewers) find the truth elusive.
It's a fascinating true psychodrama of two men whose lives intersect (ironically, if this were the set-up for a fictional story, it would smack of contrivance), plus a decent crime-and-courtroom procedural. Both Hill and Franco play it straight, and Franco's brand of serious-not-serious acting serves him well as the man to whom "truth" is simply a tool.