Some people are late bloomers; most are (by definition) average. And then there are people like Troy "Trombone Shorty" Andrews. Instead of eating crayons, at 3, Andrews was putting a trumpet to his lips; by 6, he was leading a band. That early start no doubt led to where he is now: A 24-year-old trumpeter, trombonist and singer with a No. 1 contemporary-jazz album and a fire-breathing live band.
But some educational opportunities helped -- including school at the New Orleans Center for Creative Arts. So did a big break: A mutual friend helped the 18-year-old prodigy land a spot in Lenny Kravitz' band for a 2005 tour.
The Kravitz association continues on Backatown, this year's major-label debut by Trombone Shorty & Orleans Avenue. Kravitz contributes a guest vocal and guitar to "Something Beautiful," a slinky, soulful vamp. But it's not all adult-contemporary fare.
Shorty isn't the first to blend jazz and soul with rock, funk and hip-hop -- a stew he calls "supafunkrock" -- but he does it well, and with abandon. Producer Ben Ellman, of New Orleans funk-hop band Galactic, lends a raw quality to tracks like "Hurricane Season," where a hard, hip-hop beat backs crazed, combative horns.
The band toured recently as support for Jeff Beck and the Dave Matthews Band; locally, you may have caught the group at the 2009 Three Rivers Arts Festival. Footage from a previous show at the Rex Theater (where the band plays this Wed., Dec. 29) shows Shorty onstage in a skintight tank-top, singing over the six-piece band's churning groove: "Thinkin' about you, shakin' that booty ..." Then he grabs the trumpet and blasts off.
While Shorty has said, "I play from my heart," clearly, his music also comes from lustier quarters.
Trombone Shorty & Orleans Avenue with the Old E. Allstars. 9 p.m. Wed., Dec. 29. (doors at 8 p.m.). Rex Theater, 1602 E. Carson St., South Side. $20. 412-381-6811 or www.rextheater.com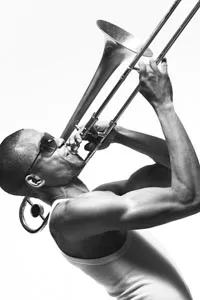 "Thinkin' about you": Trombone Shorty