This year felt like a really long one. A long, horrible shitty one, most of the time. But despite all the flaming dumpster fires, some really great albums got us through. Let some local musicians and promoters share their favorite local and national releases for the year.
Meg Fair — CP Music Writer
Paramore — After Laughter
I don't give a shit what any of the haters say. This album was a brilliant pop record that made you dance, while lyrically tackling some really difficult matters. It's amazing to see sadness and mental illness so tenderly embraced on a record that sounds like a journey toward healing, but in the least cheesy way possible. "Fake Happy" may be one of my all-time favorite songs at this point.
Charly Bliss — Guppy
I've listened to this album an insane number of times. Charly Bliss has managed to package all my favorite things about pop music and rock into a brilliant set of songs that I never tire of. From a love song to vocalist Eva Hendricks' therapist ("Ruby") to heavy bangers like "Julia" and poppy jaunts like "Scare U," CB can really do it all.
Princess Nokia — 1992 Deluxe
This re-released and expanded version of Princess Nokia's 2016 mixtape is an absolute masterpiece. Princess Nokia can pull off such a wide range of material, from trappier tracks like "Katana" to laid-back, vintage hip-hop tracks like "Saggy Denim." Also, if you don't go off to "Tomboy," you're just absolutely wrong.
St. Vincent — MASSEDUCTION
MASSEDUCTION was promoted and packaged like a pop album, with strong visuals and a more character-esque presentation of Annie Clark. But when you remove the bow and the wrapping paper, underneath is a record that is supremely vulnerable, raw and honest. It's the closest we've ever gotten to Clark, while still maintaining a delightfully catchy and danceable pop vibe.
Code Orange — Forever
This album is gut-wrenchingly hard, balancing itself between vicious metal and ballsy hardcore, all while playing with electronics in a way that very few artists are bold enough to do. There's a reason this band scored a Grammy nomination — it's doing the shit everyone else is too scared to do.
Other Local Favorites:
Honey — Mock Pop
Calyx — For To, Oh
Distant Futures — Were
Bjordan — PETTY HIT MACHINE
Side Eye — La Vague
Hearken — Carte Blanche
Looming — Seed
CHOIR — YOU DO IT TO YOURSELF
Brett Shumaker, promoter at Don't Let the Scene Go Down on Me
Charly Bliss — Guppy
Sugary-sweet pop songs that I just could not stop listening to this year. One of those bands you can just tell they have so much fun, and it comes out in their music. One of my most-anticipated records this year, and it did not disappoint.
Cende — #1 Hit Single
A band that formed over its love of The Marked Men and that influence shows in its songs. This record is full of lush melodies, and there's even an appearance from Greta Kline of Frankie Cosmos.
Open City — Open City
The punkest record of 2017. Hits hard right from the beginning and never stops. Members of Paint It Black, Lifetime, Ceremony, and Bridge and Tunnel form this Philly supergroup.
Sincere Engineer — Rhombithian
A release that came out of nowhere for me. Perfect blend of Midwest punk and Midwest emo. Lots of energy. Lots of emotion. An excellent debut.
Priests — Nothing Feels Natural
Gothy post-punk jams. Saw them live this past summer and immediately spent all my money at the merch table. "My best friend says, 'I want to start a band called Burger King," and I say, 'Do it! Make your dreams a reality," is the best lyric of the year.
Some of my favorite local releases:
The Homeless Gospel Choir — Presents: Normal
Lawn Care — Replacement Therapy
Short Fictions — The Heart Is a Kaleidoscope
Nightmarathons — Nightmarathons
Calyx — For To, Oh
Caitlin, of Calyx, Maenads
1. Pile — A Hairshirt of Purpose
2. Bad Moves — Bad Moves (Dec. 2016, but c'mon)
3. Nnamdi Ogbonnaya — Drool
4. Medium Ugly — Punk-oramademodingdong
5. Leikeli47 — Wash & Set
6. Vince Staples — Big Fish Theory
7. Looming — Seed
8. Bully — Losing
9. Shitkid — Fish
10. Hop Along — Get Disowned (I'm sorry, it might always make my year-end lists)
Jesse and Steph, of The Lopez
1. Lana Del Rey —
Lust For Life

2. Joey Bada$$ —
All-Amerikkkan Bada$$

3. Studio One —
The #1 Sound From the Vaults — Vol. 1

4. Beck —
Colors

5. St. Vincent —
MASSEDUCTION

6. Taylor Swift —
Reputation

7. Kesha —
Rainbow

8. Moses Sumney —
Aromanticism

9. R.Ring —
Ignite the Rest

10. Kelela —
Take Me Apart
Josh Bakaitus, promoter at Mr. Smalls Presents
Charly Bliss —
Guppy

Anti-Flag —
American Fall

Waxahatchee —
Out in the Storm

Priests —
Nothing Feels Natural

Jimmy Eat World —
Integrity Blues
(2016)

Kate Tempest —
Let Them Eat Chaos
(2016)

American Football —
LP2
(2016)

The Homeless Gospel Choir —
Presents: Normal

Roy Orbison & The Royal Philharmonic Orchestra —
A Love So Beautiful

Code Orange —
Forever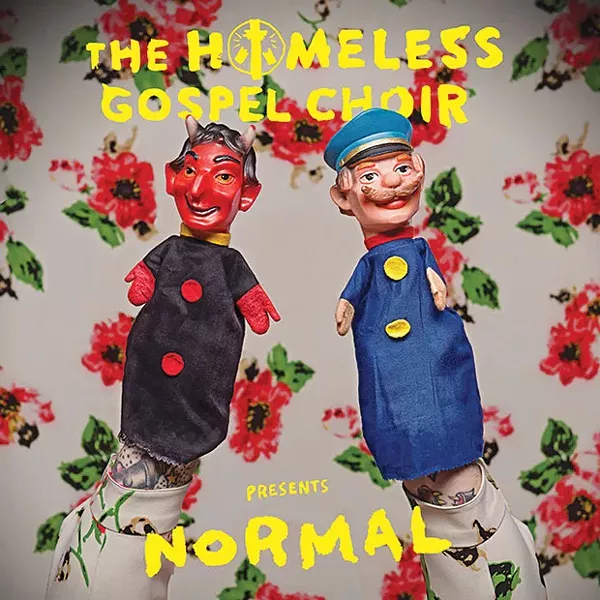 Cameron LeViere, of Lawn Care
Distant Futures —
Were

Calyx —
For To, Oh

BBGuns — assorted singles
Harrison Thurman, of Lawn Care, AllegrA
The Homeless Gospel Choir —
Presents: Normal

Looming —
Seed
Short Fictions —
The Heart Is a Kaleidoscope

SOFT GIRL —
Soft Girl.
Distant Futures —
Were
IT IT —
Formal Odors

Jack Stauber —
Pop Food

Wreck Loose —
OK, Wreck Loose

Hearken —
Carte Blanche

Flower Crown —
GLOW
Calyx —
For To, Oh

Skull Kid —
Protection Charm
I'm also VERY excited for the BBGuns album next year. The tracks they band has released are **three fire emojis**.

Michael Schang, concert promoter
Arca —
Arca

Street Sects —
Rat Jacket

Primitive Man —
Caustic
Good Time
soundtrack

Planning For Burial —
Below the House

Paramore —
After Laughter

Queens Of The Stone Age —
Villains

Kendrick Lamar —
DAMN.

Portrayal Of Guilt —
Portrayal of Guilt

John Mayer —
The Search For Everything
Local:
Concealed Blade —
Concealed Blade

Lady Beast —
Vicious Breed

Maenads —
Maenads

Ritual Mass (demo)
Legendry —
Dungeon Crawler
Holden Grimes, of Werefolk
Top Local Albums
1. we hold hands and we jump — we hold hands and we jump
2. fig — oral fixation
3. Lawn Care — Replacement Therapy
4. Distant Futures — Were
5. The Homeless Gospel Choir — Presents: Normal