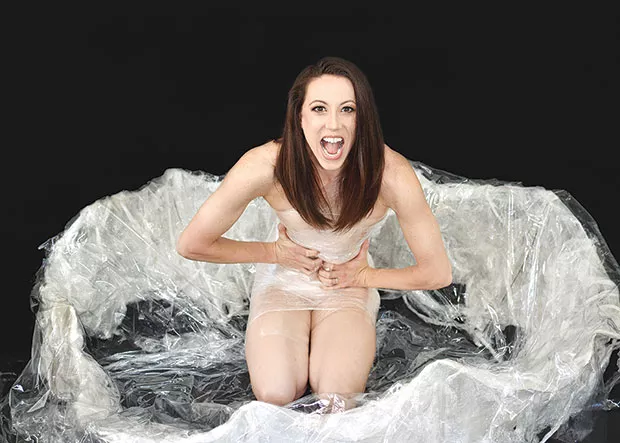 Photo courtesy of Ben Viatori
Lindsay Fisher in Over Exposed
Of 2017's many memorable local dance performances, here are eight that stood out (in order of performance):
Jasmine Hearn in blue, sable, and burning (Braddock Carnegie Library, Jan. 26). Fueled by Robin Coste Lewis' poem "Voyage of the Sable Venus," Hearn's tour de force solo work, which she described as a deeply rooted investigation and conversation with herself, proved a moving portrait of an artist at the top of her game.
Julia Erickson in Pittsburgh Ballet Theatre's Alice in Wonderland (Benedum Center, Feb. 10). As the deliciously wicked Queen of Hearts in choreographer Derek Deane's ballet, Erickson had all the deportment of a Disney villainess, including a spirit-withering smile combined with impeccable dancing.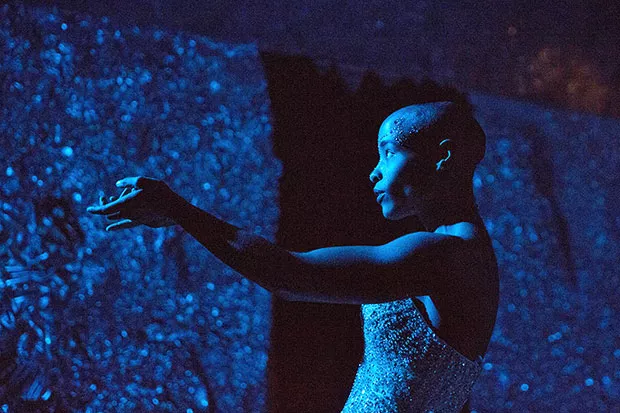 Photo courtesy of Scott Shaw
Jasmine Hearn in blue, sable, and burning
Maria Caruso in "Sunday's Child" (Byham Theater, Feb. 18). As part of her stylistically diverse and physically demanding one-woman show Phoenix Rising, the Bodiography artistic director was spellbinding in choreographer Anjali Austin's heartfelt "Sunday's Child." Vulnerable and emotionally exposed, Caruso's performance left audience members misty.
Lindsay Fisher in Over Exposed (New Hazlett Theater, April 7). Fisher described the very personal production as "a collection of the doubts, insecurities, everyday joys and small victories that make up one woman's life." Skillfully danced, Fisher's performance was funny, touching and memorable.
Moriah Ella Mason in Sex Werque (Carnegie Stage, July 27). Candidly based on Mason's real-life experiences as a stripper, Sex Werque explored attitudes and misconceptions about the sex industry, and her and fellow strippers' feelings about the profession. Mason was resplendent in the groundbreaking one-woman dance-theater show.
CorningWorks in Six A Breast (New Hazlett Theater, Sept. 10). Beth Corning, Sally Rousse and Laurie Van Wieren delivered a series of clever vignettes about the absurd way women have been treated by society and trained to feel in their roles in relationships with men. Humorous and poignant, the work and its veteran cast impressed.
Texture Contemporary Ballet in "Journey to Closure" (New Hazlett Theater, Sept. 29). Performing to a moving soundtrack by Max Richter, Texture's adroit dancers appeared like wisps of smoke flowing through Kelsey Bartman's sophisticated and ethereal ballet that showed what the company is truly capable of.
Anne Morgan and the Point Park Conservatory Dance Company in "Cold Virtues" (Rockwell Theatre, Dec. 1). Included in CDC's Winter Dance Concert, Adam Hougland's signature ballet set in a Depression-era speakeasy oozed choreographic genius. Led by the mesmerizing Morgan, CDC's dancers danced it impeccably.