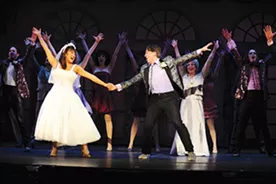 Here's a theatrical curio — a musical version of the 1998 Adam Sandler/Drew Barrymore film The Wedding Singer, now at the Benedum Center thanks to the folks at Pittsburgh CLO.
If you drew up a list of "The World's Most Unnecessary Musicals," The Wedding Singer would be somewhere near the top.
Though the film was a success, I'm not sure anyone thought it deserved a second (singing and dancing) life. It's amazing to think of the time and effort Matthew Sklar (music), Chad Beguelin (lyrics), and Beguelin and Tim Herlihy (book) put into this adaptation for its 2006 Broadway opening … and sad to think the show closed only seven months later. (There's a light on Broadway for every broken heart.)
Here's the précis: Robbie Hart, a professional singer at weddings, is jilted by his fiancée and falls in love with Julia, a waitress engaged to an obnoxious Wall Street type. There's laughter, tears, many merry mix-ups … and that, dear children, is the story of how I met your grandmother.
Considering that you know the evening's schematic from the first 10 minutes, I give Sklar, Beguelin and Herlihy credit for making this well-worn journey mildly interesting.
One of their tricks is lampooning the story's time period, the 1980s. Hair, costumes and music are a fun pastiche, and gags about Ivan Boesky, Starbucks, Mr. T. and Flashdance are gently amusing. But one joke about the battery size of old-school cell phones is all you can make. And when the spoofing runs out of gas, there's nothing left to do.
Jenna Ushkowitz (whom you'll know as Tina from TV's Glee) is an outstanding musical-comedy performer. Charming and energetic, with a beautifully trained voice and a precise manner, she brightens every scene she's in as Julia. J. Michael Zygo's comfortable presence as Robbie is the perfect counterpoint. His low-key demeanor is as endearing as Ushkowitz', and he's got a gloriously strong and supple voice. Jackie Burns, Brandon Espinoza, Greg Kamp and Kirsten Scott round out a finely polished cast.
If the CLO is looking for a quote, it's welcome to use this: "The Wedding Singer is better than I expected."