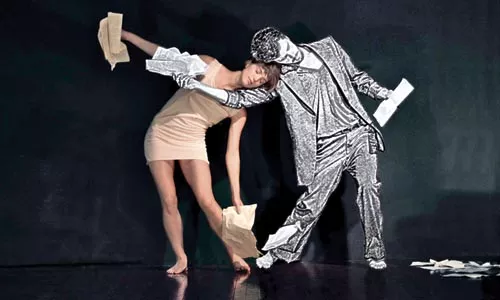 Breanna Short and Taylor Knight in Paper Memory.
The faint sound of rustling paper intruded on the pitch-black silence of The Pillow Project's Point Breeze studio and performance space, setting in motion the company's latest production, Paper Memory.
From deep within the long and narrow space, dancer Brent Luebbert appeared seemingly out of nowhere, carrying a suitcase. The scene was lit only by a handheld flashlight Luebbert turned on and off as he moved throughout the space, creating a strobe effect. His movements, as with the dancing to come, were compact, self-contained and highly gestural.
After a time, he was joined onstage by dancer Brianna Short, similarly lit by flashlight. Together the two embodied the narrative for a work of fiction being hand-written in a notebook by Paper Memory's third character -- a writer, danced by Taylor Knight.
Conceived and directed by Pillow Project artistic director Pearlann Porter, with technical design by Mike Cooper and set to an original score by PJ Roduta, the multimedia Paper Memory had look and feel of an art-house film.
The work's nonlinear story-within-a-story emerged like memories out of the darkness. The audience saw both the writer at work and the images of the story unfolding in his head about the chance meeting and subsequent relationship between Luebbert's and Short's characters. The work also suggests that the images of the pair might have been conjured not solely from the writer's imagination, but perhaps channeled from real events, whether current or future.
And while Paper Memory's story was open to interpretation, its staging, as well as the three dancers' performances and Roduta's score, were nothing short of brilliant.
The work's dark motif was broken only by flashlight and by the light from images projected onto portable walls the dancers moved about the stage and performed in front of.
The projected images included animated outlines for such objects as a writing desk. Others suggested locations, such as a bus stop; others still were representations of Luebbert and Short's characters. All the projections were so intertwined and synchronized with the dancers that they felt like they were somehow characters themselves.
While the primary love story of Paper Memory played out, a secondary story also emerged: one mourning a time before computers and other electronic devices, when our thoughts and memories were shared through pen and ink.
This was conveyed in passages where carefully placed sheets of paper were blown from their spots by breezes from fans, suggesting the fragility of paper as a repository of memory.
A sophisticated, visually striking and emotionally thoughtful dance-theater work, Paper Memory is one of this season's must-see productions.
The Pillow Project performs Paper Memory through Nov. 20. The Space Upstairs at Construction Junction, 214 N. Lexington St., Point Breeze. 412-225-9269 or www.pillowproject.org.