North Park is now home to Go Ape!, an adventure franchise that offers participants a chance to monkey about high up in the trees. Clamber up rope ladders — and descend via zip line! In between, "apers" make their way across various tree-top obstacles 30 to 40 feet in the air that include: tightropes, hanging bridges, and hoops, planks and nets that swing wildly.
Oh, it's a blast, as well as a satisfying mental and physical challenge. Even securely tethered, you're still a couple of stories up in the air at all times. As the course progresses through five set-ups, the obstacles get trickier: no guideline for your hands, or leap of faith off a tree as you "zip" back to the ground.
It's a surprising workout, too. Apers move at their own pace and the overall experience is leisurely and jolly. But fighting to retain your balance on a mid-air "walkway" made of swinging metal rings, or hauling yourself up a net "wall," will stretch plenty of usually dormant muscles.
No special skills are required: You arrive with only your willingness. (Pro tip: Bring a pair of gloves.) Staffers rig apers with a body harness, and provide hands-on training in various color-coded safety tethers and cables. The aper pictured above prepares to take a perfectly safe flying "Tarzan leap" through mid-air (via a steel cable) into a waiting net.
The course is designed around existing trees, with minimal impact on the environment or park. Here, apers between obstacles rest on small wooden platforms attached to the trees, while below, a walker enjoys the park's ground-level attractions.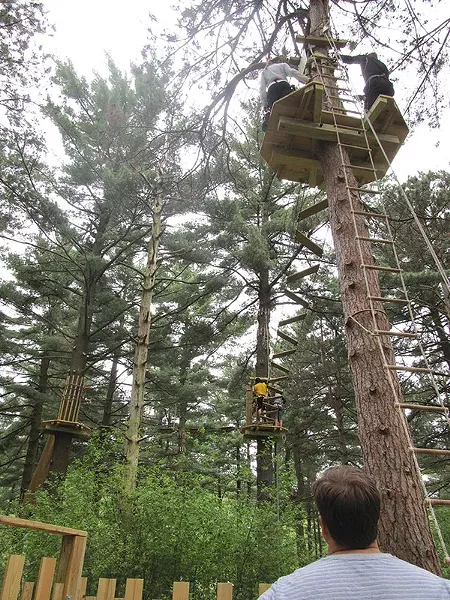 One of the more strenuous parts of the course was, oddly enough, pulling yourself up the rope ladder. Tethered to a safety cable on a pulley, it felt like you were dragging a second person behind you.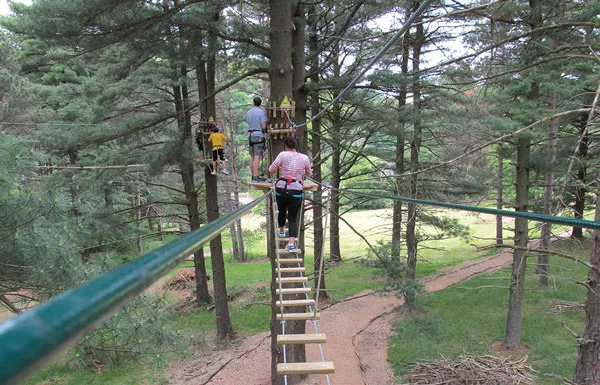 Don't look down! After a few obstacles, you barely noticed how high up in the air you were. Or that your "path" had giant holes in it.