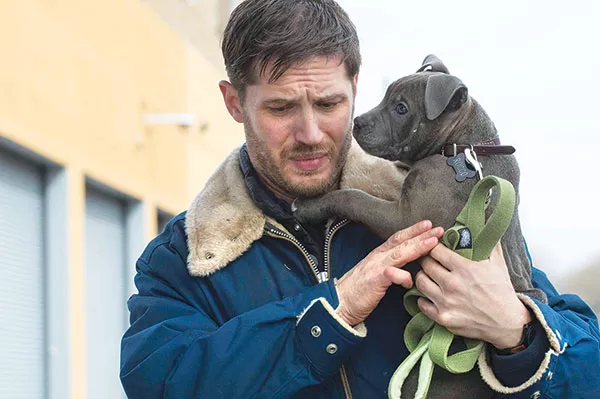 Man's best friend: Bob (Tom Hardy) and Rocco
Michael K. Roskam's The Drop, adapted from a Dennis Lehane story, revolves around an ordinary bar in a gritty part of Brooklyn. Marv (James Gandolfini) runs it, but Chechen mobsters own it. So some nights the bar serves as a drop for a lot of mob money. And the soft-spoken, laconic Bob (Tom Hardy) — well, he'll tell you, "I just tend the bar and wait." We wait, too, knowing that as sure as there are crime thrillers, something always goes wrong around that much cash.
But The Drop is also a lightly sketched character study of Bob. He's a solitary, sphinx-like figure, slowly coaxed out of his protective shell by two new acquaintances: an abandoned pit-bull puppy and a sad, wary woman (Noomi Rapace). The film is relentlessly downbeat, with each character trapped — in old-fashioned homes left behind by dead parents, in pointless cycles of violence, or in a no-win cycle of choosing lesser evils. The Drop is short on action, long on deadpan, but these are three actors you could simply watch stare at each other — as you will here.