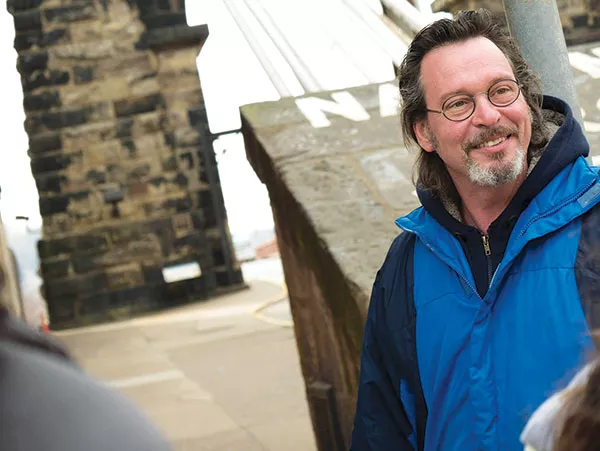 Photo courtesy of Chuck Barry
Musician Tom Breiding
For songwriter Ben Shannon, there's something special about playing to a small room. "There is a quality to the listening that happens in a room where there's no TV, no bar, and you can actually see," he says. "I can feel the ripples of the words of my songs in the audience, and I respond to that. It brings out the very heart of the song."
There's arguably no shortage of opportunities to see local and national singer-songwriters in action — touring artists are regularly brought in by WYEP-FM, Calliope and other organizations. But Shannon also wanted to see these sorts of artists showcased in a more intimate setting on a regular basis.
On Sept. 19, Shannon and fellow musician Christopher Mark Jones will launch BurghSong, a new monthly series intended to highlight both national and Pittsburgh-area folk artists in a small-room setting. "I liken it to a poetry reading where the attention is really on the story, on the song itself," Shannon says.
The inaugural concert will feature Ben Bedford, from Illinois, and locally based Tom Breiding. The show will also serve as the release event for Breiding's new album, River, Rails or Road, and the companion documentary, River, Rails or Road: Tom Breiding's Wheeling, about the singer's work with the United Mine Workers Union and his dedication to the labor movement.
The series will be held at the Sunburst School of Music, in Squirrel Hill. Shannon is excited about the location, both because of its size (it seats around 50 people), and because — while the neighborhood offers plenty of places to grab dinner or a drink — it is not generally a destination for live music.
Currently, BurghSong is booked through May 2016 (individual and season tickets are available), with some time off in the winter months. While Shannon wants to provide a new stage for deserving artists, his primary hope is that the event becomes a celebration of the art of the song. "It all starts with a song. Even if it's totally dressed up with a full band, at its heart it is words strung together and crafted for effect," he says. "And I feel like that effect is really magnified in this setting."