In two days in May 2004, Stephen Kurtz lost his wife, his life's work, his home and his freedom. The Buffalo-based, internationally known artist is again free, at least for now. But Lynn Hershman Leeson's inventive and provocative documentary Strange Culture finds in Kurtz's case more than one man's nightmare.
Kurtz, who taught at Carnegie Mellon from 1995-2002, is a member of performance-art group Critical Art Ensemble. The group, often in collaboration with scientists, uses art to address social-justice issues. In 2004, Kurtz was preparing Free Range Grains, a show about genetically modified foods, when his wife and collaborator Hope died unexpectedly at age 46. Emergency responders got suspicious about petri dishes and other scientific gear lying around Kurtz's house. Shortly the place was swarming with FBI agents in haz-mat suits; Hope's body confiscated; years of Kurtz's research notes bagged as evidence; and Kurtz arrested under the Patriot Act for suspected bioterrorism.
Hope was ruled to have died of natural causes; the petri dishes contained harmless bacteria Kurtz had purchased online. Didn't matter: Though the bioterror charges vanished, Kurtz and Robert Ferrell, a University of Pittsburgh genetics professor, today still await trial on charges of mail fraud and wire fraud, carrying up to 20 years in prison.
Leeson is a pioneering artist whose work frequently exploits technology as well as critiques it. With the 74-minute Strange Culture, she creates a compelling hybrid of talking heads, dramatic recreations, original documentary footage and even haunting, woodcut-style images from a comic book about the case. Because Kurtz can't discuss events immediately prior to his arrest, Leeson drafts actors Thomas Jay Ryan and Tilda Swinton to play him and Hope in several scenes. Kurtz himself, however, comments on his work and the case against him, as do CAE colleagues, curators and his high-profile attorney, Paul Cambria. Even Swinton and Ryan step out of character to expound (quite cogently) on the case. Strange Culture suggests the similarly hybridized Harvey Pekar bio-pic American Splendor with a First Amendment theme.
While Leeson and her subjects are appalled by Kurtz's plight, they're too smart to be shocked: After all, exposing governmental and corporate abuse of power is a CAE specialty. Note how Leeson contextualizes the case in post-9/11 paranoia, and alongside the White House's stripping of rights from terror detainees. Note that the life-sciences-industrial complex CAE's Free Range Grains critiqued is among the nation's most well-moneyed. Note that a civil case (fraud charges without a defrauded party) now carries criminal consequences. Kurtz -- a pony-tailed 50-year-old who comes off as both brilliant and endearingly nerdy -- sounds quite credible accusing the Department of Justice of manufacturing crime, and the FBI of attempted frame-ups.
Strange Culture is updated through November 2006. The rest of the story remains to unfold. Learn more at www.caedefensefund.org. To be screened by projected video.

Sept. 16-20. Regent Square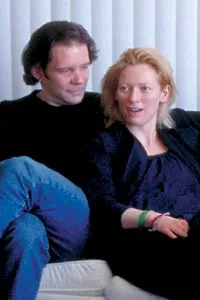 Infectious: Thomas Jay Ryan (left) and Tilda Swinton in Strange Culture.