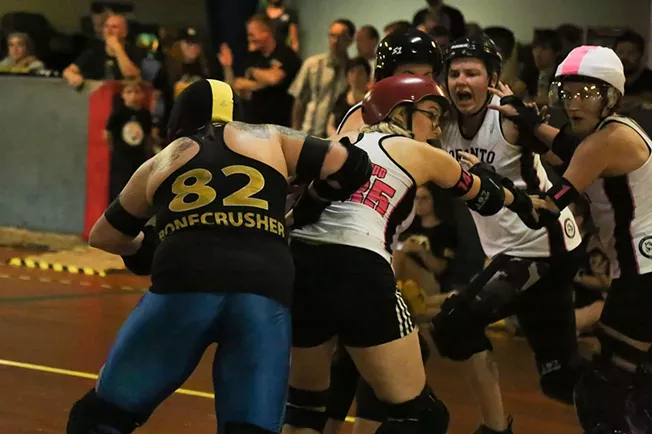 Steel City Roller Derby faced Toronto at the Romp n' Roll on Aug. 20.
Jen Booth, whose derby name is Bonecrusher, has played with Steel City Roller Derby since its founding in 2006.
Aaron Brooks, derby name Champ UnKind, is a supply-chain manager by day and derby announcer by night. He drives from Cleveland to announce for the Steel Hurtin', one of five teams he announces for. He is on track to call 80 games this year.
BB Basher introduces herself to the crowd.
A player stands at attention for the national anthem.
The jammer in roller derby always wears a star on her helmet. The jammer is also in charge of getting points for the team by getting in the lead and then lapping the opponent's players.
The jammer can also pass the star off to one other player, the pivot, who wears a stripe on her helmet.
Bonecrusher, playing as the pivot, delivers a hit to Toronto's jammer.
"I could play in front of a thousand people, or I can play in front of no one." — Bonecrusher
Players clap respectfully as a player is helped off the track. When a player is down, the teams create a circle so that "she has a space," according to S'yfa, a Steel Hurtin' player.
Pseudonyms are used by every member of the roller-derby league, including players, coaches, referees and announcers.
McShovin' is a former player turned referee for the league. "[Roller derby] consumes you," she says. "You can go down [this] rabbit hole as far as you want."
Referees follow the two jammers around the track, pointing an arm at the lead jammer and crossing their arms at the second-place jammer.
Barbara Norwell, derby name S'fya — standing for "somethin' for ya ass" — is in her fifth year of derby, but her first skating in Pittsburgh. A mother of two, she sees derby as her space. "I love my children, I attend their sports, but [roller derby] is for me."
A player kneels between periods, showing off a "derby kiss."
The Steel Hurtin' adjourn their huddle.
"Women are supposed to be ladylike. We're not socialized to be aggressive. But we're still human, we need an outlet." — Chelly Johnson
Many players' helmets are adorned with a sticker reading "#Butts," because of the importance of the butt in playing derby.
S'fya lays a hit on Toronto's jammer.
The Steel Hurtin's Coach Dad calls for a timeout.
Hurricane Heather is playing in her last regular-season game tonight, after a 10-year run with Steel City Roller Derby.
The players gather before the last jam of the game, and the last jam of Hurricane Heather's career.
The Steel Hurtin' celebrate after their win, 384-34. The team will be moving onto "divs," or divisional playoffs, in September in Columbia, S.C. "I expect us to go out higher then we go in," The Kraken said.
Poppin' Fresh says she "owe[s] roller derby a lot." Playing the sport helped her get in great shape — she did CrossFit just to compete; it's also how she met her fiancée, BB Basher. She is retiring after this season.
Nick Rollfilliac and Poppin' Fresh feed each other cake, baked for the league's anniversary.