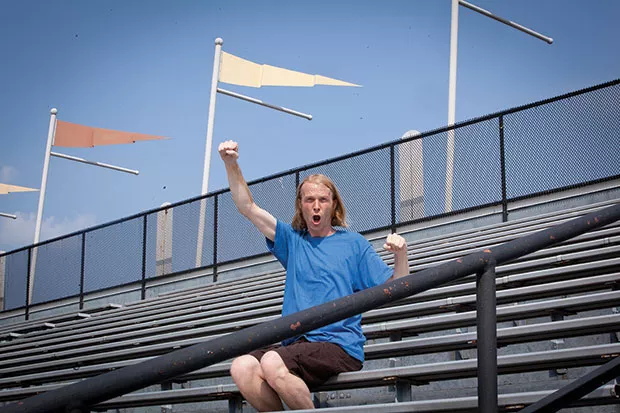 CP file photo by Heather Mull
Mike Wysocki
Since politicians are known for dutifully keeping campaign promises, we the people of Pittsburgh await the return of yesteryear. According to president-elect Trump, the steel mills are coming back. "We're bringing them back, we're bringing them back," was the extent of Trump's brilliant, specific one-point plan. Good-paying steel jobs are just around the corner, and maybe the Pittsburgh Maulers and the USFL will also return. But if we are going back to the future, let's start with bringing back Schenley High School. Our region has numerous institutions with lists of impressive former students; Schenley's roster is bigly.
DeJuan Blair played basketball at Schenley in one of its last classes before it was shut down a few years ago for rampant asbestos. Blair played during the Jamie Dixon glory years at Pitt. He went on to play in the NBA for nine seasons with Dallas, San Antonio and Washington, D.C. Now he plays in the CBA — the Chinese Basketball Association. Like Trump says, the jobs are going to China, and Blair is a member of the Jiangsu Monkey Kings. Blair isn't even the most successful basketball player from the school; that would be Maurice Lucas. Lucas played in the ABA and NBA, and was an All-Star in both leagues. His number is retired by the Portland TrailBlazers, the team he won an NBA championship with in 1977.
Darnell Dinkins won a Super Bowl with the Saints in the 2009 season; he played football at Schenley. So did Larry Brown. No, not the one who ruined the Steelers' trip to Super Bowl XXX by catching Neil O'Donnell's perfect throw right at him for an interception. This Larry Brown played football for the politically incorrect Washington Redskins. Brown was a great running back who even won the NFL's MVP award in the election year of 1972.
On the baseball side of things, Schenley's contribution was the beloved Bob Prince. In his day, you could drink and smoke while you broadcast a game. Let's bring that back, too. Prince rooted for his Pirates openly and didn't care what people thought. That's right; he told it like it was. Plaid suits and green weenies will be great again.
Bruno Sammartino, one of the giants of professional wrestling, is also a Schenley alum. Bruno, the immigrant, got bullied enough during his time there that he took to lifting weights. Like our newly elected leader, Sammartino is also in the WWE Hall of Fame.
There's also Derrick Bell, but not the one from the Pittsburgh Pirates' famed Operation Shutdown. This Derrick Bell was the first African-American professor at Harvard Law School. Clifford Schull, who won a Nobel Prize for physics in 1994, is also a notable Schenley graduates.
Moreover, the school is a veritable Jazz Hall of Fame. Jazz musicians are like offensive lineman: I don't know a lot of their names, but if I have heard of them, they're pretty good. Walt Harper, Ray Brown, Stanley Turrentine and George Benson are all names that sound pretty familiar.
Bill Nunn, who died recently, is also from Schenley. Like our new commander-in-chief, Nunn was in some movies; his included New Jack City, the Spider-Man movies and Do the Right Thing. Yes, Radio Raheem went to Schenley. Trump was in classic films like Ghosts Can't Do It, Eddie and Playboy Video Centerfold. That's right — in 2000, the soon-to-be-leader of the free world had a cameo in a soft-core porn video. I'd say Nunn's résumé is more respectable.
Finally, the last celebrity from Schenley is Andy Warhol. Never has a famous quote been so profound. With reality television and viral videos, Warhol was dead on with his prediction that everyone would get "15 minutes of fame." Our new president-elect even referenced Warhol's quote recently, sort of. After dozens of women brought up allegations that our president-elect harassed and grabbed them, he dismissed their claims by saying they were only seeking their "10 minutes of fame." But that's in the past. It's time to put people back to work in the steel mills and stripping the asbestos out of Schenley to rebuild this superstar factory.
It will be the best, believe me. It will be the best.