CP photo by Jared Wickerham
Showcase BBQ in Homewood
Barbecue doesn't have a particularly strong association with Pittsburgh. The most famous style of cooking meat is Pittsburgh rare: throwing raw steak on a blast-furnace so it's charred to a crisp on the outside, but bloody on the inside.
Typically, barbecued meats are slow-cooked over a wood smoker for hours. The result is succulent meat, with a delicate crust on the meat's outside.
Showcase BBQ in Homewood nods to the Pittsburgh-rare approach, except nothing is undercooked. When I visited, the pork ribs and chicken wings had a substantially charred, chewy crust, but the meat was still tender in the middle.
As showcase pitmaster Drew Allen told the Post-Gazette in 2017, he calls this "Northeastern style" (since it's similar to backyard grilling in the Northeast). Not many people in Pennsylvania are smoking meat for 12 hours to share with friends. Cooking starts when the friends arrive, and they have to eat within a couple of hours.
I think of Showcase as Pittsburgh-style: unapologetically unique and quirky. And the restaurant space pays homage to backyard barbecues that proliferate here in warm weather. The inside of Showcase is barebones and begs you to sit at the outside tables.
Ordering can be a bit intimidating. Most customers appear to be regulars, so study the menu before getting in line. The ladies working behind the counter are friendly, but not cloying. Know what you want and they will get it to you — fast. Showcase also does a ton of takeout service.
If you have time, enjoy the patio. When the sun sets over the nearby abandoned railroad bridge, it's a sweet spot to chow down.
Food is the real show at Showcase.
The pork ribs are super smoky. The cherry wood smoke flavor punches you in the face, and the best reprieve to the overwhelming flavor is a tangy mustard sauce that comes with the ribs. You can get the sauce smothered on the ribs or on the side.
Despite being cooked relatively quickly, the meat still falls off the bone with ease. Some portions can be a bit chewy, but multiple chews only intensify flavor. If you're lucky enough to find a crispy edge, dunk it in the barbecue sauce for a chewy, tangy, sweet-smoky treat. Like a Now and Later, but meaty.
At times, the flavors were almost too intense. Consuming each item on its own can be a bit overwhelming. The ribs are best eaten in combination with sauce, or interspersed with bites of a side dish.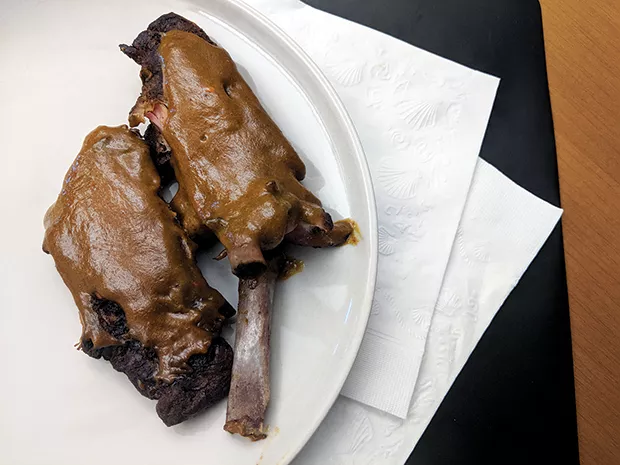 CP photo by Lisa Cunningham
Takeout ribs from Showcase BBQ
I am a side guy. Years ago in Nashville, at an iconic "meat-and-three" cafeteria, the cashier looked at my plate puzzlingly and said "you have six sides, sir." (The idea is to get three sides, hence the name). I need my sides!
At Showcase, I ordered four sides: mac n' cheese, green beans, cabbage, and yams. The mac cheese was sharp, with a hint of black pepper. The green beans and cabbage appeared to be like any other, but were packed with a spicy-pepper kick. Normally in Pittsburgh, stewed cabbage is a bit of a fish-fry throwaway. Not at Showcase.
And the yams. Oh, the yams.
Whole roasted in a caramel-y syrup, I expected a mash of sweet mush, but these yams held their shape, yet could still be cut with a plastic fork. With all the smokiness and spiciness of the other dishes, the sweetness of the yams is welcomed.
I suspect the cooks at Showcase know their yams are so good that they blend some of them into their signature sauce. Mustard hits you first upon tasting the sauce, then vinegar, then the sweet. And the sauce is thick. It's worth getting an extra cup or buying a bottle to keep in your fridge.
The chicken, like the ribs, is smoky with a good crust. But the chicken skin didn't crisp up as much as the pork ribs. The meat was moist enough.
Turkey ribs are also popular at Showcase — so much so that when I arrived on a Tuesday evening they were all gone. Prices are more than reasonable. Four ribs, six chicken wings, two sides and two pops only cost $17. Items can be purchased individually or in special combinations.
It's time for Pittsburgh to show off one of its best barbecue joints. Give Showcase a try.

Showcase BBQ. 6800 Frankstown Ave., Homewood.