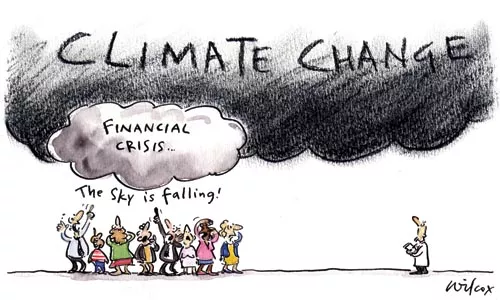 Cartoon courtesy of Cathy Wilcox (Australia).
The G-20 run-up has become Waiting for Guffman: Pittsburgh Edition. Everybody's so geeked to impress a bunch of world leaders (Gee! Twenty?) who won't see but a few conference rooms, fancy restaurants and booster-approved panoramas. Yet even as we await the limos, protests and breathless news coverage, local cultural types offer food for thought. At 6 p.m. Fri., Sept. 18, for instance, The Andy Warhol Museum hosts an opening reception for Drawn to the Summit: A G-20 Exhibition of International Political Cartoons. It's a show of work from the G-20 nations, exploring the global economy's impact on the environment, human rights and more. Drawn includes cartoons by the Pittsburgh Post-Gazette's Rob Rogers, who also (with Sylvia Rohr) co-curated the exhibit, presented with the ToonSeum. On Tue., Sept. 22, the Art Institute of Pittsburgh explores Hot Spots: What Comes After Oil. It's a collaboration between artists and graphic designers at AIP, The American University Dubai, and Zayed University, in the United Arab Emirates, about ending our oil dependency (whether we like it or not). A reception targeting G-20 visitors and international media (but open to all) runs 12:30-2:30 p.m. That night, Borders Eastside hosts a G-20 Discussion and Open Forum, featuring presentations by student groups on economics and the environment; it starts at 5 p.m. And social justice gets screen time starting at 7 p.m. Wed., Sept. 23, when the Amnesty International Pittsburgh Film Group hosts G-20: 20 Super Shorts, at the Shadow Lounge. Each video focuses on a different country, including "Flames Not Flowers" (India) and "More Than Just Timber" (Indonesia). Even a new venue gets into the picture: Rebellious Nature, a Garfield gallery and specialty store, presents photographs of 20 Pittsburgh working-class neighborhoods suffering post-industrial neglect -- the kind of places, gallery-owner Bill Brocco notes, that G-20 coverage, too, overlooks. Bill O'Driscoll Warhol Museum: North Side, 412-237-8300. Art Institute: Downtown, 800-275-2470. Borders Eastside: East Liberty, 412-441-1080. Shadow Lounge: East Liberty, info@amnestypgh.org. Rebellious Nature: Garfield, 412-576-1883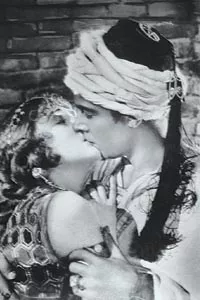 Thu., Sept. 17 -- Film
Silent-screen star Rudolph Valentino's melodramatic exoticism enthralled on-screen lovers and film patrons alike. So what if he never uttered a sweet-nothing? One glance from those smoldering bedroom eyes spoke volumes. As part of the Sex Symbols in Sepia Tones series, Pittsburgh Filmmakers and Pitt Arts co-present his 1926 hit, Son of the Sheik, at Melwood Screening Room. It's a torrid love story set in North Africa, and no amount of brocaded silks can stop Rudy's burning desire for you. Al Hoff 7 p.m. 477 Melwood Ave., North Oakland. 412-682-4111 or www.pghfilmmakers.org
Thu., Sept. 17 -- Metal
Hëllö Cänönsbürg! Calling metal warriors young and old: Put aside your Schnappster and Manowar and head out to Club DV8 for the North American Nightmare Tour, featuring up-and-coming international acts and a couple of local keepers of the flame. Icarus Witch, Mantic Ritual and Seeking Valhalla all hail from the 'Burgh; headlining are Toronto's Cauldron (a new band on the Earache label) and young Swedish shredders Enforcer. Aaron Jentzen 7 p.m. 2560 Washington Road (Rt. 19), Canonsburg. $10. www.myspace.com/wickeddreamsentertainment
Fri., Sept. 18 -- Art
Whether lavish Disney Cinderellas or sociopathic Little Red Riding Hoods, fairy tales are constantly reinvented. Tonight at Future Tenant, a dozen local artists unveil their modern interpretations. Dividing the Goose fills the Downtown space with paintings, photographs, sculpture with video accompaniment and more. Curated by Jeffrey Schreckengost (head graphic artist at the Children's Museum) and photographer Lisa Toboz, the gallery promises an eclectic array of takes on those eternal tales drilled into the memory in childhood. Lucy Leitner 6 p.m. 819 Penn Ave., Downtown. Free. 412-325-7037 or www.futuretenant.org
Fri., Sept. 18 -- Words
In his home country of Georgia, Irakli Kakabaze received accolades, grants ... and a mysterious beating and three arrests, which certainly seemed linked to his support of liberation and human rights. The poet, academic and activist performs at the New Hazlett Theater with local music cooperative Nicopress. Kakabaze is the artist-in-residence at Ithaca City of Asylum, which shelters oppressed writers. Tonight's Light From the Moon concludes a week-long residency with City of Asylum/Pittsburgh. Melissa Meinzer 8 p.m. 6 Allegheny Square, North Side. $10 ($18 includes 8 p.m. Sat., Sept. 19 performance by singer Carolyn Perteete). 412-320-4610
Sat., Sept. 19 -- Music
The laid-back country tunes of Coyote Grace are (with the exception of the odd rock breakdown) quite traditional in form. But lyrically, the band is contemporary and complex. From the introspective verse of guitarist Joe Stevens to the subtle genderfuck of bassist Ingrid Elizabeth's otherwise pastoral contributions (alluding perhaps to Stevens' trans status), the band is both playful and thoughtful. The duo appears tonight at Club Café; Jeremiah Clark opens. Andy Mulkerin 7 p.m. 56-58 S. 12th St., South Side. $8. 412-431-4950 or www.clubcafelive.com
Sat., Sept 19 -- Comedy
Though Paula Poundstone's legal troubles were once tabloid fodder, now her brushes with drunk driving and child endangerment are prime material for the veteran suit-and-tie-clad comedian. Promoting her first album ever, I Heart Jokes: Paula Tells Them in Maine, Poundstone appears at the Carnegie Library Music Hall. A dabbler in writing math textbooks for children, the self-described "asexual" is known for her quick wit and improvisational skills, and audiences can expect many spontaneous interactions. LL 8 p.m. 510 East 10th Ave., Munhall. $27-37. 412-386-5225 or www.librarymusichall.com
Sat., Sept. 19 -- Music
His fingers can play 13 notes in a single second, "Flight of the Bumblebee" in a record-breaking 66 seconds. He is Super-Fiddler David Garrett, a virtuoso violinist whose rendition of Michael Jackson's "Smooth Criminal" made him an Internet sensation this summer. Having shed his child-prodigy image, the 28-year-old sports a blond ponytail while playing Beethoven and Metallica. Tonight, the World's Fastest Violinist performs his unique blend of classical and pop at the Byham Theater. LL 8 p.m. 803 Liberty Ave., Downtown. $20.50-32.50. 412-456-6666 or www.pgharts.org
Sat., Sep. 19 -- Art
Much like the goalie mask in hockey or the bass-drum head in rock music, the skateboard plays a dual role: It's both functional and aesthetic. The underside of a deck has long been a canvas for visual artists, and tonight at Mr. Small's Theatre, Projekt 50/50 showcases the skateboard as art. Fifty artists, hailing from the Pittsburgh area and beyond, are featured. In addition to skate-art exhibition, there are DJ sets (Hark D, Omar-Abdul, JX4) and bands (Come to Dust, Grasso Electrica). AM 8 p.m. 400 Lincoln Ave., Millvale. $8. All ages. 866-468-3401 or www.projekt5050.com
Sun., Sept. 20 -- Classical
Shadyside Presbyterian Church's Music in a Great Space series kicks off with the organ works of Felix Mendelssohn, performed by organist J. Christopher Pardini. The 17th annual series includes six performances through May; all proceeds benefit charities. Today's concert is the second half of a Mendelssohn program begun in February; the repertoire includes newly discovered material from the composer's youth. AJ 4 p.m. 5121 Westminster Place, Shadyside. $10 ($5 seniors/students; children free). 412-682-4300 or www.shadysidepres.org
Mon., Sept. 21 -- Words
The Drue Heinz Lectures Series opens with Elizabeth Gilbert, author of the wildly popular travelogue-cum-love-story, Eat Pray Love. The book, which spent more than a year as a New York Times bestseller, chronicles a year spent traveling alone after a devastating divorce. The love Gilbert found on that journey is the subject of the upcoming Committed: A Skeptic Makes Peace with Marriage. Gilbert speaks at the Carnegie Music Hall. MM 7:30 p.m. 4400 Forbes Ave., Oakland. $10-25. 412-622-8866
Tues., Sept. 22 -- Words
What haunts haunters? According to Pitt alumna and writer Tonya Hurley, it's teen angst. Hurley, promoting her new book ghostgirl: Homecoming, makes her first visit to the 'Burgh as a best-selling author. Fans of this young-adult series can get their autographed copies of the second installment when Hurley appears at Joseph-Beth Booksellers. Inquisitive students can find out how the Uniontown native went from the Pitt creative writing program to crafting supernatural novels for the Hot Topic set. LL 7 p.m. 2705 E. Carson St., South Side. Free. 412-381-3600 or www.josephbeth.com
Wed., Sept. 23 -- Rock
It's been over 10 years since John K. Samson left Propagandhi and started The Weakerthans, the now-legendary Winnipeg band that provides a subdued pop-rock context for his complex poetry. The band's early releases (Fallow, Left and Leaving) are modern classics. It has made just five studio albums over 12 years, and whether or when there'll be another remains unclear. But The Weakerthans continue touring, and they hit the Rex Theatre tonight with openers Rock Plaza Central. The show is produced in part by CP contributor Manny Theiner. AM 7:30 p.m. 1602 E. Carson St., South Side. $14. All ages. 412-381-6811
Wed., Sept. 23 -- Metal
By this point, it seems like everybody -- even non-metal fans -- has figured out that Mastodon kicks ass. It reminds me of a few years back, when a similar mass realization seemed to hover around Lamb of God. Starting out nearly 20 years ago, the acclaimed band made its bones with Ozzfest, armed with classic thrash and hardcore riffs, and stormed the mainstream in short order. Lamb of God headlines the Amphitheatre at Station Square tonight with openers GWAR and Job for a Cowboy. AJ 7 p.m. South Side. $35 ($38 day of show). 412-434-7600 or www.ampstationsquare.com
Thurs., Sep. 24 -- Benefit
Whatever becomes of the state budget, libraries are likely to take a major hit. Thus library advocates present Bookstock: A Fundraiser for the Carnegie Library of Pittsburgh. Organizers seek artists, crafters and other skilled folks to contribute goods and services to tonight's auction, at Remedy bar. Besides the art show and auction, expect a silk-screening station and live entertainment from DJ Mary Mack, projection artist Blissy and local rocker Dean Cercone. AM 8:30 p.m. 5121 Butler St., Lawrenceville. $5-10 donation suggested. goet@carnegielibrary.org or 510-282-7042 for more event information or to donate to the auction.