Photo courtesy of Cara Rufenacht, of Venture Outdoors.
MLK Day in the Park.
Whenever we discuss race, equality and social justice, Martin Luther King Jr., is still invoked as much as anyone. This year, the federal holiday celebrating his birth falls on Mon., Jan. 18. In Pittsburgh, commemorations of King's life and legacy have become institutions in themselves. Performances on Jan. 16 and 18, for instance, mark the third annual Let Freedom Sing! concert, which fuses gospel music with themes of social harmony. Particularly addressed is urban-suburban unity, with the Pittsburgh Gospel Choir and jazz diva Etta Cox joined by a choir composed of singers from several regional youth and adult choirs; poet Vanessa German also performs. The free concerts are in Larimer (Jan. 16) and Murrysville (Jan. 18); donations benefit the Build the Dream project, for a King Memorial in Washington, D.C. More sportive is the eighth annual MLK Jr. Day in the Park, at Schenley Park Ice Rink. The Venture Outdoors event uses the Jan. 18 holiday to promote community with everything from skating, sledding and refreshments to educational activities and art projects. Newer on the block is East Liberty Celebrates Martin Luther King Jr. The two-hour Jan. 16 event at the Kelly-Strayhorn Theater showcases performances by an intergenerational lineup of musicians, dancers and spoken-word artists. And on Jan. 18, the Union Project continues its tradition of MLK Day events with Building the Beloved Community, a day-long celebration featuring a hands-on mosaic project, performances and a free community "peace meal" at 5 p.m. Bill O'Driscoll East Liberty Celebrates: 2-4 p.m. Sat., Jan. 16 (5941 Penn Ave., East Liberty; 412-363-3000). Let Freedom Sing: 7:30 p.m. Sat., Jan. 16 (Sixth Mount Zion Church, Larimer) and 7:30 p.m. Mon., Jan. 18 (Franklin Regional High School, Murrysville). Day in the Park: 1-4 p.m. Mon., Jan. 18 (Schenley Park, 412-325-1851, x21, or www.ventureoutdoors.org for kids' permission slips). Building the Beloved Community: 1-8 p.m. Mon., Jan. 18 (801 N. Negley Ave., Highland Park; 412-363-4550). All events are free.
Thu., Jan. 14 -- Benefit
Pittsburgh's only decommissioned brewery to become a gallery, performance venue and live/work space for artists has officially been closed for months. But the Brew House continues raising the funds needed to address the building-code violations that shuttered it in September. Tonight, help out, as the Regent Square Theater hosts a Brew House Fundraiser. The moving-picture program includes short films from the "Neighborhood Narratives" series, and Brew House-related shorts including documentaries on artist Tim Kaulen and the Black Sheep Puppet Festival. Bill O'Driscoll 8 p.m. (7:30 p.m. reception). 1035 S. Braddock Ave., Edgewood. $10. 412-682-4111
Fri., Jan. 15 -- Art
Cold and snowy as the weather's been, you may be spending more time than usual tweeting, poking and wall-posting. If so, Future Tenant's winter exhibition might hit home. Do You Understand?, curated by local artist and designer Kim Rullo, explores concepts related to online communication. Rullo lassoed a crew of Pittsburgh-based artists ranging from the well known (graphic novelist Ed Piskor, multimedia artist Prajna Parasher) to relative newcomers (Jessica Kowal and Maddy Landi, who collaborate on a multimedia piece about communicating with an unseen partner). The opening reception tonight involves a musical performance by electronic duo Centrale Electrique. Andy Mulkerin 6-9 p.m. 819 Penn Ave., Downtown. Free. 412-325-7037 or www.futuretenant.org
Fri., Jan. 15 -- Art
Kaoru Tohara might think "Pittsburgh looks like it was formed without order and plans," but his new photography exhibit, The City Within, proves he's not missing the forest for the trees. A Tokyo transplant, Tohara sees the beauty in urban landscapes, particularly the one outside his Mount Washington home. Pittsburgh, with its winding streets, rivers and hillsides, actually reminds him a lot of Tokyo; his striking, almost iridescent images suggest there just might be some Far East elegance in this Midwestern town. Filmmakers Galleries hosts tonight's opening reception. Anna Reilly 6 p.m. 477 Melwood Ave., N. Oakland. Free. 412-681-5449 or www.pghfilmmakers.org
Fri., Jan.15 – Film
It will be leather and lace at this oh-so-gay double feature of camp classics from 1980, screened in conjunction with The Andy Warhol Museum's SuperTrash exhibit. The evening starts dark and broody, with William Friedkin's thriller Cruising, as cop Al Pacino goes undercover in New York City's rough-trade bars searching for a serial killer. Then lighten up with the madcap, ill-advised disco musical Can't Stop the Music, starring the Village People and Olympian Bruce Jenner. Never mind the plot -- it all ends at a huge glittery party, because, you know, "nobody can stop the music." Al Hoff 7 p.m. 117 Sandusky St., North Side. $10. 412-237-8300 or www.warhol.org
Fri., Jan. 15 -- Goth
Long-running darkwave outfit Black Tape for a Blue Girl is back with 10 Neurotics (Projekt Records), a collection of sinister character sketches presented in theatrical cabaret style. "I set out to create an album that looks at our sexuality, obsessions and fetishes with a mature (rather than sensationalized) eye," writes the group's Sam Rosenthal. The new lineup includes Brian Viglione of The Dresden Dolls, as well as vocalists Athan Maroulis, Laurie Reade and Nicki Jaine. The group visits Istanbul Café tonight for a show organized by CP contributor Manny Theiner; The Burning Path and Adam's Family also perform. Aaron Jentzen 8 p.m. 4130 Butler St., Lawrenceville. $10 ($13 at the door). All ages. 412-361-2262
Sat., Jan. 16 -- Music
How well do you know Kyrgyzstan? It's time to brush up on the former Soviet territory -- situated, by-the-by, just north of Tajikistan -- because the premier group of musicians committed to keeping Kyrgyz folk traditions alive plays Pittsburgh tonight, on its first U.S. tour. Ordo Sakhna is a "folk ethnographic theater," a group of professional musicians preserving the culture of this nomadic region. The show takes place at Istanbul, the café with the Middle Eastern vibe on Butler Street; AppalAsia, the local folk-fusion trio, opens. BO 8 p.m. 4130 Butler St., Lawrenceville. $10-15. All ages. 412-683-1623
Sat., Jan. 16 -- Music
If you don't know Dead at 24, you likely know one of the old Pittsburgh band's offshoots: Ernie Bullard has been in The Bumps; Alan Lewandowski and Sheryl Johnston are Anita Fix & Bam Bam; and Stephen Boyle makes weird noises with electronic contraptions. The band, founded in 1995, was an early star of the Rickety Records roster, and last year had its LP, Blast Off Motherfucker, reissued on Ride the Snake Records. A rare Dead at 24 show happens tonight at Howlers, with Twin Towers and The Ceiling Stares opening. Mike Bonello and Laura Jean Kahl provide projections. AM 9 p.m. 4509 Liberty Ave., Bloomfield. $5. 412-682-0320
Sat., Jan. 16 -- Rock
A compelling mixture of rough-edged electronics, pop hooks and druggy art-rock changes, Bear in Heaven's "Lovesick Teenagers" evokes much the same feeling as MGMT's Oracular Spectacular first did: Resistance is futile. Bear in Heaven's latest album is Beast Rest Forth Mouth, but its history goes back to 1998, beginning as a musical project for Jon Philpot; earlier material sounds more psych- and prog-oriented. The band plays Brillobox tonight with Freelance Whales and Mariage Blanc. Highly recommended. AJ 9:30 p.m. (doors open). 4101 Penn Ave., Bloomfield. $8. 412-621-4900 or www.brillobox.net
Sat., Jan. 16 -- Comedy
In the wake of the Tiger Woods scandal, have you longed for sober, respectful, intellectual discussion of marital infidelity? Us, neither. So tonight we're thinking about The John McIntire Dangerously Live Comedy Talk Show. McIntire, comedian Gab Bonesso, WDVE's Sean Collier and Pittsburgh Post-Gazette advice columnist Cat Specter gather late-night at Downtown's Cabaret Theater to wax amusing on the theme "Why Do People Cheat?" BO 10 p.m. Seventh Street and Penn, Downtown. $5. 412-456-6666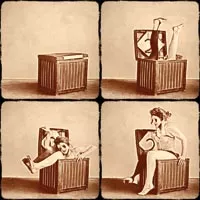 Sun., January 17 - Cabaret
When Baltimore's Rebecca Nagle appears today at Homestead's Artspace 105, chances are good she'll do at least one thing each audience member has never seen onstage. Her cabaret-style performance-art piece, A Dozen Things I want to do on stage, is a 12-part show in which she contorts, undresses, interacts with audience members, confesses deep secrets (perhaps) and, ultimately, disembowels herself. It all toys with ideas of truth and fiction, sincerity and performance; we assume the disemboweling involves sleight-of-hand, as she's on a lengthy tour. Drum/synth musician Sam Pace and puppeteer Flora Shepherd also appear. AM 3 p.m. 105 E. Eighth Ave., Homestead. $6-12 donation. 412-480-7246 or www.rebeccanagle.com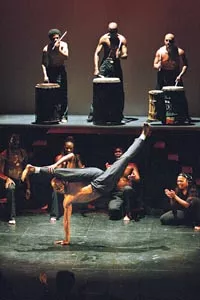 Sun., Jan. 17 -- Dance
Shake the malaise of TV ballroom and holiday ballet with a high-powered helping of step. Step Afrika!, the exuberant Washington, D.C., step-dance troupe, storms the Byham tonight, compliments of the Pittsburgh Cultural Trust. Historically practiced by African-American college students, step fuses dynamic footwork, hand claps and spoken-word. (Think tap minus tap shoes, or STOMP without the brooms and trashcans.) The result is an energetic, percussive performance that's gained Step Afrika! international acclaim. AR 7 p.m. 101 Sixth Ave., Downtown. $20.50-32.50. 412-456-6666 or www.pgharts.org
Thu., Jan. 21 -- Talk
If an ACLU discussion series doesn't sound horribly exciting, would if help if it was called Sex, Drugs & Rock 'n' Roll? The tripartite series, held at Carnegie Mellon, kicks off tonight with the "Who Owns Your Body?" It's facilitated by Planned Parenthood's Rebecca Cavanaugh, who will review the current state of abortion rights and Pennsylvania law; a discussion involving audience members and a small panel will ensue. For those who like to do their homework, recommended readings are available on the ACLU's Web site, www.aclupa.org. AM 7 p.m. 125C Porter Hall, Carnegie Mellon University, Oakland. Free. 412-681-7736