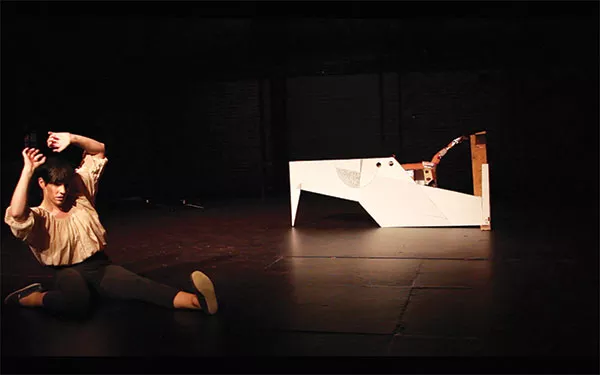 Photo courtesy of Blaine Siegel.
SPOTLIGHT: Sat., Sept. 27 — Dance
The seventh edition of the LightLab performance series takes place Sept. 27 at Carnegie Mellon University's Miller Gallery. The series, co-curated by musician David Bernabo and dancer/choreographer Taylor Knight, fosters what Bernabo calls "more progressive dance, music, film and performance art pieces." This 45-minute all-dance edition, part of the 2014 Pittsburgh Biennial, includes dancer/choreographer Jil Stifel's new work-in-progress solo "my dna," from her upcoming evening-length show Why Not Here? Set to a soundscape by Bernabo, with set design by Blaine Siegel that includes a costume bull's head that Stifel dons, the solo examines "the human desire to travel and seek out the unknown and how our more base or animal nature relates to this yearning," she says. Also on the program is a reworking of Knight and Anna Thompson's 2013 duet "memory 3," set to music by the pair. According to Taylor, the piece is an examination of itself as if it were caught in a continuous loop: What would time and repetition do to it? Rounding out the program is Maree ReMalia | merrygogo's latest duet, "guttural/proximal." It's danced by ReMalia and Bernabo (who also did the sound); ReMalia says it's a response to her recent visit to Israel and the military operations there that left her "brimming with emotion and internal conflict." Steve Sucato 6 p.m. Sat., Sept. 27. CMU campus, Oakland. Admission is pay-what-you-can. 412-268-3618 or www.cmu.edu/millergallery
Photo courtesy of Cafe Con Leche
Thu., Sept. 25 — Festival
To celebrate Latino Heritage month, Café Con Leche Pop-Up Gallery looks to infuse your lunch breaks with a bit of Latino American zest. From noon-4 p.m. Thursdays and Fridays, in Friendship's old Quiet Storm space, health-conscious Latin food vendor SaludPGH accompanies the gallery's locally sourced, Latin American art with Caribbean and Pan-Latin dishes. The celebrations continue with free events like today's interactive Latino LGBT history lesson (4-6 p.m.) and Sept. 28's Chilean Independence Day party. Hispanic dance courses, a bhangra workshop and figure-drawing lessons round out the month. Danielle Fox Gallery continues through Oct. 10. 5430 Penn Ave., Friendship. Prices vary. 412-626-7350 or www.cafeconlechepgh.com
Thu., Sept. 25 — Stage
The REP's season continues with the local premiere of Stephen Temperley's 2006 comedy Souvenir, based on the true story of operatic disaster and delight Florence Foster Jenkins. Jenkins, played by Jill Keatin, was a wealthy mid-century New York socialite and diva whose pipes were more rusted than golden. But she was beloved, and her story is told through the eyes of accompanist Cosme McMoon, played by Pittsburgh favorite Jeff Howell. Point Park alum and internationally recognized theatrical artist Tomé Cousin directs. DF 8 p.m. Show continues through Oct. 12. Pittsburgh Playhouse, 222 Craft Ave, Oakland. $15-27. 412-392-8000 or www.pittsburghplayhouse.com
Photo courtesy of Emma Dodge Hanson
Thu., Sept. 25 — Words
Novelist and short-story writer Alix Ohlin visits Chatham University tonight as this year's Melanie Brown Lecturer. Ohlin's recent works include acclaimed novel Inside, which unravels four character's decisions as it explores the dynamics of intertwining lives. Ohlin's work has appeared in Best New American Voices, Best American Short Stories and Best American Nonrequired Reading. The Montreal native lives in Easton, Pa., and teaches at Lafayette College. DF 8 p.m. Mellon Board Room, Chatham campus, Shadyside. Free. 412-365-1140 or www.chatham.com
Fri., Sept. 26 — Art
Janis Burley Wilson and Murray Horne's crazy idea to hold a quarterly art crawl Downtown seems to have paid off: A decade after the first one proposed by these Pittsburgh Cultural Trust staffers, the free crawls still draw thousands into the Cultural District for art shows, live music and more. Tonight's 10th-anniversary Gallery Crawl features two big openings. SPACE and 707 Penn Gallery debut Public Record, a multimedia group show about "love, absurdity, surveillance, gaming and identity" that's part of the Pittsburgh Biennial. Meanwhile, Wood Street Galleries offers Second/Second, featuring two sound and light installations by Icelandic artist Finnbogi Pétursson. There's also live storytelling, live comedy, film and more — including the headliner concert by international Afropean R&B act Les Nubians (pictured), at the Trust's Eighth Street space. Late-night, after-Crawl events (some of them ticketed) include film, comedy, karaoke and the Biennial after-party at SPACE, with live music by YXU and Ennui. Bill O'Driscoll 5:30-10 p.m., plus after-hours events. Downtown. Free. www.trustarts.org
Art by Peter Mandradjieff
Fri., Sept. 26 — Art
Brooklyn-based painter Peter Mandradjieff returns to his native city with a solo exhibit, Part and Parcel. Each of the abstract paintings represents an investigation of aerial perspective and informal gesture. Mandradjieff earned a degree in fine arts from Carnegie Mellon University before studying at Columbia. Part and Parcel opens in the Mine Factory gallery with tonight's reception. DF 7 p.m. Continues through Oct. 3. 201 N. Braddock Ave., Point Breeze. Free. 917-592-1860 or www.petermandradjieff.net
Sat., Sept. 27 — Art
The Andy Warhol Museum opens two splashy new shows today. 13 Most Wanted Men: Andy Warhol and the 1964 World's Fair explores the scandal surrounding the World's Fair commissioning a then-newly famous Warhol for the façade of the New York State Pavilion — only to get his renderings of mug shots of criminals. The works were painted over, but Warhol's own recreations from later that same year anchor this touring show, created by the Warhol Museum and the Queens Museum. Another native son gets his (over)due in Chuck Connelly: My America. This key figure among the New York-based neo-expressionist painters of the 1980s was born in Pittsburgh; he's now based in Philly, but this — surprisingly, his first solo museum show — continues the Pittsburgh Biennial. BO 10 a.m.-5 p.m. Exhibits continue through Jan. 4. 117 Sandusky St., North Side. $10-20. 412-237-8300 or www.warhol.org
Sat., Sept. 27 — Music
It's a different sort of R&B: Pittsburgh Renaissance & Baroque's season opener with Chicago-based touring group The Newberry Consort. Pittsburgh R&B strives to bring medieval to early classical music to new audiences. Violinist David Douglass and soprano Ellen Hargis direct tonight's show in Synod Hall, which highlights 14th-century Spanish music. The night samples the "Cantigas de Santa Maria (Canticles of Holy Mary)," 420 Galician-Portuguese musical poems honoring the Virgin Mary. Four members of the Pittsburgh Camerata, a Renaissance vocal group, join the five-piece Consort for the evening. DF 8 p.m. 125 N. Craig St., Oakland. $10-35. 412-361-2048 or www.rbsp.org
Sat., Sept. 27 — Zines
In its fourth year, the Pittsburgh Zine Fair keeps growing. A week of run-up events continue with tonight's Zine Mixer, at Bunker Projects. The casual meet-and-greet for artists and the public includes readings. Tomorrow comes the region's top showcase for DIY publications, at the Union Project. The event, sponsored by the Mr. Roboto Project and the Carnegie Library Zine Collection, complements its artist/vendors with hands-on stuff and DJs. There is even free child care. BO Mixer: 8-11 p.m. (5106 Penn Ave., Garfield; $5 suggested donation). Fair: 2-8 p.m. (801 N. Negley Ave., Highland Park; free). www.pghzinefair.com
Tue., Sept. 30 — Words
Syria's in the news, but there's more to that nation, and culture, than civil war. Osama Alomar, a Damascus native now living in Chicago, is an acclaimed writer of very short fiction. While no less than flash-fiction master Lydia Davis has praised his "magical imaginative creations," Alomar sees his work as harkening to the ancient Arab tradition of very short stories incorporating elements of poetry, philosophy and folk tales. City of Asylum hosts Alomar (and his translator) for a free reading from his new collection, Fullblood Arabian (New Directions), tonight on the North Side. BO 7:30 p.m. 330 Sampsonia Way, North Side. Free. Reservations requested at 412-323-0278 or www.cityofasylumpittsburgh.org.
Wed., Oct. 1 — Festival
Heads up: While CP will have the bulk of our VIA coverage next issue, be apprised that this annual festival of boundary-pushing music and art launches tonight. Events include an AV Showcase at Bloomfield's The Shop, with Dan'l Boone and Mark McGuire and more, and a music showcase at Altar Bar, in the Strip, with rock bands Real Estate and Regal Degal. The official kickoff party, at Lawrenceville's Cattivo, features New York-based superstar DJ Mike Q and Pittsburgh indie-electronic outfit Badboxes. BO Times and prices vary. VIA continues through Oct. 5. www.via2014.com
Thu., Oct. 2 — Words
Colorado-based Kent Nelson captured this year's Drue Heinz Literature Prize with his short-story collection The Spirit Bird. Fittingly, the University of Pittsburgh Press hosts his reading tonight somewhere with plenty of wing room: The National Aviary. According to the publisher's website, the collection's spirit bird is a metaphor for what we lose, hope for and have yet to uncover about ourselves. Nelson, who's written numerous works of fiction and poetry, is an avid birder. His work has been featured in The Best American Short Stories and other collections. DF 7 p.m. (6:30 p.m. reception). 700 Arch St., North Side. Free. 412-383-2456 or www.upress.pitt.edu