FREE EVENT: Wed., Sept. 24 — Admissions
For 20 years, that 1 percent sales-tax surcharge you've been paying in Allegheny County has kept busy. Half has gone to property-tax relief, and the other half  — some $1.5 billion — has been allocated by the Allegheny Regional Asset District to libraries, parks, civic assets from the zoo to sports stadiums, arts and cultural groups, and more. Every fall, ARAD and its beneficiaries say thanks with several weeks' worth of free admissions, performances and other events. This year, 20 RADical Days opens with a day of free tours of PNC Park, from the batting cages to the press box; the first-come, first-served walk-throughs run from 10 a.m.-3 p.m. Wed., Sept. 24. Other September highlights include Hartwood Acres Hay Day and the Allegheny Green Festival (Sept. 27); free admission to Phipps Conservatory and Botanical Gardens (Sept. 29); free tours of Heinz Field (Sept. 30); and programs and performances at local libraries. RADical Days really gets moving in October, when the 12 dates include: free performances by Attack Theatre and Pittsburgh Opera; free admission to the National Aviary, Carnegie Science Center, Children's Museum, Carnegie Museums of Art and Natural History, The Andy Warhol Museum and the Pittsburgh Zoo & PPG Aquarium; plus nature walks, kids' educational workshops at libraries, and more. Plan your calendar now; the complete schedule is at www.radworkshere.org. Bill O'Driscoll Sept. 24-Nov. 9. Various venues.
Thu., Sept. 18 — Talk
"Race," notes the Carnegie Museum of Natural History exhibition of the same name, "is a recent human invention." And as things like racial profiling, racial targeting and the enforcement of drug laws make clear, we're still struggling with it. University of Pittsburgh law professor David Harris, a nationally recognized expert on race and law enforcement, attempts to shed some light and offer solutions. His talk tonight at the Carnegie Museum of Art Theater is titled "Law and Order and Race: The Role Race Plays in Our Criminal Justice System." Bill O'Driscoll 7 p.m. 4400 Forbes Ave., Oakland. Free with museum admission ($11.95-17.95). www.carnegiemnh.org

Fri., Sept. 19 — Art
The rollout of the Pittsburgh Biennial continues. The latest of the big show's eight venues to open an exhibit is The Miller Gallery. This group show features work by local artists including: Edith Abeyta in collaboration with Michael Lewis Miller; Gavin Benjamin; Alexis Gideon; Ulric Joseph; Jessica Langley; and Celeste Heuhaus. Tonight's exhibition tour with curator Casey Droege and the artists is followed by an opening reception. BO Tour: 5 p.m. Reception: 6-8 p.m. Carnegie Mellon campus, Oakland. Free. 412-268-3618 or www.cmu.edu/millergallery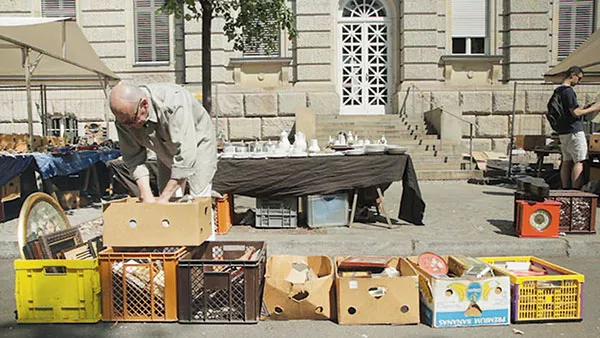 Fri., Sept. 19 — Screen
One man's trash is another man's art exhibit: the Carnegie Museum of Art presents the world premiere of documentary Discarded: Joachim Schmid and the Anti-Museum. For 30 years, German conceptual artist Schmid has curated an "anti-museum" of scrapped photographs, titled Pictures from the Street. Discarded follows Schmid in Berlin as a dwindling supply of print photos leads him into photography's digital wastelands. Attendees can discard a photograph — or discover one — at the event's photo-swap before a Q&A with Schmidt and cash bar conclude the night. Danielle Fox 6:30 p.m. 4400 Forbes Avenue, Oakland. $10-15 (includes one drink coupon). 412-622-3131 or www.cmoa.org
Photo courtesy of Gilbert Francois.
Fri., Sept. 19 — Music
Pittsburgh Symphony Orchestra Composer of the Year Mason Bates' "Rusty Air in Carolina" opens the BNY Mellon Grand Classics season. Piano soloist Valentina Lisitsa follows with Rachmaninoff's "Rhapsody on a Theme of Paganini." Lisitsa, a native of the Ukraine, claimed fame through her 150,000 YouTube followers. She also once performed with the late Lorin Maazel, the former PSO music director whom the group honors at Heinz Hall this weekend with a pre-concert talk and a multimedia display. The PSO, led by music director Manfred Honeck, closes this weekend's program with Berlioz's "Symphonie fantastique." DF 7:30 p.m. Also 7:30 p.m. Sat., Sept. 20, and 2:30 p.m. Sun., Sept. 21. 600 Penn Ave., Downtown. $25.75-105.75. 412-392-4900 or www.heinzhall.org
Fri., Sept. 19 — Opera
Rare for opera, there's basically no stage in Resonance Works' production of The Elixir of Love. Instead, the troupe turns Pittsburgh Opera's Strip District studio into "Adina's Cabaret," where some audience members will occupy tables amidst the action of Donizetti's perennial-favorite comic romance about a poor peasant, a wealthy woman and a spurious love potion. Meanwhile, Bar Marco mixes its own elixirs for patrons to quaff during the show. This weekend's two performances feature tenor Christopher Lucier as Nemorino, soprano Lindsay Ohse as Adina and local favorite Kevin Glavin in the plum role of the quack Dulcamara. The show is sung in Italian, with English supertitles. BO 8 p.m. Also 3 p.m. Sun., Sept. 21. 2425 Liberty Ave., Strip District. 412-501-3330 or www.resonanceworks.org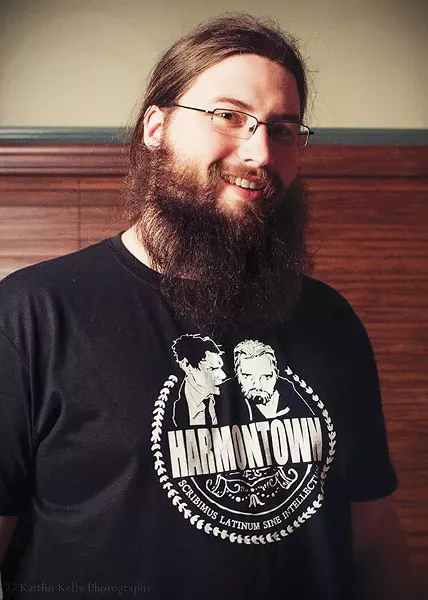 Fri., Sept. 19 — Comedy
Tonight and tomorrow, it's a neo-geek wet dream at Arcade Comedy Theater's Knights of the Arcade. The venue's already popular monthly Dungeons & Dragons comedy show (think: improv plus 12-sided die, halflings and wizards) is joined by celebrity dungeon master Spencer Crittenden. Crittenden became a cult hero when he rose from the audience at an episode of Community creator Dan Harmon's podcast Harmontown to guest-DM that show's regular D&D contests. Crittenden eventually joined the Harmontown cast and even guest-starred on Community. And he's got a beard fit for Middle Earth. BO 10 p.m. Also 10 p.m. Sat., Sept. 20. 811 Liberty Ave., Downtown. $10. www.knightsofthearcade.com
Sat., Sept. 20 — Words
The Carnegie Library of Pittsburgh Main Branch's International Poetry Collection is among the largest public-library stockpiles of poetry in the country. Starting today, the room that holds it also hosts free monthly readings by some of Pittsburgh's best poets. Saturday Poets In Person kicks off with Toi Derricotte and Vanessa German. Derricotte's much-acclaimed work includes her 2011 collection The Undertaker's Daughter. German, best known for her spoken-word performances, is a powerful presence live. BO 3-4 p.m. 4400 Forbes Ave., Oakland. Free. 412-622-3114 or www.carnegielibrary.org
Photo courtesy of MBK Photos.
Mon., sept. 22 — Fashion
Pittsburgh Fashion Week returns for its fifth year starting tonight, with a designer showcase of homegrown names and national talent like NYC-based Faith Pongracz Valez. The Pittsburgh native and Art Institute of Pittsburgh graduate and other designers will work to counter GQ's 2011 assessment of Pittsburgh as America's third-worst-dressed city. Fashion Week, which highlights autumn collections, also includes Wednesday's free "rock at work" fashion show and Saturday's "Back-to-Basics" runway show by Art Institute student designers. DF 7 p.m. (Highmark Stadium, South Side. $58.40). Events continue through Sept. 28. Various venues. Ticket prices vary. 412-720-5195 or www.pittsburghfashionweek.com

Photo courtesy of Chia Messina
Mon., Sept. 22 — Words
James McBride, the New York Times best-selling author, musician and (according to his website ) "worst dancer in the history of African Americans," opens Pittsburgh Arts & Lectures' Monday Night Lectures season. McBride will discuss his latest book, The Good Lord Bird, a humorous and provocative work based on the story of abolitionist John Brown. A man of many figurative hats but always clad in his signature porkpie, McBride's previous works include The Color of Water and both Miracle at St. Anna and that World War II story's screenplay adaptation. DF 7:30 p.m. 4400 Forbes Ave., Oakland. $15-35. 412-622-8866 or www.pittsburghlectures.org

Tue., Sept. 23 — Words
Joshua David Bellin knows monsters: The LaRoche College English professor's 2005 book Framing Monsters explores how cinematic heavies from King Kong to The Lord of the Rings reflect the cultures that birthed them. Bellin's own debut young-adult novel, Survival Colony 9, is a dystopic coming-of-age story haunted by monsters called the Skaldi, uncanny beings who take over human bodies from within. Bellin's hero and narrator is Querry, a teenager with traumatic memory loss who's nonetheless tasked with helping his nomadic colony survive in a war-ravaged landscape. The book launch is tonight at Mystery Lovers Bookshop. BO 6-7:30 p.m. 514 Allegheny River Blvd., Oakmont. Free. 800-888-6078 or www.mysterylovers.com
Wed., Sept. 24 — Comics
Copacetic Comics hosts a stop on the North American tour of three top comics artists. Michael DeForge, based in Toronto, is best known for horror series Lose and his new graphic novel, Ant Colony. Simon Hanselmann, from Australia, pens the darkly comic series Meg, Mogg and Owl, about a depressed, drug-abusing witch. And Patrick Kyle is a widely published, Toronto-based illustrator whose new fantasy graphic novel is titled Distance Mover. Visiting artists Annie Mok and Noel Freibert will also join tonight's signing. BO 7-10 p.m. 3138 Brereton St., Polish Hill. 412-251-5451 or www.copaceticcomics.com