SPOTLIGHT: Fri., Sept. 12 — Comedy
Comic Christopher Titus is wicked smart and, often, monumentally pissed off. More storyteller than joke machine, he's that rare comic who'd riff on prescription drugs becoming the No. 2 killer in America. "Two out of three people taking antidepressants are still severely depressed," he'll note. "That's like buying a six-pack of beer and four of them sober you up." Then he'll abruptly segue into talking about his sister's suicide. Pugnacious and confrontational, he's the guy who'll argue that the word "retard" is appropriate — not for describing the disabled, but for connoting people who don't use the faculties they were born with. The California-bred comedian is probably best known for his 2000-02 Fox show Titus, a dark, edgy, autobiographically inspired series revolving partly around his character's crazy relationship with his father, played by Stacy Keach. Titus' touring one-man shows are sharply written, evening-length rants, and he's given them names like "Norman Rockwell Is Bleeding," "The Fifth Annual End of the World Tour" and "Love Is Evol." The current one is called "The Angry Pursuit of Happiness." In a rare Pittsburgh appearance, he brings the tour to town for five shows at the Pittsburgh Improv, starting Fri., Sept. 12. Bill O'Driscoll Fri., Sept. 12-Sun., Sept. 14. 166 E. Bridge St., West Homestead. $22. 412-462-5233 or www.pittsburgh.improv.com
Thu., Sept. 11 — Festival
The Thrival Festival wraps this weekend with two big day-long concerts featuring scads of national acts. (See CP's music section for more.) But don't forget that Thrival is run by Thrill Mill, a nonprofit that develops entrepreneurs. There's still time to catch some of the annual fest's slate of free talks and demos, organized by corporations and other groups. Today's workshops are on Gaming's Next Frontier, and the future of social media and think tanks. Friday through Sunday, other events cover leadership, social ventures and more; Sunday brings the concluding Maker Fest. Bill O'Driscoll Continues through Sun., Sept. 14. Various venues, East Liberty/Larimer. Register at www.thrillmill.com.
Thu., Sept. 11 — Screen
The University of Pittsburgh's German department and other academic departments mark the 25th anniversary of the Berlin Wall's demise with a free film-and-lecture series. It starts tonight with the 1963 East German film The Divided Heaven, about a woman's experience working in a factory and her love for a chemist who's fled to the West. Director Konrad Wolf's unusually candid look at internal conflicts in the GDR screens in the Cathedral of Learning. BO 5:30 p.m. Room 324, Cathedral of Learning, 4301 Forbes Ave., Oakland. Free. 412-648-2614
Art by Tina Williams Brewer
Tina Williams Brewer
Fri., Sept. 12 — Art
Pittsburgh-based fiber artist Tina Williams Brewer weaves stories of migration and loss in her new quilt exhibit, Fragments, Fractals: Write It, Print It, Sew It.  Her designs aim to be "mind stirring and soul soothing," says Brewer; they move from depictions of natural water currents to images of forced relocations. Brewer's quilts celebrate African-American heritage and also address family, womanhood and culture. The internationally-honored artist opens her exhibit in 709 Penn Gallery tonight with a talk and reception. Danielle Fox 5:30-9 p.m. Exhibit continues through Nov. 16. 709 Penn Ave., Downtown. Free. 412-471-6070 or www.trustarts.org
Fri., Sept. 12 — Art
Five Pittsburgh-based artists-in-residence unveil their creations tonight at the Mattress Factory. The show of installation work is part of the Pittsburgh Biennial. The eclectic array of artists in Artists in Residence includes Danny Bracken, whose works using video, sound and physical space range from immersive pieces to small-scale sculptures. Ryder Henry creates imaginary scale models of cities with discarded cardboard. Multidisciplinary artist John Peña explores the relationship between humans and nature. Ben Sota, founder of Zany Umbrella Circus, employs puppetry, music, acrobatics and more. And Kathleen Montgomery will use the Mattress Factory's entire Monterey Street storefront building as a "physical sketchbook." The exhibit opens with a reception tonight. BO 6-8 p.m. 500 Sampsonia Way and 1414 Monterey St., North Side. $15. 412-231-3169 or www.mattress.org
Fri., Sept. 12 — Art
"Mavuno" means "first fruit" in Swahili, and it's the name Sweetwater Center for the Arts gives to its annual fall celebration of African-American art and culture. Yet it's not fruits but roots that concern this year's Mavuno Festival. Opening tonight is Connected at the Roots: An African-American Art Exhibition, juried by acclaimed Pittsburgh-based artist Laverne Kemp and featuring contributors including Amir Rashidd, Katie Rideout, Nyota Hill and Raymond Logan. Tonight's opening reception includes live music by Christiane Leach and Betty Douglas & Friends. BO 6-9 p.m. Exhibit continues through Nov. 1. 200 Broad St., Sewickley. Free. 412-741-4405 or www.sweetwaterartcenter.org
Fri., Sept. 12 — Art
Retailer Penn Avenue Eyewear and art gallery Most Wanted Fine Art team up for the eyesight of local artists. Fifteen pairs of hand-customized wooden frames in tonight's Custom Sunglass Auction were contributed by 32 artists, each of whom receives a free pair of prescription glasses or sunglasses. Artists include Joe Wos, Gabe Felice, Matt Gondek, Darrell Kinsel, Lauren Toohey and more. Proceeds from the silent auction, meanwhile, benefit Healthy Artists (which promotes health care as a human right) and the Bloomfield-Garfield Corp., a community-development group. Sales from an additional group exhibit of more conventional works at the old Quiet Storm space will be split between the artists and the two charities. This one-night event is hosted by comedian Davon Magwood, with live music by Holly Hood, Anqwenique Wingfield and Ricardo Iamuuri. BO 6-10 p.m. 5430 Penn Ave., Friendship. Free. www.most-wantedfineart.org
Fri., Sept. 12 — Stage
"Here begineth a treatise how the high Father of Heaven sendeth Death to summon every creature to come and give account of their lives in this world and is in manner of a moral play." Thus begineth Everyman, the fabled but rarely produced 15th-century Christian stage allegory of anonymous English authorship. Throughline Theatre Company gives its new staging a suitably apocalyptic frame: In a world devastated by war and other disasters, a group of women finds refuge in a ruined library and reads the play aloud to pass the time. The production opens tonight. BO 8 p.m. Continues through Sept. 20. Grey Box Theatre, 3595 Butler St., Lawrenceville. $12-15 (opening night: $22-25). www.throughlinetheatre.org
Sat., Sept. 13 — Exhibit
Taking kids to art museums might be tough, but Tough Art is made for them. The Children's Museum of Pittsburgh program, now in its eighth year, facilitates creation of interactive, immersive or collaborative projects that will take whatever children can dish out. Many of the artists have Pittsburgh ties. This year's Tough-Artworks include Jenna Boyles' boardable spacecraft The Space Sheep; Jesse Kauppila and Dakotah Konick's kinetic stained-glass work Fissure & Quake; Lindsay Packer's walk-though physics-of-light installation Prism Palace; and Stephanie Ross' immersive LED environment OmniNimbus. The exhibit opens today. BO 10 a.m.-5 p.m. 10 Children's Way, North Side. $13-14 (free for children under 2). 412-322-5058 or www.pittsburghkids.org

Sat., Sept. 13 — Artmaking
Pittsburgh Glass Center holds its first Teen Art Night, but it's got plenty of help. At Play by the Fire, kids ages 13 to 18 can explore scratch programming with representatives from Assemble, Photoshop with the Carnegie Library, collage with Pittsburgh Filmmakers, glassmaking (duh) with Pittsburgh Glass Center itself, and much more. Other organizations participating include the Carnegie Museum of Art, the Children's Museum's Makeshop, The Mattress Factory and The Andy Warhol Museum.There's also dance music from the Kelly-Strayhorn Theater, Swag Monkeys and Tracksploitation, plus furnace-fired pizza and s'mores. Also: free. BO 6-9 p.m. 5472 Penn Ave., Friendship. Free. www.pittsburghglasscenter.org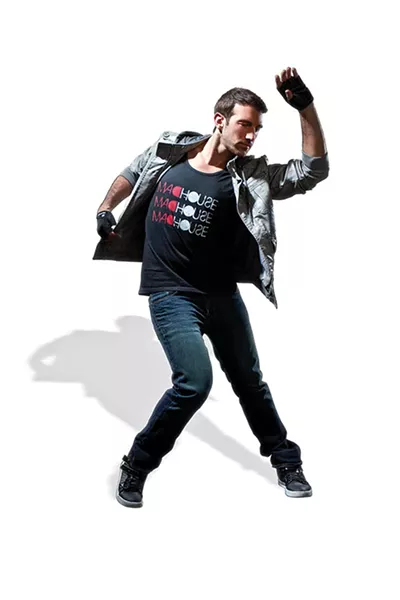 Photo courtesy of Nate David, Nate David Photography.
Sat., Sept. 13 — Stage
Burghlesque is tonight's home-grown variety show, a follow-up to last year's sold-out debut at Downtown's Cabaret Theater. Local drag grande dame Kierra Darshell and comedian Mike Buzzelli indeed host two burlesque acts, Lita D'Vargas and Macabre Noir. But there's also standup comedy from Carl Schimmel, accomplished drag acts Lady Rose Amore and Anna Steezia, dance by choreographer Joe Nickel and his troupe, and vocalist Kelsey Rae Purcell. The late-night show is staged by Madhouse Productions. BO 10:30 p.m. 655 Penn Ave., Downtown. $12 (21 and over). www.trustarts.org
Sun., Sept. 14 — Words
Annette Dashofy proudly calls herself a lifelong Pennsylvania farm girl. But now she's also making her name with murder mysteries. Lost Legacy (Henery Press) is the brand-new follow-up to Dashofy's debut novel, Circle of Influence. This second mystery featuring rural paramedic Zoe Chambers (Dashofy herself is a former EMT) starts with a farmer's apparent suicide and ends up excavating 40-year old crimes and family secrets. Today is the book's launch party, at Mystery Lovers Bookshop. BO 3 p.m. 514 Allegheny River Blvd., Oakmont. Free. Register at 412-828-4877 or www.mysterylovers.com