Main Event: Mon., Nov. 5 — Words
In September 2011, retired Pulitzer-winning columnist Ellen Goodman was scheduled to give a talk at St. Francis University. But after a Catholic advocacy group complained that Goodman is pro-choice, the Cambria County-based school canceled the lecture. The irony wasn't lost on Goodman, who was booked to talk not about reproductive rights, but about civility in politics. "That is an extraordinary act of incivility — that you didn't let someone who disagrees with you in the room," she says today. On Nov. 5, the Boston-based writer is back to give that long-delayed lecture. At Carnegie Music Hall for the Monday Night Lectures — on Election Day eve, no less — Goodman addresses the endemic incivility of this politically polarized era. In the 1970s, Goodman helped break the glass ceiling on op-ed pages, where women's voices were scarce, combining common sense with progressive views and an unstinting defense of women's rights. In those days, Goodman recalls, politicians and others who disagreed politically at least shared "more of a commitment to compromise." Now, talk-show yelling equals ratings, and the explosion of cable TV and new media means people who want news are "only going to where their views are going to be reinforced," she says. Is there a solution? Noting that people can be especially uncivil online, Goodman wonders whether hope might lie in rebuilding "face-to-face community." Bill O'Driscoll 7:30 p.m. 4400 Forbes Ave., Oakland. $15-35. 412-622-8866 or www.pittsburghlectures.org
It's no ordinary dance competition. The Belly-Off 2012, at the Pittsburgh Dance Center, pits belly-dancers against one another in an impromptu skills improvisation to live music by Pittsburgh vintage belly-dance band Ishtar. As organized by local belly-dance queen Janim (pictured) and last year's winner, Mehira, the second annual competition and show also features demonstrations in belly-dancing, aerial silks and tango. Upward of 20 local and regional competitors will perform in three no-age-limit categories — professional, student and amateur, and troop (two or more dancers) — in an in-the-round cabaret setting. The competitors draw a song from Ishtar's repertoire from a hat, improvise to it, and are judged by their dancing, audience interaction and showmanship. This year's guest judges — who will also perform at the event — include: Canton, Ohio's Sherena, star of the reality web series Project Bellydance; Maryland's Greek belly-dance bombshell Amartia; WQED's Kweilin Nassar, a '80s belly-dance star; and Pittsburgh Dance Center owner and ballroom dancer Holly Kirby. Steve Sucato 7-11 p.m. Sat., Nov. 3. 4765 Liberty Ave., Bloomfield. $10-15 (children under 12 free). 412-980-3345 or www.janim.org/belly-off.
Thu., Nov. 1 - Stage
Match new one-acts by five local white playwrights with five black directors, and works by five black playwrights with five white directors. That's the recipe for the Theatre Festival in Black & White, Pittsburgh Playwrights Theatre Co.'s uniquely cross-cultural annual showcase. The fest, which regularly produces fine work by emerging and established talents, begins tonight with the five plays of Program A; Program B's one-acts debut tomorrow, and the programs continue in rotation. Bill O'Driscoll 8 p.m. Fest continues through Nov. 17. 937 Liberty Ave., Downtown. $15-25. 412-377-7803 or www.pghplaywrights.com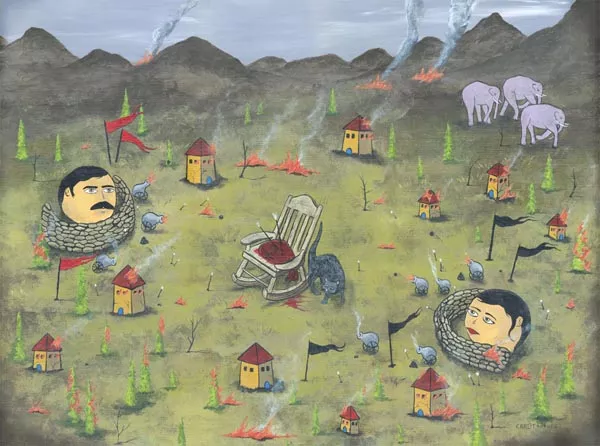 Fri., Nov. 2 — Art
As usual, the month's first Friday is a big one for art over in those eastern neighborhoods. On Ellsworth Avenue, during Shadyside's First Friday Artwalk, Gallerie Chiz holds an opening reception for Crossing Borders, showcasing work from more than a dozen countries by artists including Scott Griffin and Carlos Sanchez Vegas. And at Penn Avenue's sprawling Unblurred art crawl, highlights include the first solo show by up-and-coming painter Christian Breitkreutz. ModernFormations Gallery presents Breitkreutz's The Good Fight, exploring the struggle for personal happiness. BO Gallerie Chiz: 5:30-8 p.m. (5831 Ellsworth Ave., Shadyside; free; www.galleriechiz.com). ModernFormations: 7-11 p.m. (4819 Penn Ave., Garfield; free; www.modernformations.com).
Fri., Nov. 2 — Stage
After nine years of catering to theater fans with short attention spans, Future Ten is still at it. (Guess their attention span is longer.) The fest offers eight plays of 10 minutes each, with plot summaries like "a scientist makes a world-changing discovery, then gets lunch." (Expect the occasional poignant note, too.) Future Ten 9: Ten Minutes 'til Doomsday! features work by locally based professional directors including Todd Betker, Don DiGiulio, John Lane and Joanna Lowe. The show runs two weekends at Downtown's Future Tenant art space. BO 8 p.m. Also 8 p.m. Sat., Nov. 3, and Nov. 9 and 10. 819 Penn Ave., Downtown. $10. www.futuretenant.org
Fri., Nov. 2 — Stage
Telephone earpieces, "reality-TV" playing on wall-sized flatscreens: Ray Bradbury warned us about it all in his 1953 novel Fahrenheit 451. But that world "is already upon us," notes Justin Fortunato, who directs Bradbury's own theatrical adaption for Prime Stage Theatre. The setting is a society where books are banned — though the targets aren't really the physical books Bradbury's "firemen" char, but rather the ideas within. Fortunato says the play is less about censorship than it is about people losing the ability to think for themselves. Monteze Freeland and Dana Michelle Griffith head the cast at the New Hazlett Theater. BO 8 p.m. Continues through Nov. 11. 6 Allegheny Square East, North Side. $10-25. 888-718-4253 or www.primestage.com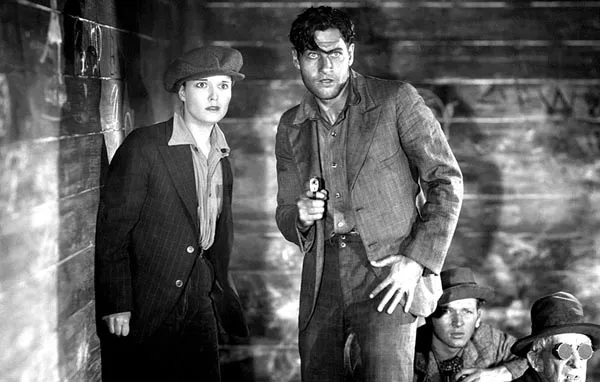 Fri., Nov. 2 — Screen
After fleeing an abusive home life, a young woman goes on the run, disguised as a boy, and rides the rails with hobos. The luminous Louise Brooks stars with Richard Arlen and Wallace Beery in William A. Wellman's silent 1928 drama Beggars of Life, whose downbeat themes presage the coming Depression. The newly restored 35-mm film screens at The Andy Warhol Museum tonight, as part of The Unseen Treasures From the George Eastman House series. Live musical accompaniment will be provided by Daryl Fleming and friends. Al Hoff 8 p.m. 117 Sandusky St., North Side. $10. 412-237-8300 or www.warhol.org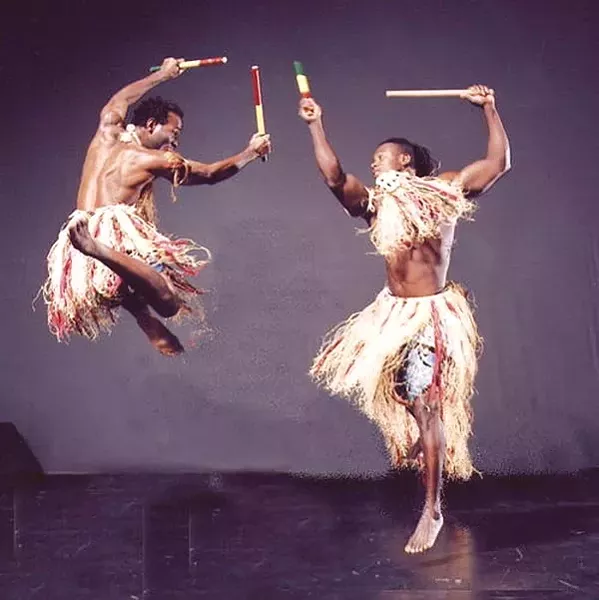 Sat., Nov. 3 — Dance
The artists and educators behind Pittsburgh's Nego Gato Inc. perform tonight at the Kelly-Strayhorn Theater. Founder Jose Sena was raised in the "Africa of the Americas," Salavador de Bahia, Brazil, and has shared its unique history and culture here in Pittsburgh since 1994. He directs the Nego Gato Afro Brazilian Music and Dance Ensemble through a repertoire including samba, maculele and the dance/martial art capoeira, joined by Yamousa Camara Drum and Dance from the West African nation of Guinea. Catherine Sylvain 7:30 p.m. 5941 Penn Ave., East Liberty. $10-20. 412-201-4546 or www.negogato.org
Sat., Nov. 3 — Music
If baroque music were rock 'n' roll, Red Priest would be playing hair metal. The British quartet gathers adjectives rarely associated with early classical music — "swashbuckling," "outrageous" and "completely mad" — and are named after the vibrant hair color of Antonio Vivaldi. The band has toured since 1997, garnered world-wide acclaim for its vivacious performances, and tonight it plays an all-Bach program at Synod Hall, courtesy of Renaissance & Baroque of Pittsburgh. Johann, I'm Only Dancing takes its name from the David Bowie song. CS 8 p.m. 125 N. Craig St., Oakland. $20-35 ($10 students). 412-361-2048 or www.rbsp.org
Sat., Nov. 3 — Opera
Mozart must have had a grim sense of humor to bill his Don Juan adaptation as a dramma giocoso — "playful drama." Major plot points of Don Giovanni include rape, murder and descent into hell. The rake's tale is reanimated in a new production opening tonight at Pittsburgh Opera, with original sets and costumes. Baritone Michael Todd Simpson (who starred in The Marriage of Figaro here in 2010) takes the title role. Opposite him are soprano Jennifer Holloway and bass Hao Jiang Tian. CS 8 p.m. Also Tue., Nov. 6, and Nov. 9 and 11. Benedum Center, 719 Liberty Ave., Downtown. $10 and up. 412-456-6666 or www.pittsburghopera.org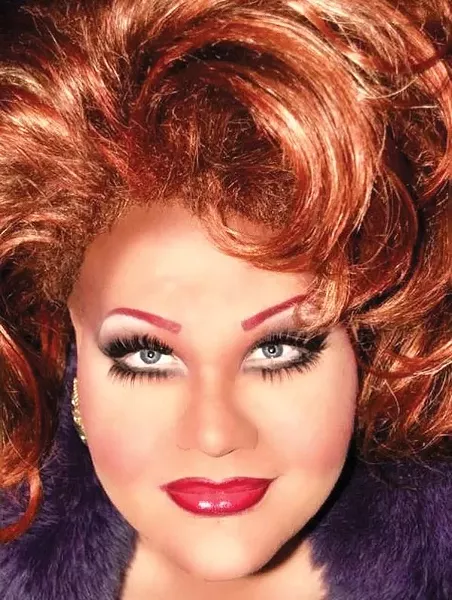 Sun., Nov. 4 — Pageant
They might all be drag queens already in the Miss Tri-State All-Star Pageant, but only one can win the crown. Founded 20 years ago in Pittsburgh by professional female impersonator Keirra Darshell, this special anniversary edition honors Miss TSAS 2012 Victoria Parker (pictured on page opposite). The format resembles a traditional pageant — with categories including interview, evening gown and talent — but you can guarantee diversity, high drama and higher heels tonight at The Cabaret at Theater Square. CS 7:30 p.m. 655 Penn Ave., Downtown. $25-30. 412-241-2329 or www.facebook.com/tsaspageant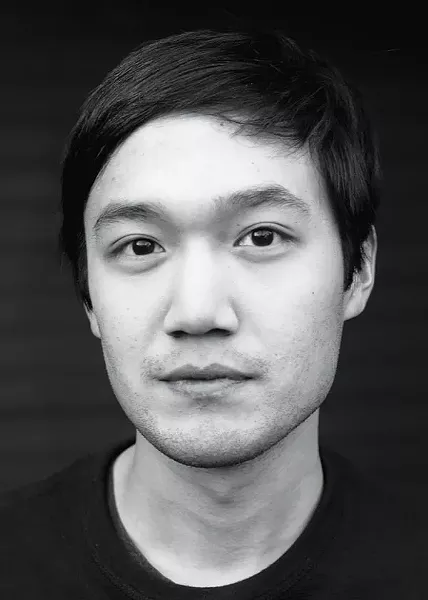 Thu., Nov. 8 — Words
In Paul Yoon's short stories, minute details suggest novel-length histories. The title work from Once the Shore opens with the description of a hair-parting with 50 years of heartbreak behind it. Yoon's 2009 collection is an intimate series of snapshots of the inhabitants, invaders and tourists on a fictional South Korean island. The Bostonian, 32, won the 2009 O. Henry Award, and his work appears in The Best American Short Stories of 2006. Yoon speaks tonight in the Pittsburgh Contemporary Writers Series. CS 8:30 p.m. Frick Fine Arts Auditorium, Schenley Drive, Oakland. Free. 412-624-6508 or www.pghwriterseries.wordpress.com