SPOTLIGHT: Oct. 29 — Stage
Bricolage Production Company has been pretty busy lately, what with its immersive work OJO getting national press at the La Jolla Playhouse's Without Walls Festival, in California. Now the troupe is home for the seventh season of its popular Midnight Radio series. The live-radio-style productions commence not with the typical spoofy, lighthearted fare, but with an adaptation of 1984, George Orwell's signal 1949 novel set in a totalitarian society. Because "Big Brother is Watching," the work's resonance with contemporary issues of surveillance — from NSA monitoring of emails to online collection of your metadata — are inescapable. (The novel has returned to best-seller lists in recent years.) But Bricolage artistic director Jeffrey Carpenter, who's directing, also cites such themes as the erasure of memory and history; thought control via language control; and the way, under the book's imagined dystopian government, that "There's never a moment when you feel like you're alone." The show's production design will be less stark than usual, with live music abetted by video elements that summon Orwell's omnipresent "telescreens." Brett Goodnack plays tortured everyman hero Winston Smith, with Paul Guggenheim as the heavy, O'Brien, and Sara Williams as Julia. Special treats: The Oct. 31 performance includes Bricolage's End of the World Ball and costume contest. And on Nov. 6, WESA 90.5 FM will carry a live broadcast. Bill O'Driscoll Oct. 29-Nov. 14. 937 Liberty Ave., Downtown. $35. www.bricolagepgh.org
Thu., Oct. 29 — Screen
In "Delta Dawn," a filmmaker takes a rare opportunity to kayak the overused Colorado River to the sea. "American Lawn" is Robert Sickel's humorous take on a cultural foible. And "Silent River" takes a hard look at what NAFTA has wrought: a Mexican river that's a waste canal for U.S. manufacturers who moved south of the border. These and other short films comprise the Wild & Scenic Film Festival, which screens locally tonight at the Kelly-Strayhorn Theater. The environmentally minded fest, sponsored here by the Pennsylvania Resources Council and Allegheny Cleanways, also includes the PRC's own "Crying Steeler Fan." Bill O'Driscoll 6:30 p.m. 5941 Penn Ave., East Liberty. $15. 412-363-3000 or www.kelly-strayhorn.org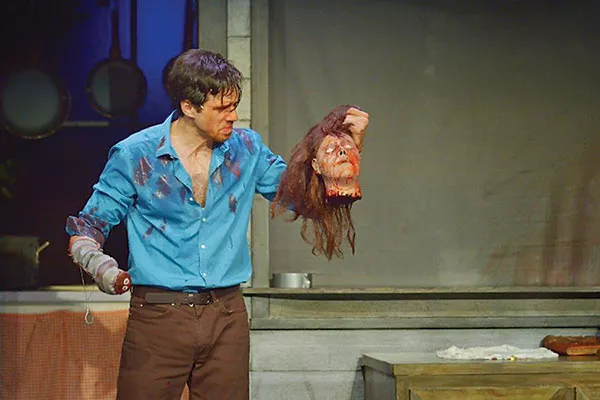 Photo courtesy of Peter Coombs.
Thu., Oct. 29 — Stage
Evil Dead: The Musical, a touring show based on director Sam Raimi's cult-favorite Evil Dead films, comes to the Byham Theater. The musical parody about friends who unleash a demon while vacationing in the woods was created 12 years ago by Canadian college students, and has since been performed all over the world. Starting tonight, the Pittsburgh Cultural Trust presents four performances of the show as part of the Cohen & Grigsby Trust Presents series. Kelechi Urama 8 p.m. Also 8 p.m. Fri., Oct. 30, and 2 p.m. and 8 p.m. Sat., Oct. 31. 101 Sixth St., Downtown. $50-75. 412-456-6666 or www.trustarts.org
Fri., Oct. 30 — Words
Peter Oresick has just published Iconoscope: New and Selected Poems (University of Pittsburgh Press), the follow-up to his splendid themed collection Warhol-o-rama. Oresick reads tonight at Pittsburgh Arts & Lectures' Poets on Tour series. While Oresick lives in Pittsburgh, the evening's second poet is actually on the road: Sarah Rose Nordgren, a doctoral student at the University of Cincinnati, won the Agnes Lynch Starrett Prize for her latest collection, Best Bones (University of Pittsburgh Press). BO 6 p.m. Carnegie Library Lecture Hall, 4400 Forbes Ave., Oakland. Free; registration required at 412-622-8866 or www.pittsburghlectures.org.
Fri., Oct. 30 — Party
It very well might be, as advertised, "Pittsburgh's only free Halloween party." But Nightmare on Hellsworth is definitely the only one featuring chart-topping popsters A Great Big World. And singer-songwriters Ian Axel and Chad King ("Say Something") are joined on the Delta Foundation of Pittsburgh's outdoor stage in Shadyside by talent including Pittsburgh's own Chris Jamison. Costumes are de rigueur (competitors in the costume contest must enter online). The party, whose co-sponsors include Star 100.7 FM, is hosted by Lola LeCroix and Star 100.7's Bubba. It's all-ages, but anyone under 21 needs a parent or guardian 25 or older. BO 7 p.m. Ellsworth Avenue at Maryland, Shadyside. Free. www.pittsburghpride.org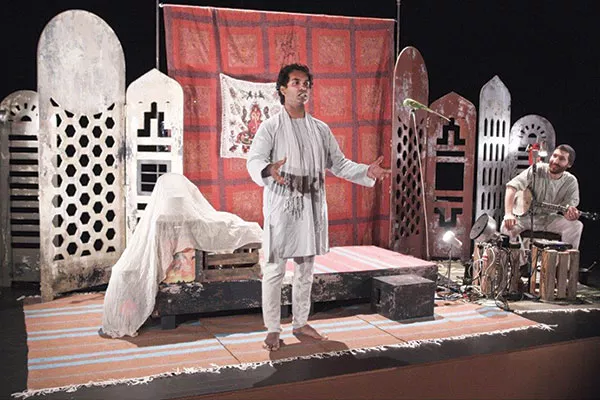 Photo courtesy of Robert Catto
Fri., Oct. 30 — Stage
Pittsburgh Cultural Trust's India in Focus festival continues tonight and tomorrow with two performances of The Elephant Wrestler at the August Wilson Center. The play examines the conflict between Western ideals and traditional Indian culture and mythology through the story of a poor tea-seller whose life is changed after a girl brings a train station to a standstill with her beautiful singing voice. The Elephant Wrestler was created by Indian Ink, an acclaimed New Zealand-based touring company. KU 8 p.m. Also 8 p.m. Sat., Oct. 31. 980 Liberty Ave., Downtown. $25. 412-456-6666 or www.trustarts.org
Fri., Oct. 30 — Stage
Prime Stage opens its season with The Crucible, Arthur Miller's classic about the Salem witch trials. Adrianne Knapp and Jason Spider Matthews star as Abigail, the young instigator of the witch-hunts, and John Proctor, the farmer with a guilty conscience. Scott P. Calhoun (The Last Five Years) directs. The first performance at the New Hazlett Theater is tonight; there's a costume contest on Halloween, and special witch-hunt game at all performances. KU 8 p.m. Continues through Nov. 8. 6 Allegheny Square East, North Side. $10-15. 412-320-4610 or www.newhazletttheater.org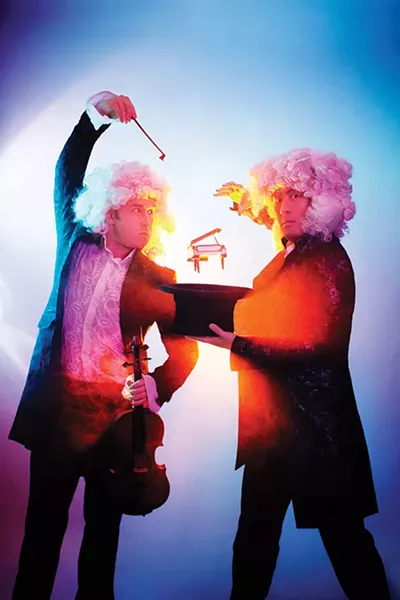 Photo courtesy of Julia Wesely
Sat., Oct. 31 — Music
While Aleksey Igudesman plays a traditional Irish jig, British-Korean pianist Hyung-ki Joo sweeps the Russian violinist's feet with a broom, forcing him to jump as he plays. It's that fusion of comedy and classical music that has garnered the internationally known duo almost 40 million views on YouTube. Tonight, Igudesman & Joo join the Pittsburgh Symphony Orchestra at Heinz Hall, where they pay homage to the musical canon of the chilling and creepy, and perform such originals as "Horror Movie" and "Danse Macabre." KU 8 p.m. 600 Penn Ave., Downtown. $25.75-65.75. 412-392-4900 or www.pittsburghsymphony.org
Sat., Oct. 31 — Dance
With its intergenerational ensemble of dancers and musicians, Pittsburgh's Balafon West African Dance Ensemble provides a contemporary take on West African traditions and culture. Balafon's latest offering of lively dancing and live percussion for all ages is Sundiata Kieta Celebration, based on an African folk myth handed down through generations of griots. The story (an inspiration for The Lion King) concerns an exiled emperor seeking to reclaim his throne. The performance, at the Kelly-Strayhorn Theater continues the theater's World Stage Series. The ticket price is "pay what makes you happy." BO 8 p.m. 5941 Penn Ave., East Liberty. 412-363-3000 or www.kelly-strayhorn.org
Sun., Nov. 1 — Music
Marianne Cornetti, who grew up in nearby Cabot, Pa., has become one of the world's top mezzo-sopranos specializing in Verdi. But when she's not doing Il Trovatore in Spain, China or Tel Aviv, she occasionally returns to the Andrew Carnegie Free Library & Music Hall. Today marks her third performance there. Marianne Cornetti: The 10th Anniversary Concert includes both classic arias and classic Broadway show tunes. BO 3 p.m. 300 Beechwood Ave., Carnegie. $50-75. 412-276-3456 or www.carnegiecarnegie.org
Mon., Nov. 2 — Words
David Mitchell's fantastical, time-hopping novels have gotten both popular and critical acclaim. Tonight, the Cloud Atlas and The Bone Clocks novelist speaks at Carnegie Music Hall as part of Pittsburgh Arts & Lectures' Monday Night Lectures. Expect mention of his brand-new work, Slade House. BO 7:30 p.m. 4400 Forbes Ave., Oakland. $15-25. 412-622-8866 or www.pittsburghlectures.org
Tue., Nov. 3 — Words
The Steel City Slam holds its weekly poetry slam at East Liberty's Capri Pizza and Bar. The all-ages Pittsburgh Poetry Collective event includes a slam with eight competing poets and an open-mic list that caps at six. Arrive early to sign up for either roster; the competition features three rounds of three-minute poems, with prizes for first and second place. BO 7:45 p.m. 6001 Penn Ave., East Liberty. $5. www.pghpoetry.org
Wed., Nov. 4 — Stage
In a changing Pittsburgh, new money pushes people out of their neighborhoods, and gentrification seems the air we breathe. What values are left undiscussed? Michael Eichler, a University of Pittsburgh-trained sociologist and former local activist — he founded the Mon Valley Initiative, a Homestead-based community-development group — is now a playwright based in San Diego. But his new play, Repulsing the Monkey, is set on the South Side Slopes, where a twentysomething brother and sister have inherited Jablonski's Bar, a neighborhood gathering place that loses money. Do they keep it, or sell out to newcomers? Tonight and tomorrow, Pitt's School of Social Work hosts staged readings in the perhaps-anomalous venue of the stately Pittsburgh Athletic Association. A discussion follows. BO 7 p.m. Also 7 p.m. Thu., Nov. 5. 4215 Fifth Ave., Oakland. $10 (includes refreshments). www.socialwork.pitt.edu/news