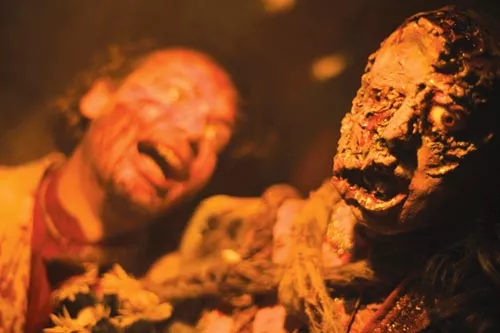 Thu., Oct. 20 -- Scares
Terror Town, a new 30,000-square-foot haunted attraction in the Strip District, plays up reports of alleged paranormal activity emanating from its basement location; employees attest to strange occurrences in the former industrial building. Creators Sam and Bernie Firman and designer Michael magGot developed the cannibal underworld, populated with pallid schoolgirls in sooty ski masks and a happily deranged proctologist. The new attraction continues through month's end; on Oct. 24 and 25, there are "Black Out" tours for those brave enough to descend with flashlight only. Amy Kuhre 7 p.m. Continues through Oct. 30. 17th and Smallman streets, Strip District. $17-30. 412-315-7331 or www.terrortownpgh.com
Thu., Oct. 20 -- Comedy
With comedian Jim Norton, if a joke doesn't start out at kinky sex, prostitutes or masturbation, it's bound to end up there. As CNN wrote in a profile, "Quite simply, nothing is offensive to him." Norton's a regular on The Tonight Show (reporting from places like the Kentucky Derby) and a favorite on HBO and satellite radio's Opie & Anthony Show. This week, he's at the Pittsburgh Improv for five shows starting tonight. Bill O'Driscoll 8 p.m. Continues through Sat., Oct. 22. 166 E. Bridge St., West Homestead. $22. 412-462-5233 or www.improv2.com
Fri., Oct. 21 -- Clean-up
Pretty much every Pittsburgh neighborhood, organizers claim, will participate in the annual three-day Fall Redd Up. Civic group Citizens Against Litter organizes the volunteer-driven initiative, which starts with today's Stash the Trash event for public, private and parochial schools. But the big day is Saturday, when some 10,000 volunteers (including 2,800 Pitt students) are expected to pitch in picking up what someone else pitched out. Volunteers are still sought; contact 412-688-9120 or boris.weinstein@verizon.net. Gloves and trash bags supplied. BO www.citizensagainstlitter.org
Fri., oct 21 -- Art
Artists, it's fair to say, are not known for keeping things bottled up. But in Not So %&*! Serious, curator Andy Scott encouraged members of the Penna Assembly artists collectively to just have fun. See the results at Unsmoke Artspace in installation works by 20 mostly emerging local artists, including Christian Breitkrutz, Dean Cercone, Ron Copeland and Maura Doern Danko. Tonight's opening reception features live music by recording artists from Ohio-based outfit Wild Kindness. BO 7 p.m.-midnight. Exhibit continues through Nov. 8. 1137 Braddock Ave., Braddock. Free. unsmokeartspace.com
Fri., Oct. 21 -- Comedy
Kathleen Madigan on suicide hotlines: "I always wonder who could do that job. I know I couldn't, 'cause I know I would agree with nine out of 10 people. I'd be like, 'Dude, I hear ya. I don't know how you even made it to the phone. I have a job and I'm hanging on by a thread. Like I said, you should call back later.'" A favorite of Lewis Black and many others, Madigan hits the Palace Theater tonight with Gone Madigan, the tour that shares its name with her popular recent Showtime special. BO 8 p.m. 21 W. Otterman St., Greensburg. $30-35. 724-836-8000
Photo courtesy of Cristina Saucedo
Studio of Duncan Macdiarmid.
Sat., Oct. 22 -- Art
Behind the boutiques, bars and coffeeshops, Lawrenceville remains living and working space for plenty of artists, too. Just like some Richard Scarry book for art-loving grownups come to life, see what the artists in 16 studios in and around Butler Street are up to on today's seventh annual Lawrenceville Artists' Studio tour, Art Attack. Between 41st and 53rd streets, check out everything from photography and glass art to ceramics, weaving and woodcut prints -- some of it while it's still getting made. Maps are available at Perk Me Up Coffee Shop and Maura Mori. BO 10 a.m.-6 p.m. Free. www.lvpgh.com
Sat., Oct. 22 -- Preservation
During a full day of lectures, demos and workshops, the Carnegie Museum of Natural History's 2011 Preservation Fair offers solutions to heirloom maintenance. Discover tools and techniques for care of pictures and home movies, but also for your grandmother's wedding dress, with tips on textile care. You can even learn about map restoration and rescuing prized novels from the ravages of water damage. AK 10 a.m.-4 p.m. 4400 Forbes Ave., Oakland. Free with museum admission. 412-622-3131 or www.carnegiemnh.org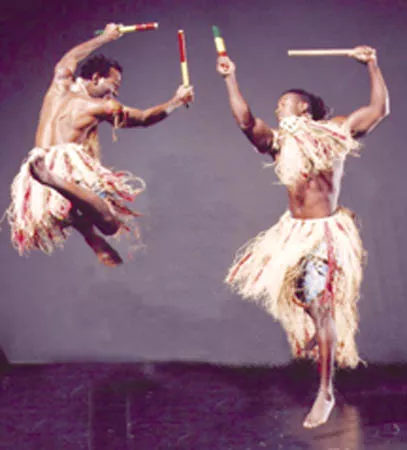 Sat., Oct. 22 -- Dance
Originally a form of self-defense for African slaves in Brazil and Portugal in the 16th century, capoeira melds martial arts and African dance in a gracefully combative performance style. The Nego Gato Afro Brazilian Music and Dance Ensemble presents From Kongo to Brazil. It's a colorful and rhythmic celebration, with costumes and traditional instruments like the stringed berimbau. Guest performers Titos and Biza Sompa, from the Congolese Mbongi Dance Theater, join New York-based performer Joao Grande onstage at the Kelly Strayhorn Theater. AK 8 p.m. 5941 Penn Ave., East Liberty. $10-20. 412-201-4546 or www.negogato.org
Sun., Oct. 23 -- Exhibit
Hey, 99-percenters: The Frick Art & Historical Center hosts Fabergé: The Hodges Family Collection, a touring exhibit featuring more than 100 luxury objects from the famed House of Fabergé, Russia's court goldsmith and jeweler in the final decades of the czars. Occupy Wall Street wasn't yet on the radar when the Frick booked this showcase for priceless tableware, jewelry and clocks, and items like the diamond-encrusted snuffbox that Tsar Alexander III gave to fellow one-percenter Prince Otto von Bismarck. The Frick complements the show with Gilded Age items from its own collection, including a Russian tea set owned by Henry Clay Frick, and an installation of Rolls-Royce automobiles. As always at the Frick, looking is free. BO 10 a.m.-5 p.m. 7227 Reynolds St., Point Breeze. 412-471-3505
Sun., Oct. 23 -- Exhibit
Pittsburgh gets its own version of Make magazine's Maker Faire as the Children's Museum hosts the Pittsburgh Mini Maker Faire. Faires are public gatherings of crafters, tinkerers, hobbyists, students and tech enthusiasts working with whatever works for them. Today, the more than 70 exhibits, performances and workshops include: Sauerkraut Powered Robots; The Great American Horn Machine ("probably the world's loudest mobile musical instrument"); and a Carnegie Mellon-based team of high school girls who make robots. Also check out MakeShop, a similarly themed new permanent display at the museum that opens this weekend. BO Noon-6 p.m. 10 Children's Way, North Side. $11-12.
Sun., Oct. 23 -- Music
Music in a Great Space presents The Mendelssohn Choir of Pittsburgh in a concert featuring the works of Hungarian composer Zoltan Kodaly and French composer Francis Poulnec. Established in 1908, the choir is known for its diverse repertoire that spans Mozart and the soundtrack for Final Fantasy. The concert features an antiphonal, or call-and-response, style, with ensembles alternating as they sing. Edward Alan Moore, of East Liberty Presbyterian Church, accompanies on organ at Shadyside Presbyterian Church. AK 4 p.m. 5121 Westminster Place, Shadyside. $10. 412-628-4300 or www.shadysidepres.org
Sun., Oct. 23 -- Stage
After years spent trying to "fix" her dysfunctional life, Grammy-nominated singer and storyteller LynnMarie put all her emotion into the one-woman show Wrap Your Heart Around It: A Journey from Depression to Dessert. She brings her message of defiant humor to Pittsburgh audiences, and relates her experiences as the daughter of an alcoholic father and the mother of a special-needs child. Raised outside Cleveland, LynnMarie tells stories and sings tonight at Cabaret at Theater Square -- reminding audiences that, sometimes, the answer to life's problems is dessert. AK 7 p.m. 655 Penn Ave., Downtown. $25-75. 412-456-6666 or www.trustarts.org