Free Event: Thu., Oct. 3 — Tour
Old-timers can be jaded, so maybe it takes relative newcomers like Melissa LuVisi and Christine Smith to see how much Pittsburgh's changed in recent years. The latest initiative of the two young women's arts start-up Treading Art is Discover Pittsburgh. This three-day series of events — timed to coincide with the opening of the Carnegie International — is built around local creative types working in art, design, music, performance, food and libations. Discover Pittsburgh begins at 7-11 p.m. Thu., Oct. 3, with a Pop-Up Lounge at Wood Street Galleries, with artisan furniture, DJs, video installations, desserts and cocktails. Saturday's East Liberty Round-Up, from noon-4 p.m., includes 12 venues and outdoor sites near the Penn-Highland intersection, and features everything from live music by Brewer's Row and artist demos to a Kelly-Strayhorn Theater roaming dance party, cocktails and crostinis at The Livermore, and a Union Pig & Chicken pig roast. (The latter might include a small fee.) On Sunday, enjoy small bites and drinkies, plus acoustic music by Broken Fences' Morgan Erina, at a light-fare brunch at the artist studios of Lawrenceville's Radiant Hall (pictured). Discover Pittsburgh wraps on Mon., Oct. 7, with 10 and 11:30 a.m. tours of Maxo Vanka's amazing murals at Millvale's St. Nicholas Croatian Catholic Church — visionary Depression-era works excoriating war and greed. No reservations are required for Discover Pittsburgh events. Bill O'Driscoll Thu., Oct. 3-Sun., Oct. 7. Free. www.treadingart.com
Thu., Oct. 3 — Art
Yasumasa Morimura's big 30-year career retrospective at The Andy Warhol Museum opens Sunday. But you can hear the renowned artist speak today at the Carnegie Mellon University School of Art's lecture series. Morimura's lone artistic subject is himself, and the personae and famous images into which he inserts his image, as everyone from Mao and Marilyn to Vermeer's Girl with the Pearl Earring. The native of Japan explores self-portrait, celebrity, gay and transgender life, art history and popular culture. The Warhol exhibit Yasumasa Morimura: Theater of the Self includes nearly 100 images, many never before seen in the U.S. Bill O'Driscoll Talk: 5 p.m. (McConomy Auditorium, CMU campus, Oakland; free). Exhibit: Oct. 6-Jan. 12 (117 Sandusky St., North Side: $10-20). 412-237-8300 or www.warhol.org
Fri., Oct. 4 — Events
While RADical Days continues through Nov. 10, this weekend marks the year's final extensive slate of free admittances. Tonight and tomorrow, courtesy of the Allegheny Regional Asset District, Pittsburgh Filmmakers' Melwood Screening Room screens two programs of award-winning short films from the Ann Arbor Film Festival. Saturday only, the free stuff includes admission to Fort Pitt Museum; on Sunday, visit the Heinz History Center and the National Aviary. Expect lines, though — we hear free stuff is popular. BO Complete RADical Days schedule at www.radworkshere.org
Fri., Oct. 4 — Art
Apparently there are some art exhibits opening in town this week. Several of them are right there in the Penn Avenue galleries that stage Unblurred. The monthly gallery crawl features exhibits, music and more. Highlights tonight include exhibits at ModernFormations Gallery by both cartoonist Paulette Poullet — who offers Our Disappearing City, evocations of vanishing aspects of Pittsburgh — and images from world-traveling photographer Kurt Garrison. And the Irma Freeman Center for Imagination presents Pittsburgh by Pittsburgh Artists III, its annual multi-media group shows for artists with local roots depicting this here town. BO Unblurred: 7-10 p.m. 4100-5500 Penn Ave., Bloomfield/Friendship/Garfield. Free. 412-389-5521
Fri., Oct. 4 — Music
Carmina Burana, one of the few things from the Middle Ages that is not entirely about war, poverty and disease, opens the Pittsburgh Symphony Orchestra's Mellon Grand Classics series. Originally a book composed of 24 poems, Carmina Burana was turned into a 20th-century choral masterpiece and remains one of the most recognizable works of all time. Additionally, PSO composer of the year David Stock will premiere a work written expressly for the orchestra. Brett Wilson 8 p.m. Also 8 p.m. Sat., Oct. 5, and 2:30 p.m. Sun., Oct. 6. Heinz Hall, Downtown. $30.75-124.75. 412-392-4900 or www.pittsburghsymphony.org
Fri., Oct. 4 — Screen
The Harder They Come is a landmark of world cinema — the first full-length feature shot in Jamaica about Jamaica, with a Jamaican director and cast. But Perry Henzel's 1972 film is also a certified cult classic whose soundtrack — with hits like the title tune and "You Can Get It If You Really Want" helped popularize reggae in the U.S. The film centers on Jimmy Cliff's star-making turn as the singer/outlaw Ivan, who leaves the countryside only to find Kingston full of crime, violence and corruption. A week of screenings at Pittsburgh Filmmakers' Regent Square Theater begins tonight. BO 8 p.m. 1037 S. Braddock Ave., Edgewood. $9. 412-682-4111 or www.pghfilmmakers.org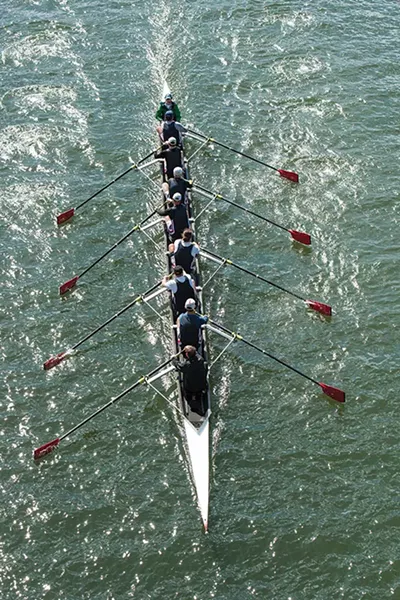 Sat., Oct. 5 — Sport
The regatta is back! No, not the Three Rivers Regatta, but the 27th annual Head of the Ohio Regatta. The rowing event, among the nation's largest one-day regattas, will host rowers of all ages and skill levels, from juniors and masters to Olympians, and rowers representing more than 75 colleges and universities. Spectators can catch great views from along the Three Rivers Heritage Trail, the 16th Street Bridge, or the footbridge onto Washington's Landing, where they can catch live announcements. BW 7:30 a.m. Washington's Landing, North Side. Free. www.headoftheohio.org
Sat., Oct. 5 — Stage
Who knew that the woman who played Fanta in Roots, and show-stoppingly sang "Aquarius" in the movie Hair, was now living in Pittsburgh part time? But Renn Woods — who also played Dorothy in the first national Broadway tour of The Wiz — not only lives here, she's premiering a musical she wrote at Pittsburgh Playwrights Theatre Co. Woods developed Sold: Renn Woods in Concert from an earlier autobiographical one-woman show about the life and times of a child star turned adult star. "It's the story of how life throws curves at people," says Woods, who heads a dozen-member cast. BO 8 p.m. Continues through Oct. 20. 937 Liberty Ave., Downtown. www.pghplaywrights.org
Sat., Oct. 5 – Music
Ensemble Son, a contemporary chamber quartet from Stockholm, joins New York City-based quartet Either/Or to open the season at Music on the Edge. The program of all premiere works at Bellefield Hall Auditorium include "Dark Flow," by Either/Or cofounder Richard Carrick; "Hereabouts," by Ensemble Son's Ivo Nelson; and new works by Keeril Makan, Lisa Streich and Zeena Parkins. The University of Pittsburgh-based Music on the Edge is devoted to contemporary music performed by professional musicians. BO 8 p.m. 315 S. Bellefield Ave., Oakland. $10-20. 412-624-7529 or music.pitt.edu/tickets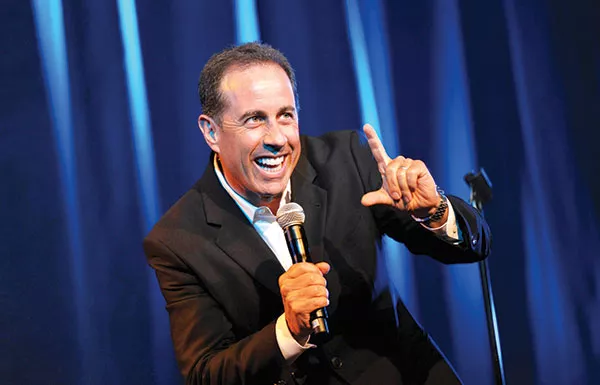 Photo courtesy of John Shearer.
Sat., Oct 5 — Comedy
Jerry Seinfeld — didn't he have a TV series, once? Now you'll see him hosting the web series Comedians in Cars Getting Coffee — or, perhaps, in the flesh, plying his original trade of standup. Seinfeld brings his North American tour to the Benedum Center for two shows tonight. The early show is sold out. BO 7 and 9:30 p.m. 719 Liberty Ave., Downtown. $50-82. 412-456-6666 or www.trustarts.org
Sun., Oct. 6 — Art
Wind down from Pittsburgh's big art weekend with ... more art. Unsmoke Systems Artspace, in Braddock, hosts the daylight opening reception of With Things Inside, a collaborative installation by David Lasky and Brazilian-born artist Carolina Jacobs Ramos that explores "dispersion, decay, fertility and habitat" in sculpture and new-media works. Expect ick — except at the outdoor brick oven, where there'll be pizza, bread and libations. BO Noon-4 p.m. 1137 Braddock Ave., Braddock. Free. 415-518-9921 or unsmoke@gmail.com
Photo courtesy of John Shearer.
Mon., Oct. 7 — Words
Kinsey Millhone is always the one asking the questions in Sue Grafton's "alphabet series" of mysteries. However, at tonight's Monday Night Lectures talk, perhaps you can ask Grafton some questions about Kinsey. Grafton will discuss her latest novel, W is for Wasted, courtesy of Pittsburgh Arts & Lectures. NPR has said of Grafton's series, "Makes me wish there were more than 26 letters." BW 7:30 p.m. Carnegie Music Hall, 4400 Forbes Ave., Oakland. $15-40. 412-622-8866 or www.pittsburghlectures.org
Wed., Oct. 9 — Words
"Over wine, I warned him / soft—you can't sleep here; you won't / wake up," writes poet Saeed Jones. "In the snuffed room, my touch / serrated / bit of tooth / or switchblade. / Even a peacock feather comes to a point. / He thought / I was kissing him." San Francisco-based Jones recently won the Pushcart Prize for Poetry. His Pittsburgh debut marks the first installment of the Human Equity Through Art Performance Series, organized by Pittsburgh-based HEArt Online, a journal that promotes social justice through art. Also reading is Pittsburgh's own National Book Award-winning poet, Terrance Hayes. BO 7:30 p.m. 6 Allegheny Square East, North Side. $10-15. www.heartjournalonline.com