SPOTLIGHT: Wed., Oct. 16 — Dance
Martin Zimmermann and Dimitri de Perrot say of their works, "We do everything very seriously, but take nothing seriously." The award-winning duo's Zurich-based Zimmermann & de Perrot combines circus arts, dance, theater and a whole lot of wackiness. The troupe makes its Pittsburgh debut with the U.S. premiere of Hans Was Heiri, in three Pittsburgh International Festival of Firsts shows at the August Wilson Center. On its website, the company describes itself as "theater based on precise observation, humorous repetition, distortion, and the artistically accomplished transformation of everyday interactions." By phone from Montreal, co-director and choreographer Zimmerman says that Hans builds on the idea that while we humans strive for individuality, we are surprisingly similar in our basic needs and desires. The family-friendly, 80-minute piece takes place in a zany world where six lonely, off-the wall characters occupy what could be an apartment building with a shared bathroom. The characters are tragic, comical, human but not quite normal, Zimmerman says. The set is dominated by a large cube rotating on a horizontal axis and partitioned into four rooms. In a video clip, the characters tumble into corners or other rooms of the cube, and run along its outside like hamsters on a wheel. "It is a really surrealistic, funny world," says Zimmerman. Steve Sucato 8 p.m. nightly Wed., Oct 16, through Fri., Oct. 18. 980 Liberty Ave., Downtown. $19-55. 412-456-6666 or www.trustarts.org
Thu., Oct. 17 — Words
Nov. 22 marks 50 years since JFK's assassination, but disagreement over who did it persists. Starting today, three events tackle the issue from different angles. "Passing the Torch" is a three-day scholarly symposium at Duquesne University's Wecht Institute of Forensic Science and Law that will explore new theories about the killing. The centerpiece is Friday's talk by famed filmmaker Oliver Stone, whose 1991 hit JFK fanned conspiracy theories. But first, tonight, Stone joins Salon.com founder and Kennedy-family expert David Talbot; journalist and author Jefferson Morley; and others for The JFK Assassination and the Media, a panel talk at the Heinz History Center. Finally, on Saturday, The John McIntire Dangerously Live Comedy Talk Show chips in with JFK: A Comedy Show — Too Soon? Guests include noted single-bullet-theory skeptic Cyril Wecht, plus Talbot, Walt Brown (author of The Warren Omission) and others. BO Duquesne symposium continues through Sat., Oct. 19 (Duquesne campus, Uptown; passes range from $25-200; www.duq.edu/JFK). History Center panel: 7 p.m. (5:30 p.m. reception; 1212 Smallman St., Strip District; $40; www.heinzhistorycenter.org). McIntire show: 10:30 p.m. Sat., Oct. 19 (655 Penn Ave., Downtown; $10; www.trustarts.org)
Thu., Oct. 17 – Music
The season's most diverse sampling of local musical talent is tonight at Mr. Smalls – and topping it off, Phat Man Dee's Cavalcade of Stars N'at is free (or just $2 if you're under 21). The show, co-presented by Creative Life Support, includes jazz by Phat Man Dee and the Cultural District; rock by Amoeba Knievel; salsa by Machete Kisumontao; gospel by the Rev. Deryck Tines; hip hop from HollyHood and J-Pad da Juggernaut; bellydance by Christine Andrews; the burlesque of Lita D'Vargas; and ... Trixy, Trundle Manor's fire-breathing art car. BO 7 p.m. 400 Lincoln Ave., Millvale. Free ($2 if under 21). www.mrsmalls.com

Thu., Oct. 17 – PechaKucha
PechaKucha, the Japanese term for chit-chat, is now used worldwide to indicate an evening where creative types have exactly 6 minutes and 40 seconds to get their ideas across — 20 seconds for each of 20 projected images. Presentations can be about anything, from innovative initiatives to travelogues and documentations of enthusiasms. Locally, PechaKucha is presented four times annually by AIA Pittsburgh. PechaKucha Night Pittsburgh 20 x 20 is tonight at Downtown's Pittsburgh Cultural Trust Arts Education Center. BO 7:20 p.m. 805-807 Liberty Ave., Downtown. $15. 412-471-9548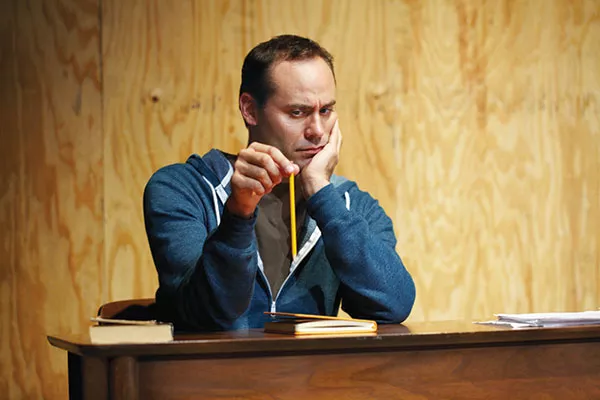 Fri., Oct. 18 – Stage
Compared to McMansion-dwelling Americans, the Japanese make frugal use of living space. Yet it's Japanese playwright Toshiki Okada, in collaboration with Philadelphia-based Pig Iron Theatre Company, who brings us Zero Cost House. This mediation on how Thoreau's Walden changed the playwright's life curves time and space, ponders philosophy, politics and shelter, and includes singing rabbits. The cast of five visits the Kelly-Strayhorn Theater tonight. BO 8 p.m. 5941 Penn Ave., East Liberty. $10-20. 412-363-3000 or www.kelly-strayhorn.org
Photo courtesy of Tom Cobb
Sat., Oct. 19 – Words
David Laskin's new book, The Family (Viking), does something we've all wanted to do: explore the world of our ancestors and find out how we got here. Going notably beyond www.ancestry.com, Laskin traces a lineage that includes ancestors lost to the Holocaust as well as a Russian-immigrant great-aunt who founded the Maidenform lingerie line. On his national tour, Laskin discusses this epic history — including two world wars and the founding of Israel — during morning services today at Rodef Shalom Congregation. Brett Wilson 9:15 and 10:30 a.m. 4905 Fifth Ave., Shadyside. Free. 412-621-6566 or www.rodefshalom.org
Sat., Oct. 19 – Words
David Riley Bertsch — a Pittsburgh native who studied law (at Pitt) and then became a fly-fishing guide in Jackson, Wyo. — has written a thriller about a former lawyer who's a fly-fishing guide in Jackson, Wyo. But unlike his protagonist, Jake Trent, Bertsch has likely never experienced the discovery there of three dead bodies in one day. Bertsch's debut novel, Death Canyon, is earning strong reviews. He visits Mystery Lovers Bookshop for today's Coffee & Crime author breakfast. BO 10 a.m. 514 Allegheny River Blvd., Oakmont. Free; registration required at 412-828-4877.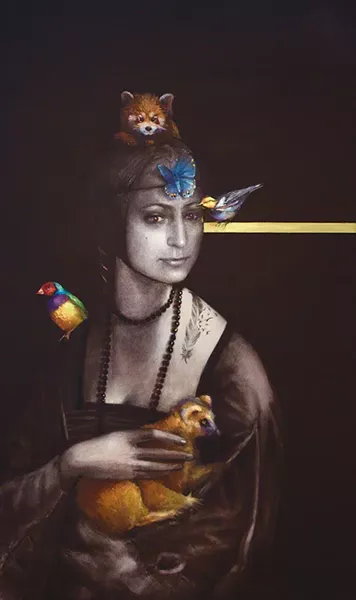 Art by Elizabeth Castonguay
Sat., Oct. 19 – Art
It's a rare local solo show for a much-awarded Pittsburgh artist. Borelli-Edwards Galleries presents Endangered, a exhibit of paintings by Elizabeth Castonguay, whose "Levees/Breaking" won first-place awards at both a international competition at New York's Viridian Gallery and a national competition at the Amarillo Museum of Art. Endangered shows off Castonguay's techniques of realism in the service of a visionary sensibility to honor the planet's more than 10,000 endangered species. The opening reception is tonight. BO 5-8 p.m. 3583 Butler St., Lawrenceville. Free. 412-687-2606 or www.begalleries.com
Sat., Oct. 19 – Comics
It's a big night for local comics artists, as Copacetic Comics hosts a release party for four edgy new publications. Nils Balls' Ship of Soiled Doves is a rather saucy, intermittently violent graphic novel about prostitutes who mutiny on an Ohio River steamboat during the Civil War. Heathen is a compilation of dark science fiction and fantasy by Jeremy Baum. Andy Scott edited Andromeda Quarterly, an anthology of work by 11 artists. And Nate McDonough shows off new work including "Grixly 25." BO 6-9 pm. 3138 Dobson St., Polish Hill. Free. 412-251-5451 or www.copaceticcomics.com
Sat., Oct. 19 - Dance
In April, Ellen Deutsch's Geeksdanz interpreted the high-tech world of video gaming. Now her fledgling troupe explores a much older, low-tech form of entertainment: ghost stories. Manifestations ─ at Shadyside's intimate Steel City Improv Theater ─ seeks to tingle spines and chill blood. Four dancers will perform to six stories by award-winning storyteller Alan Irvine, drawn from legends, folk tales and literary classics including Bram Stoker's "The Judge's House." The interpretations range from pretty realistic to very abstract, says Deutsch. A half-hour family-friendly early show features three G-rated stories; two hour-long performances add three PG-13-rated tales. Steve Sucato 7 p.m. (family show) and 8 and 10 p.m. 5950 Ellsworth Ave., Shadyside. $5-10. Reservations at tickets@geeksdanz.org
Photo courtesy of Sigrid Estrada.
Mon., Oct. 21 – Words
Ian Frazier made his name as a journalist — a New Yorker staffer whose taste for adventure and eye for detail led, among other destinations, to his 2010 book Travels in Siberia. But Frazier's lately built a sideline in humor writing, notably with his spoof of contemporary parenting The Cursing Mommy's Book of Days. Expect wit, and reportage too, when Frazier visits Pittsburgh Arts & Lectures' Monday Night Lecture Series, tonight at the Carnegie Music Hall. BO 7:30 p.m. 4400 Forbes Ave., Oakland. $15-40. 412-622-8866 or www.pittsburghlectures.org
A still from JulieHera DeStefano's documentary on women soldiers returning from war
Thu., Oct. 24 – Talk
War Reporting – Filmmakers and Journalists on the Realities of War is tonight's panel discussion from Women in Film & Media at Carnegie Library Lecture Hall. The participants are JulieHera DeStefano, who created a documentary on women soldiers returning from war; Pittsburgh-based reporter Carmen Gentile, who has covered the wars in Iraq and Afghanistan and written for USA Today and many other publications; Lynda Schuster, a former staff reporter for The Wall Street Journal who has covered events in South America and the Middle East; and Justin Merriman, a photojournalist for the Pittsburgh Tribune Review who has worked in Iraq and Egypt. BW 6 p.m. 4400 Forbes Ave., Oakland. $5-20. 412-973-9799 or www.wifmpit.org