Spotlight: Sat., Nov. 20 — Stage
Patrick Jordan and Melissa Martin get why Pittsburgh hasn't seen a professional production of A Streetcar Named Desire for some 15 years: It's a classic with a large cast — "a monster play," says Jordan — and it's shadowed by the iconic 1951 Marlon Brando-Vivien Leigh film version. "People who don't know anything about theater can still yell 'Stella!' at you," quips Martin. Adds Jordan, "It's one of those plays, you could never do it, and why would you?" But Tennessee Williams is Martin's favorite playwright; Streetcar is Jordan's "favorite play of all time"; and his barebones productions is designed to stage work nobody else in town is. Over 11 seasons, that's usually meant new plays. Now it means 12 performances of Williams' 1947 masterpiece about penniless Southern belle Blanche DuBois, her sister, Stella, and Stella's loutish husband, Stanley Kowalski, set in an ethnically diverse, working-class New Orleans. The show stars, respectively, Tami Dixon, Jenna C. Johnson and Jordan himself. Martin directs. The production includes live transitional and atmospheric music, played onstage by Joe Gruschecky (guitar and vocals) and John Gresh (keyboard), including New Orleans standards. (A few performances will use recorded music.) And as Martin says, such Streetcar themes as who qualifies as a "real American" remain fresh. "Every character, every page, every line has depth to it," says Jordan. Bill O'Driscoll Nov. 20-Dec. 6. 6 Allegheny Square East, North Side. $30. www.barebonesproductions.com
Thu., Nov. 20 — Summit
Helping trans people tell their stories is the mission of Trans*Voices, an annual summit hosted by Pittsburgh's Garden of Peace Project that draws attendees from across the country. The four-day event begins tonight. The caucuses and workshops are supplemented by public events including Trans*Voices of Pittsburgh & Beyond. The Sat., Nov. 22, program at the Kelly-Strayhorn Theater features original monologues by 13 guests, including: Lourdes Ashley Hunter, founder of the New York-based Trans Women of Color Collective; Katrina Goodlett, of web radio's Kitty Bella Show; Angelica Ross (pictured), of Chicago's TransTech Social Enterprises; and Tiq Milan, senior media strategist at GLAAD. Summit registration is free, but tickets for the Nov. 22 show are $20-25 (free for those under age 20);Bill O'Driscoll Summit continues through Sun., Nov. 23. Various locations, East Liberty area. www.gardenofpeaceproject.org
Fri., Nov. 21 — Festival
For 54 years running, Downtown's had a Light Up Night. Tonight's tree-lightings and the opening of the PPG Plaza Ice Rink are supplemented by tons of live music outdoors. Venues include the Clemente Bridge stage, where local favorites Grand Piano and Donora join visiting dance-pop act Cobra Starship. This Pittsburgh Downtown Partnership festival also offers free horse-drawn carriage rides from One Oxford Centre, and the inevitable climactic fireworks. BO 5-9:30 p.m. (PPG rink open until midnight). Most attractions are free. www.downtownpittsburgh.com
Fri., Nov. 21 — Art
Every week for 13 months, Becky Slemmons visited Pittsburgh's temples, churches, synagogues and mosques to explore the relationship between attending worship services and attending to art. "Too different in today's world, I suspect, for most to simultaneously take both paths," she says. Slemmons took photographs and video, and also created a drawing during or after each of the 100 visits. She also added fabric to her white worship dress to reflect the accumulation of experiences. Her exhibit Gatherings opens tonight with a reception at 707 Penn Gallery. Danielle Fox 5:30 p.m. Exhibit continues through Dec. 31. 707 Penn Ave., Downtown. Free. 412-471-6070 or www.trustarts.org
Photo courtesy of Eric Rosé.
Fri., Nov. 21 — Dance
Bodiography Contemporary Ballet presents its 13th annual Multiplicity concert at the Byham Theater. The show, performed by dancers from Bodiography and LaRoche College, features new work by guest choreographers Greer Reed, director of Reed Dance (with "JEHOVAH  JIREH, JEHOVAH NISSI, 'JESUS'"), and Christen Weimer, a dance professor from Georgia ("Voler"). Bodiography artistic director Maria Caruso offers her choreography for the Westmoreland Choral Society's production of Fauré's Requiem. There's also new work choreographed by Bodiography company artists. The shows tonight and tomorrow are presented by LaRoche, where Caruso chairs the performing arts department. BO 8 p.m. Also 8 p.m. Sat., Nov. 22. 101 Sixth St., Downtown. $35. 412-456-6666 or www.pgharts.org
Fri., Nov. 21 — Comedy
Scottish actor, TV host, comedian and director Craig Ferguson has come a long way since drumming for terrible punk bands. A photo with George Bush from when Ferguson spoke at the White House Correspondents' Dinner verifies his success, as well as his current gig as the (outgoing) Late Late Show host on CBS, his Emmy nomination and his Best New Director title from the Napa Valley Film Festival. Tonight, the self-proclaimed "vulgar lounge entertainer" brings his show to the Carnegie Library of Homestead Music Hall. DF 8 p.m. 510 E. 10th Ave., Munhall. $45-80. www.librarymusichall.com
Fri., Nov. 21 — Stage
Live plays performed vintage-radio style are enjoying a resurgence. This weekend brings two productions Downtown, including the latest from writers Mike Rubino and James Catullo, who introduced the comic action series Dodge Intrepid and the Pages of Time in 2005. "The Secret Gambit of the Chess Master" debuts tonight, again putting its librarian hero in cliff-hanging 1940s peril, with four actors voicing dozens of characters, at Arcade Comedy Theater. On Nov. 22 and 23, Chuck Lanigan's 'The Thin Man' Comes to Pittsburgh returns to the Omni William Penn. This radio-style show transplants the classic 1934 comic detective movie to Pittsburgh; tickets include a meal, a drink and live music. BO Dodge Intrepid: 8 p.m. (811 Liberty Ave.; $5-10; www.arcadecomedytheater.com). Thin Man: 6 p.m. Sat., Nov. 22, and 12:30 p.m. Sun., Nov. 23 (530 William Penn Place; $50; 412-553-5000 or jkaiser@omnihotels.com).
Photo courtesy of Rachellynn Schoen
Sat., Nov. 22 — Market
As LP sales climb and the '80s jumpsuit returns to style, it's a fitting time for the fourth annual Pittsburgh Vintage Mixer. Franktuary and Mac & Gold food trucks and DJs appear beside more than 30 local sellers offering clothes, housewares, vinyl, artwork and more. In the Teamsters Local Union 249 building, vendors like South Side's Highway Robbery Vintage and Red Pop Shop, a vintage housewares store started by the Mixer's founders, participate, as does Bloomfield arts space and espresso bar 4121 Main. DF 9 a.m.-3 p.m. 4701 Butler St., Lawrenceville. $5. www.pghvintagemixer.com
Sat., Nov. 22 — Music
Behind her ninth album, The Heart of the Matter (Emarcy), jazz vocalist Jane Monheit and her band visit Manchester Craftmen's Guild for two shows tonight. The album's 12 tunes include her interpretations of numbers by The Beatles ("Golden Slumbers/Long and Winding Road") and Buffy St. Marie ("Until It's Time for You to Go"), among others. Monheit, a Grammy nominee with 13 years in the business, brings sidemen on piano, bass and drums. DF 6 and 8:30 p.m. 1815 Metropolitan St., North Side. $49.50. 412-323-4000 or www.mcgjazz.org
Sat., Nov. 22 — Words
The Saturday before every Thanksgiving brings Tellabration, an international storytelling event that's marking 25 years in Pittsburgh. Tonight, local talents gather at Oakland's Church of the Ascension to tell stories ranging from the personal to folk tales. This year's theme is "Silver and Gold." The event for the whole family is sponsored by StorySwap and the Three Rivers Storytelling Festival. BO 8 p.m. 4729 Ellsworth Ave., Oakland. Free (donations accepted). www.at-sciences.com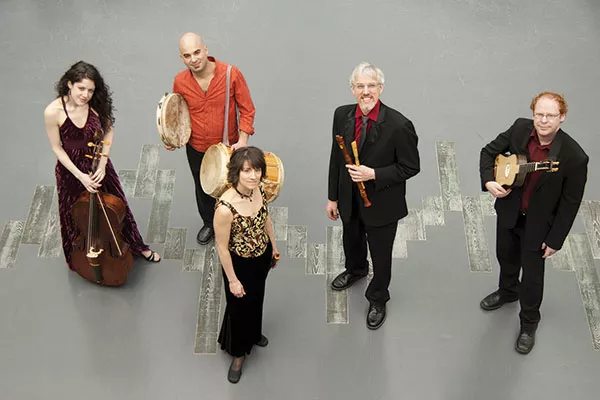 Sat., Nov. 22 — Music
It's like oldies, but way older: Montreal's 25-year-old Ensemble Caprice performs with 17th- and 18th-century instruments. Called "imaginative, even powerful" by The New York Times, the baroque company is composed of five musicians — including founder Matthias Maute — on the recorder, traverso (flute), violoncello, guitar and percussion. Tonight's program in Synod Hall, Chaconne! Voices of Eternity, employs steady harmonic progressions to evoke eternity. These compositions tell stories, and the concert's opening piece, J.H.Schmelzer's "Serenata con Altre Arie," jaunts through carnival's dances and Ash Wednesday. DF 8 p.m. 108 N. Dithridge St., Oakland. $10-35. 412-361-2048 or www.rbsp.org
Photo courtesy of Deen van Meer
Tue., Nov. 25 — Stage
Extraaaa, extraaaa: A touring version of Tony-winning musical Newsies makes its Pittsburgh debut tonight. Produced by Disney Theatrical Productions, the show was adapted in 2011 from the 1992 film, inspired by the Newsboy Strike of 1899. Directed by Tony nominee Jeff Calhoun, with a score by eight-time Academy Award-winner Alan Menken, it follows a ragged band of teenage newsies fighting for a better way of life. Evoking a time when people still faithfully paid for their news, the PNC Broadway Across America show has eight performances at the Benedum Center. DF 7:30 p.m. Show continues through Nov. 30. 237 Seventh St., Downtown. $21-69. 412-456-6666 or www.trustarts.org