It's the Dollar Bank Three Rivers Arts Festival, and you know the drill — but maybe not all of it. The 53rd annual incarnation sets up in Point State Park, Gateway Center and their Downtown environs June 1-10. As usual, look for arts-and-crafts vendors, a big indoor Juried Visual Art Exhibition, live music (daily both at lunchtime and in the evenings) and a cornucopia of fried and grilled snacks. Meanwhile, the Jazz Live International Festival (June 1-3) will return for its second year, and greening efforts continue with new artist-designed recycling receptacles crafted from reclaimed materials. What's new? Those artists' market booths will be more plentiful — numbering more than 300 — and some will occupy Point State Park all 10 days, not just on weekends. Gateway to the Arts expands its hands-on family programming with music, dance and story-telling. The festival music line-up includes not only The Wailers, Pittsburgh Symphony Orchestra, Dawes and Carolina Chocolate Drops, but a brand-new Bluegrass Day (June 9), featuring both local acts and national names Del McCoury Band and Peter Rowan Bluegrass Band. Squonk Opera debuts Go Roadshow! (June 8-10), its new music-driven spectacle, staged from the back of a Squonkily customized flatbed truck. And because it's all free, if you're looking to give back, Paddle Without Pollution seeks volunteers for its June 9 river cleanup using non-motorized watercraft in and around the Point. Bill O'Driscoll Free. www.3riversartsfest.org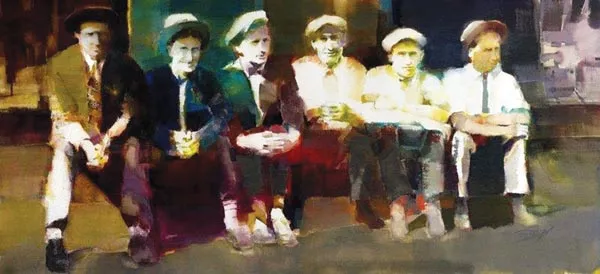 "The Shop," by Jeannie McGuire.
A man reads a magazine on his porch overlooking a still-industrial valley. A retired millworker gazes into the distance. Andrew Carnegie and his pensive-looking wife, Louise, walk onto a city street. A mill belches smoke. Beauty and the Beast: Figures and Faces in Pittsburgh's Industrial Landscape is a four-artist show of new paintings at Galerie Werner. The focus on contemporary American work is unusual for Melanie Werner's 10-year-old gallery, but she thought the talents of Peggi Habets, Claire Hardy, Jeannie McGuire and Christine Swann warranted it, not to mention the venue: Shadyside's restored Mansions on Fifth, a grand 1906 dwelling re-opened last year as a boutique hotel. Working in watercolors, pastels or oil, the artists drew from vintage photos (except for Swann, who used contemporary subjects). While the settings might be familiar from other artworks, the human figures and facial expressions in most of these 15 or so paintings puts the industry into context. Bill O'Driscoll Opening reception: 5:30-7:30 p.m. Thu., June 7. Show continues through Sept. 1. 5105 Fifth Ave., Shadyside. Free. RSVP to claire@galeriewerner.com
Fri., June 1 — Festival
The Tuskegee Airmen were a big story: During World War II, they fought the Nazis (and American racial prejudice) as the first African-American aviators in the U.S. military. If you've seen the film take, this year's Red Tails, now's your chance to get closer. This weekend, at Allegheny County Airport, The Tuskegee Airmen's 70th Anniversary includes everything from the Commemorative Air Force Red Tail Squadron's traveling movie theater telling the Tuskegee story to public flights in a rare, restored P-51C Mustang plane. The free event, presented by The Daniel B. Matthews Historical Society and the Tuskegee Airmen Memorial of Greater Pittsburgh, also honors Western Pennsylvania's vital contribution to the Tuskegee program, with appearances by surviving Airmen Harry Lanauze (pictured) and Wendell Freeland. Bill O'Driscoll 1-8 p.m. Also 1-8 p.m. Sat., June 2, and 1-7 p.m. Sun., June 3. Lebanon Church Road, West Mifflin. Free. 412-741-7171
Fri., June 1 — Art
It's an especially busy evening at Unblurred. Highlights of tonight's Penn Avenue art crawl include Ley Line, an Assemble gallery exhibit in which artists explored an imaginary line running through Oakland, from St. Paul's Cathedral to Andy Warhol's childhood home and a former mill site on the Mon. Justin Hopper and Emily Walley curate contributions by artists including Ashley Andrykovitch, Nina Marie Barbuto, David Bernabo and Host Skull, and photographer Lisa Toboz. Unblurred also features new shows at ModernFormations Gallery, Imagebox, the Irma Freeman Center, Pittsburgh Glass Center and more, including The Art of Collectible Culture, featuring comics artists Mark Zingarelli, at Most Wanted Fine Art. BO 6 p.m. 4800-5500 Penn Ave., Friendship/Bloomfield/Garfield. Free. www.friendship-pgh.org/paai
Daniel Pinchbeck at Evolver Convergence 2012.
Fri., June 1 — Consciousness 
The Evolver Social Movement, a global network of more than 40 activist communities, gathers in Pittsburgh today for the weekend-long Evolver Convergence 2012. It aims to address, among other topics, technology, permaculture and the Occupy movement. An eclectic roster of presenters — from Reality Sandwich blog chief Daniel Pinchbeck and a practitioner of Chinese medicine to a self-described "contemporary Gnostic" — promises to keep things lively. And if participants tire of inspiring speeches and camaraderie-building workshops, a late-night "multidisciplinary art party" should revive their energies. Andy Tybout 7 p.m. Continues Sat., June 2, and Sun., June 3. Wherehouse Art Studio, 4810 Penn Ave., Bloomfield (evening events), and First United Methodist Church of Pittsburgh, 5401 Centre Ave., Shadyside (daytime programming). $30-40. evolverconvergence2012.eventbrite.com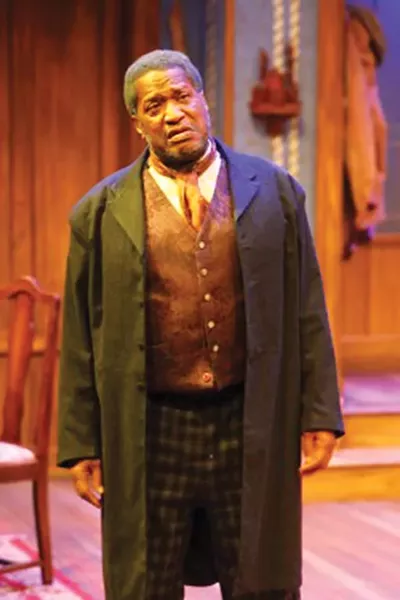 Alan Bomar Jones in Gem of the Ocean.
Fri., June 1 — Stage
Gem of the Ocean is arguably where August Wilson's famed Century Cycle begins. This earliest-set (though among the last written) of his Hill District plays takes place in 1904, as Citizen Barlow, newly emigrated from the rural South, confronts the confusion of slavery's aftermath. Other characters include Wilson's iconic spiritual guide, Aunt Ester; wise mentor Solly Two Kings; and remorseless lawman Caesar Wilkes. This new production by longtime Wilson specialists Pittsburgh Playwrights Theatre Co. is directed by Mark Clayton Southers and features a top-notch, mostly local cast including Jonathan Berry and Chrystal Bates, plus visiting actor Alan Bomar Jones. The first performance is tonight. BO 8 p.m. Show continues through June 24. 937 Liberty Ave., Downtown. $20-30. 412-377-7803 or www.pghplaywrights.com
Fri., June 1 — Music
You might know Harvey Milk, the pioneering, openly gay San Francisco politician, from portrayals including the Oscar-winning 2008 drama Milk. But long before Sean Penn made the slain civil-rights icon a household name, composers across the country were singing his praises. Tonight and tomorrow, Renaissance City Choirs performs some of these tributes during their Got Milk? concert, at Pittsburgh Opera headquarters. Although Milk was assassinated in 1978, audiences will be heartened to discover his legacy is alive and well. AT 8 p.m. 2425 Liberty Ave., Strip District. $25-30. 412-362-9484 or rccpittsburgh.com
Sat., June 2 — Art
Artists Image Resource, that resourceful North Side studio and gallery, opens a new show by two of its own resident artists. New work by printmaker Tresa Varner and painter Abby Franzen-Sheehan is featured, alongside new work by acclaimed local quilt-maker Tina Brewer (the latter a project of the Black Arts Initiative). The reception features the Franktuary hot dog truck, East End Brewery beverages and a DJ. BO 6-9 p.m 518 Foreland St., North Side. Free. 412-321-8664
Sat., June 2 — Comedy
Don't expect much subtlety or restraint in tonight's comedy show Sexting, Nachos, and a Chicken. But if you enjoy Internet-themed satire — and assorted jokes about vampires, MP3 players and mean-spirited puppets — you probably won't regret visiting the Cabaret at Theater Square. The event showcases the talent of Pittsburgh-based group Spinster Comedy, a multimedia "conglomerate" whose members produce short films and sketches and promote standup acts. Performers include Dave Ranallo, Joe Lyons, Allison Fatla, and Valentina Benrexi Krauss. AT 10:30 p.m. 655 Penn Ave., Downtown. $5. 412-325-6769 or www.trustarts.org
Wed., June 6 — Words
Ten years ago, Ron Tanner and his then-girlfriend, Jill, bought a 1897 Queen Anne brownstone in Baltimore. The house — which had recently harbored a rambunctious fraternity — was in predictably terrible shape: The basement closet was torn apart, and someone had taken a bat to the staircase balusters. Tanner's experiences repairing the damage — and becoming closer to Jill in the process — are recounted in his new book From Animal House to Our House: A Love Story. Tonight, Tanner delivers a multimedia lecture at the Carnegie Library in Oakland, and read from his memoir. AT 6 p.m. 4400 Forbes Ave., Oakland. Free with registration. 412-622-8866 or www.pittsburghlectures.org
Thu., June 7 — Words
A new limited-run poetry series begins tonight. Equanimity: The Peacemakers Poetry Series runs the first three Thursdays in June at Bloomfield's singular Big Idea Bookstore. Human rights will be among the themes of this series at the radical, cooperatively run shop, with poets of long standing like tonight's lineup of Joan Bauer, Marc Jampole, Mike Schneider and Romella Kitchens. The latter also organized this free series. BO 7 p.m. 4812 Liberty Ave., Bloomfield. Free. www.romellakitch.wordpress.com