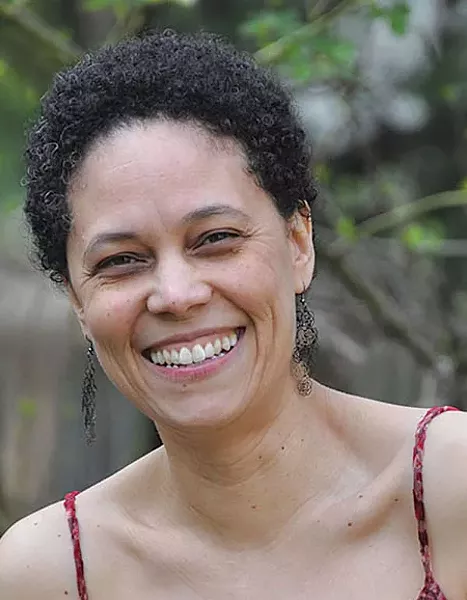 Photo courtesy of Catherine Welsh Aceto
Kelli Stevens Kane grew up in Pittsburgh's eastern neighborhoods, but she learned about community in the Hill District, in the company of her grandmother, Georgetta Holmes Stevens. "Big George" was an outspoken, larger-than-life woman who habitually visited Hill District funeral homes whether or not she knew the deceased. The practice baffled young Kane; after Big George died, in 1996, at age 84, Kane, by then a 29-year-old poet, began interviewing her grandmother's neighbors and contemporaries to learn more. Now those interviews have borne fruit. On May 25, the August Wilson Center for African American Culture's First Voice Festival premieres An Evening With Kelli Stevens Kane. The one-woman show, directed by Mark Staley, includes: monologues drawn from Stevens' manuscript Big George's Wylie Avenue; scenes from her thematically related play I Never Laughed So Much at a Funeral; and material from her poetry manuscipt Hallelujah Science. On May 30, at Trinity A.M.E. Church, Kane begins a series of monthly readings and discussions in the Hill, titled Big George's Wylie Avenue: Wisdom of the Hill. Kane considers the series a tribute to Big George (whose three children included Kane's uncle, community leader Tim Stevens): "She would say, 'Who are you going to talk about when I'm gone?' And we would say, 'You.'" Bill O'Driscoll 8 p.m. Fri., May 25. 980 Liberty Ave., Downtown. Free. 412-258-2700 or www.kellistevenskane.com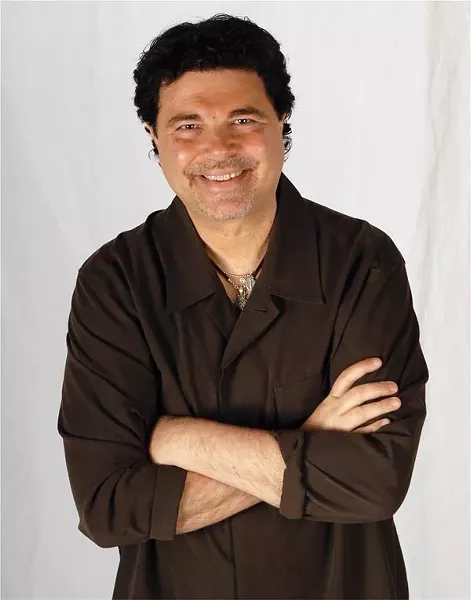 Jim Krenn says that since WDVE-FM abruptly ended his 24-year morning-show run, in December, people have been very sympathetic. "The difference between Pittsburgh and other towns, if you lose your job in another town: 'Ah, sorry about that.' You'll get a guy in Giant Eagle: 'Hey, Jimmy — move in with us. Don't worry. Bring your dogs and your wife, everybody. Bring 'em all.'" On May 26, Krenn and a cast of co-conspirators offer Krenn aLive, a night of comedy and music at the Byham Theater. The standup veteran will talk about growing up in the Strip District and starting out at DVE, peppered with sets by old pals like comics Mark Eddy and Billy Elmer, and musicians Scott Blasey and Slim Forsythe. He'll introduce new characters with madman/filmmaker Tom Megalis, and conclude with song parodies featuring an all-star local band. Mostly, though, says Krenn, "I get the chance to say hello to my extended family, which is the listeners. I miss them a lot." Bill O'Driscoll  8 p.m. Sat., May 26. 101 Sixth St., Downtown. $32.50-$37.50. 412-456-6666 or www.jimkrenn.com
Thu., May 24 — Pop-up
The place is called Cats and Dogs Coffee, and once you've got a cat, you're already halfway to a bookstore. But Clowder & Pack promises that its four-day pop-up bookstore will be different. It's a store-within-a-store, offering "strange and awesome books," with proceeds benefiting art-and-technology nonprofit Assemble. How will it all work out? To find out (and maybe to buy a book), visit the newly repurposed back room of this caffeinated Penn Avenue hangout between this morning and Sunday night. Bill O'Driscoll Opens 9 a.m. Continues through 9 p.m. Sun., May 27. 4059 Penn Ave., Lawrenceville. 412-256-8583
Thu., May 24 — Comedy
You might recognize Shawn and Marlon Wayans from screwball comedies like Little Man and the Scary Movie series, but their careers began way back in 1989, when they appeared alongside their brother Keenen Ivory Wayans in the blaxploitation parody I'm Gonna Get You Sucka. They've since starred in everything from sitcoms (The Wayans Bros.) to animated Nickelodeon specials (Thugaboo). In six shows tonight through Sunday, the brothers will regale Pittsburgh Improv audiences with their signature brand of flamboyant, raunchy humor. Andy Tybout 8 p.m. Continues through Sun., May 27. 166 E. Bridge St., The Waterfront, Homestead. $35-45 (18 and over). 412-462-5233 or pittsburgh.improv.com
Victoria Mack in Private Lives.
Thu., May 24 — Stage
No mistaken identities here: Amanda and Elyot each knows just who the other is. In 1930, they're divorced spouses whose new marriages serendipitously find them honeymooning in adjacent suites at a French seaside hotel. Thus begins Noël Coward's classic comedy Private Lives. Pittsburgh Public Theatre has prepared a new production, directed by Ted Pappas and starring Victoria Mack, as Amanda, and Michael Brusasco, as Elyot. The first performance is tonight. BO 8 p.m. Show continues through June 24. O'Reilly Theater, 621 Penn Ave., Downtown. $15.75-55. 412-316-1600 or www.ppt.org
Sat., May 26 — Outdoors
Pittsburgh parks are a common destination for local nature enthusiasts, but those craving a more definitive break from city life can venture north, to Butler County. Today, visitors to Slippery Rock Creek can participate in a Jennings Environmental Education Center's Kayaking Adventure tour, which includes a survey of local wildlife and a midday picnic. And today through Memorial Day, the Moraine Preservation Fund hosts twice-daily cruises on Lake Arthur aboard Nautical Nature, a 45-passenger pontoon boat ideal for short sightseeing expeditions. AT Kayaking: 9 a.m.-2 p.m. (Slippery Rock Creek; $20; 724-794-6011). Pontoon cruises: 1 p.m. and 3 p.m. daily through Mon., May 28 (Moraine State Park; $11; 724-368-9185)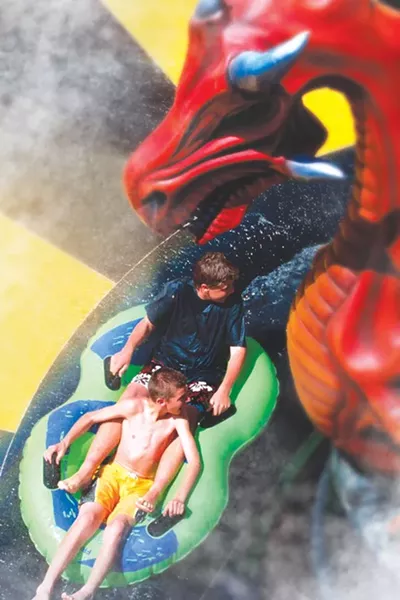 Sat., May 26 — Amusement
Dragon's Den, Sandcastle Water Park's newest attraction, is an elaborate, nefarious-looking slide comprised of a 45-foot tunnel, a 35-foot fishbowl featuring a mist-spitting mechanical dragon, and a sudden plummet into a landing pool. The Homestead park opens weekends starting today, and the slide — Sandcastle's largest addition in nearly 10 years — probably won't appeal to those afraid of heights (or mythical creatures). But adrenaline junkies will welcome the opportunity to careen through a turbulent maze of chutes and sheer drops. Tubes are designed exclusively for two people; participants must be at least 48 inches tall. AT 11 a.m-5 p.m. 1000 Sandcastle Drive, Homestead. $21.99- 31.99. 412-464-9931 or www.sandcastlewaterpark.com

Sat., May 26 — Pyrotechnics
Heads up: If you see stuff exploding over Hartwood Acres tonight, don't worry, it's just PyroFest. Starting this afternoon, national fireworks outfit Pyrotechnico plans to do pretty much everything you can do with the medium, from daytime fireworks to synchronized music displays, a military salute, a "Pryo UFO Launch" and ... well, you get the idea. Crack, boom. Ooh, aah. There's also live music from The Gathering Field and B.E. Taylor. BO 3-11 p.m. Hampton Township. $5-40. www.pyrofest.com
Tue., May 29 — Film
Kevin Mcdonald's new documentary Marley was so popular here that Pittsburgh Filmmakers is bringing it back to the Harris Theater. And just in time, too: The three-day run of this film about reggae legend Bob Marley precedes a June 1 appearance by his old band, The Wailers, at the Three Rivers Arts Festival. BO 8 p.m. Also Wed., May 30, and Thu., May 31. 809 Liberty Ave., Downtown. $8. 412-681-5449 or www.pghfilmmakers.org
Photo courtesy of Lance Ringel.
Thu., March 31 — Stage
 "There's a fine line between genius and insanity," Oscar Levant once said. "I have erased this line." The Pittsburgh native (b. 1902) was a celebrated pianist, composer, film actor and wit; he was buddies with Gershwin, host of his own TV show and one of the more explicitly dark souls to be a popular entertainer. His struggles with depression and prescription drugs are among the elements touched on in At Wit's End, a one-man show by Joel Kimmel, depicting Levant returning to the stage "after an institutionalized absence." Chuck Muckle, a Pittsburgh-born actor with New York stage credits, stars in this dinner-theater one-nighter at the Jewish Community Center. BO 5 p.m. (6:30 p.m. show). 5738 Forbes Ave., Squirrel Hill. $15 (includes dinner). 412-521-8010
Thu., May 31 — Music
Classical-music enthusiasts need not venture Downtown tonight to enjoy music from the Pittsburgh Symphony Orchestra. In its fifth season of Community Engagement Concerts, the Symphony will treat Hill District visitors to compositions by Mozart, Holst, Schubert, and Frederick Delius; violinist Jennifer Orchard and violist Marylène Gingras-Roy will perform solos. All proceeds from the concert benefit children in the arts program of the Hill House Association, a nonprofit dedicated to enriching the neighborhood's educational opportunities, family involvement and senior services. A post-concert audience reception will follow; the program repeats June 2 at East Liberty Presbyterian Church. AT 7 p.m. Kaufmann Center, 1825 Centre Ave., Hill District. $4-8. 412-392-6479 or www.hillhouse.org
Thu., May 31 — Words
You might know that April is poetry month. Less heralded is May's Short Story Month. But just under the wire, author Jennifer Bannan has gathered several of Pittsburgh's finest resident practitioners of the genre to read their work. On the ModernFormations Gallery stage tonight will be writers including Bannan, Joe Balaban, Jennifer Howard, Sherrie Flick and Anjali Sachdeva. BO 7:30 p.m. 4919 Penn Ave., Garfield. $5. 412-362-0274