MAIN EVENT: Sat., May 17 — Art
The Andy Warhol Museum turns 20, and celebrates with what's made it a cultural linchpin: a big party, late-night fun and more Andy. Based on visitor feedback, says museum director Eric Shiner, the seven-story venue has been overhauled to spotlight a chronological portrait of Warhol: Over its top four floors, says Shiner, "You walk through his life," starting with his 1920s Pittsburgh childhood. Rare new pieces include a 16-year-old Warhol's first known self-portrait. The museum's long-private archival study area has re-opened, displaying artifacts from Warhol's famed time capsules. In the screening room, a new biographical documentary will loop, while Warhol's own films, with new on-demand video capability, move upstairs. Also opening is Halston and Warhol: Silver and Suede, an exhibit exploring the interconnected lives and work of Warhol and his good friend Halston, the iconic fashion designer. First to glimpse all this will be the 650 guests from around the world attending the museum's swanky May 17 anniversary gala. But directly afterward, starting at midnight, comes a free, 17-hour museum-wide Community Day. It begins with a set by New York City's DJs AndewAndrew and includes hands-on Warhol-themed artmaking and author Bob Colacello's reading and signing of Holy Terror, his newly reissued 1990 book on Warhol. Bill O'Driscoll Gala: 6 p.m. Sat., May 17 ($500). Community Day: Midnight, Sat., May 17-5 p.m. Sun., May 18 (free). 117 Sandusky St., North Side. 412-237-8300 or www.warhol.org
Thu., May 15 — Talk
U.S. Marine Corps Col. Mark Mykleby believes national security requires a sustainable energy strategy. Tonight, Mykleby joins Mayor Bill Peduto — who just returned from studying sustainability in Germany — at the Inspire Speakers Series, co-sponsored by the Green Building Alliance and Phipps Conservatory. Also hear from the schoolkids in the GBA's Green & Healthy Schools Academy. Bill O'Driscoll 6 p.m. Phipps Conservatory, One Schenley Park, Oakland. $15-45. www.go-gba.org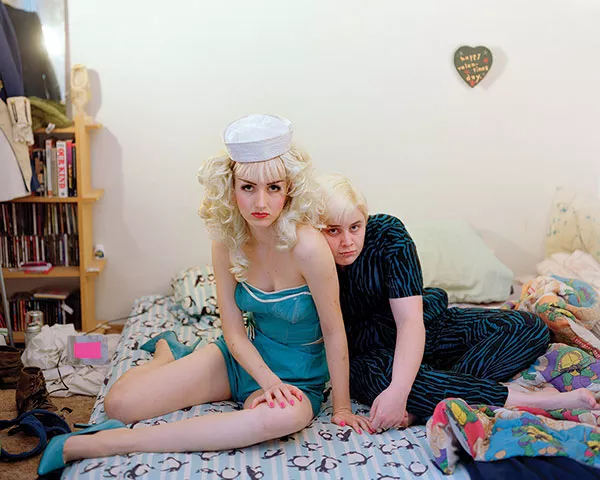 Thu., May 15 — Art
At Silver Eye Center for Photography, seven photographers or artist teams from around the U.S. explore what it means to be queer today. The exhibit Here & Now finds artists on physical and emotional journeys including: Zackary Drucker, of Los Angeles; Molly Landreth, of Seattle; and Brooklyn's We Are the Youth. "Images become the spaces where new maps are imagined and created," says curator Rafael Soldi. Tonight's free opening reception features a curator talk with Soldi. BO 6-8 p.m. (talk at 6 p.m.). 1015 E. Carson St., South Side. Free. 412-431-1810 or www.silvereye.org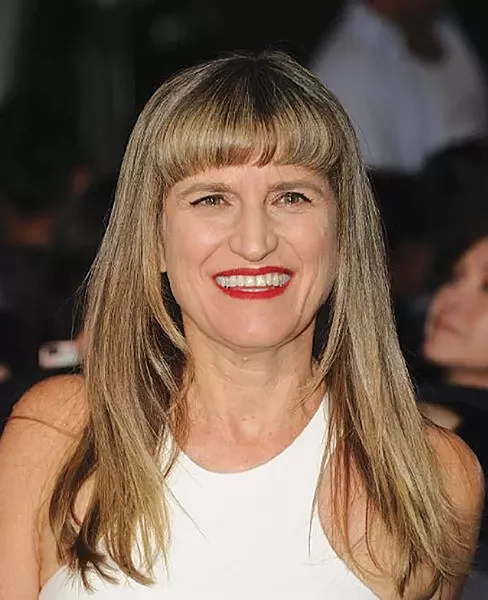 Fri., May 16 — Talk
Women in Film and Media Pittsburgh was founded in 2005 to improve the status and portrayal of women in all screen-based media. This weekend, at Downtown's Westin Convention Center, the group hosts the 2014 Women in Film and Television International Summit. Starting today, hundreds of members from 40 chapters worldwide are expected for three days of speakers, panel talks and screenings. Presenters include Twilight director Catherine Hardwicke (pictured), Ghost Whisperer producer Kim Moses and CNN anchor Martin Savidge. BO Continues through Sun., May 18. Three-day pass: $275-325. One-day pass: $99-125. www.wiftisummit.org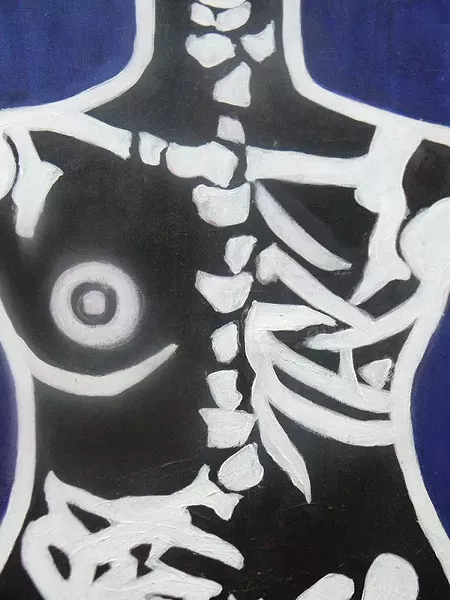 Art by Selima Dawson.
Image courtesy of the artist.
Fri., May 16 — Art
Tonight, Space opens its new multi-media exhibit, which organizer and lead artist Olivia Ciummo dubs Psychic Panic. The show examines the intersections between the fantastic and mundane, the body and labor, by isolating objects that evoke desire within American culture. Pieces include a copper pipe wrapped in fur and video of a totaled station wagon. Work by local artists Selima M. Dawson, Elina Malkin and Ross Nugent, will be featured alongside that of six visiting artists. Dan Willis 5:30-8:30 p.m. Continues through June 29. 812 Liberty Ave., Downtown. Free. 412-325-7723 or www.spacepittsburgh.org
Fri., May 16 — Dance
Pittsburgh's Balafon West African Dance Ensemble holds its fourth annual Black River African Dance Conference this weekend. The conference includes dance and drumming workshops for all ages and experience levels, at Obama Preparatory Academy, and talks on the history of dance in Guinea by Hamidou Bangoura, artistic director of that nation's Les Ballets Africains. Tonight and tomorrow's headlining performances, at the Kelly-Strayhorn Theater, feature master drummers Fode Moussa Camara, Mamadouba Mito Camara and Assane M'Baye. BO Performances: 8 p.m. and 8 p.m. Sat., May 17. 5941 Penn Ave., East Liberty. $10-25. 724-543-1017 or www.balafon.org
Fri., May 16 — Screen
Sync'd uniquely combines local filmmaking, live music and the lost art of silent moving pictures. For the series' sixth installment, organizer Michael Maraden invited 11 artists to contribute silent shorts (narrative or non-narrative, abstract or representational) to be screened and receive live soundtracks courtesy of the Garment District or Casual Male. The filmmakers include Kyle Van Noy, Dadpranks and Gena Salorino. It all happens tonight at The New Bohemian, on the North Side. BO 8 p.m. 887 Progress St., North Side. $8. syncdpgh@yahoo.com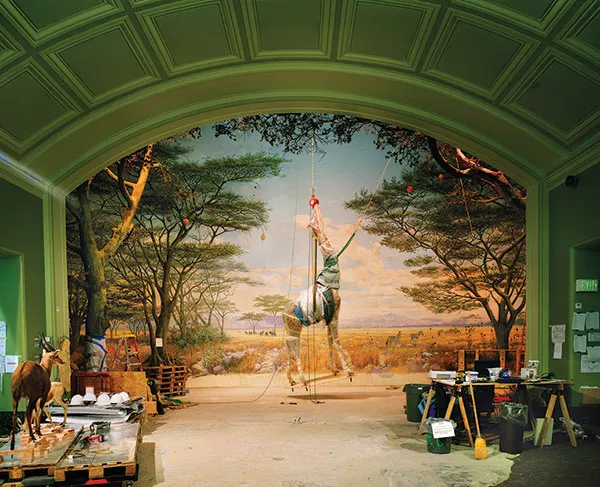 Art by Richard Barnes.
Courtesy of Foley Gallery, New York
Sat., May 17 — Art
Photography galleries from all over the world converge for the third annual PGH Photo Fair. The two-day event at the Carnegie Museum of Art boasts docent tours of exhibits, photobook raffles and consultations with photography experts. The main gallery offers classic and contemporary works on loan from Brooklyn's Blind Spot, Berlin's Only Photography and Pittsburgh's Concept Gallery, to name just a few. 10X10, a curated display of 100 photobooks, also returns, exclusively featuring postwar Japanese photography, DW Noon-5 p.m. Also noon-5 p.m. Sun., May 18. 4400 Forbes Ave., Oakland. Free. 412-622-3131 or www.cmoa.org
Sat., May 17 — Stage
If Morose and Macabre's House of Oddities promises a Museum of Dreams, you can bet they're not the sweet kind. The group's sixth annual Atrocity Exhibition is "a 360-degree living-art installation" from the dark side, featuring sideshow, cabaret, burlesque and performance art, plus an artisan market. In this evening's narrative at the Rex Theater, host Cheri Baum plays The Boogeyman, co-host Lilith Deville is The Sandman, and local talents Phat Man Dee, Andrew the Impaled, Penny De La Poison and Lita D'Vargas are joined by visiting artists like Vinsantos, Satori Circus, Zander Lovecraft and the Rev. Decay. BO 10 p.m. 1602 E. Carson St., South Side. $15-17 (21 and over). www.moroseandmacabre.com
Mon., May 19 — Stage
Among employees of nonprofit organizations, 74 percent are women. Women in nonprofits also, coincidentally, earn 74 cents for every dollar men earn. The latest attempt of Pittsburgh's 74% project to explore such inequities is tonight's reading at Bricolage Productions. At the behest of the Bayer Center for Nonprofit Management, Bricolage's Tami Dixon has compiled stories from an archive of one-on-one interviews with women in nonprofits. The stories are presented by performers Dixon, Laurie Klatcher and Bria Walker. A talkback and reception follow. BO 5-7 p.m. 937 Liberty Ave., Downtown. Free. RSVP at 412-397-6000.
Mon., May 19 — Talk
The Hill House Association is celebrating its 50th anniversary, and together with Pittsburgh Arts & Lectures, it's bringing in Wil Haygood to discuss his latest book, The Butler. The cultural historian and biographer, whose previous subjects include Sugar Ray Robinson and Sammy Davis Jr., wrote the Washington Post article that inspired Lee Daniel's popular film of the same name. Now, he's here to present his historical account of the man who worked in the White House under eight separate presidencies. DW 7:30 p.m. Byham Theater, 101 Sixth St., Downtown. $15-55. 412-622-8866 or www.pittsburghlectures.org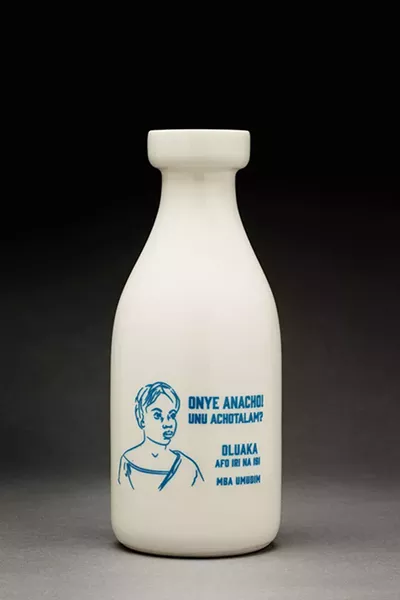 Tue., May 20 — Art
In Alexi Morrissey's Have You Seen Me?, an old-fashioned porcelain milk bottle is emblazoned with the image of Oluaka, age 16, who was kidnapped from her village of Umudim ... centuries ago. "Missing. Have You Seen Me?" the bottle reads, in English and Igbo. The images are drawn from historical slave archives; the handmade bottles are Morrissey's play on the old milk-carton missing-kids campaign. Tonight, at the Society for Contemporary Craft, Morrissey speaks about his "alternate history of missing-person advocacy in 18th-century Africa" along with University of Pittsburgh historian Marcus Rediker, author of several acclaimed books on the Atlantic slave trade. BO 7 p.m. 2100 Smallman St., Strip District. Free. 412-261-7003 or www.contemporarycraft.org
Tue., May 20 — Stage
Spring is finally here, so brush off those last shreds of Seasonal Affective Disorder and embrace your inner child. The producers behind Broadway favorite Peter and the Starcatcher bring the first national tour of this musical play to Heinz Hall for eight performances as part of PNC Broadway Across America. This Peter Pan prologue, based on a novel by Ridley Pearson and Dave Barry, has received rave reviews since opening on Broadway two years ago for its childlike whimsy, irreverent humor and intricate choreography. DW 7:30 p.m. Continues through Sun., May 25. 600 Penn Ave., Downtown. $20-68. 412-392-4900 or www.trustarts.org