SPOTLIGHT: Thu., May 14 — Stage
Like many artists, Patrick Jordan has found himself drawn to Braddock. Now, the barebones productions founder will be spending even more time in the struggling mill town: barebones black box theater, the company's permanent theater space, debuts with the Pittsburgh premiere of Miki Johnson's play American Falls, May 14-31. The acclaimed 2012 drama (which some have called a latter-day Our Town) depicts eight people in a small Idaho town — six alive, two dead — telling stories about their lives: suicide, love, childhood, nightmares, meth, Bud, magic shoes. Pitt grad Johnson is a former Pittsburgh-based actor now working as a writer in Los Angeles. Jordan, in his directorial debut, guides a cast including Leandro Cano, Connor McCanlus, Cary Anne Spear and Dave Mansueto. The still-raw barebones space is located across from U.S. Steel's Edgar Thomson Works, in the Superior Motors building set to house noted chef Kevin Sousa's new restaurant. The theater, which seats just 50, is quite a change from barebones' recent shows at the much larger New Hazlett Theater. But Jordan, a friend of both Sousa and Braddock Mayor John Fetterman, has the space rent-free from Fetterman's nonprofit, Braddock Redux. He says he wants it to house not just a stepped-up slate of smaller barebones shows, but other arts events and even classes, too. Bill O'Driscoll 8 p.m. May 14-31. 1211 Braddock Ave., Braddock. $30-35. www.barebonesproduction.com
Thu., May 14 — Festival
The EQT Children's Theater Festival marks its 29th season with four days of programming. Free events like public-art installations, craft-making, a scavenger hunt and movies take over Downtown venues like Wood Street Galleries and the Harris Theater. Food trucks and a pop-up park are the visual centerpiece, with Penn Avenue closed from Seventh to Ninth streets. Meanwhile, theater troupes from overseas — Denmark, Scotland, the Netherlands — perform shows including Hansel and Gretel, The Adventures of Robin Hood and Manxmouse: The Mouse Who Knew No Fear. Daytime and evening performances of these ticketed events will be held at the Byham Theater, the Trust Arts Education Center and Cabaret at Theater Square. Children can also enjoy an interactive art installation by Australia's Polyglot Theater, tangling elastic through tall golden poles. Zacchiaus McKee 10 a.m.-7 p.m. Continues through Sun., May 17. Various venues, Downtown. Some events free; ticketed events: $5-18. 412-456-6666 or www.trustarts.org
Fri., May 15 — Event
Starting tonight, the Frick Art & Historical Center has a brand-new attraction. For Summer Fridays at the Frick, the center's entire site will remain open until 9 p.m. on Fridays, offering visitors a chance to tour the historic Clayton mansion, picnic on the grounds, view exhibits and eat at the café, as well as experience special events. Food trucks, art socials and lawn games are included on selected dates, along with the long-running first-Fridays concert series, starting in June. ZM 10 a.m.-9 p.m. Continues through Aug. 7. 7227 Reynolds St., Point Breeze. Free admission to grounds; $5-15 for exhibits. 412-371-0600 or www.thefrickpittsburgh.org
Thu., May 14 — Stage
Described by The New York Times as "a sharp X-ray of the embattled American psyche," Lisa D'Amour's Detroit is a dark comedy portraying the economic uncertainty of the middle class. Focusing on two neighboring couples at a barbeque with vastly different life stories, the play was a 2011 Pulitzer finalist. The Pittsburgh premiere, staged by Twelve Peers Theater, is directed by Vince Ventura and stars John Feightner, Sara Fisher, Brent Sullivan Santry and Alyssa Herron. The first performance at The Maker Theater is tonight. ZM 8 p.m. Continues through May 30. 5950 Ellsworth Ave., Shadyside. $15-20. 412-496-2194 or www.12peerstheater.org
Fri., May 15 — Art
Tonight at Pittsburgh Center for the Arts, it's not just the artists who are local; much of the subject matter is, too. 90 Pittsburgh Neighborhoods is Lawrenceville-based painter Ron Donoughe's project to paint each city neighborhood over the course of a year. The exhibit, organized by Laura Domencic, is complemented by a book, available for signing at tonight's opening reception. The PCA also opens seven solo exhibits curated by Adam Welch, by artists including Danny Bracken, Haylee Ebersole, Brett Kashmere and Steven Sherrill. BO 5:30-9 p.m. 6300 Fifth Ave., Shadyside. $5. 412-361-0873 or www.pittsburgharts.org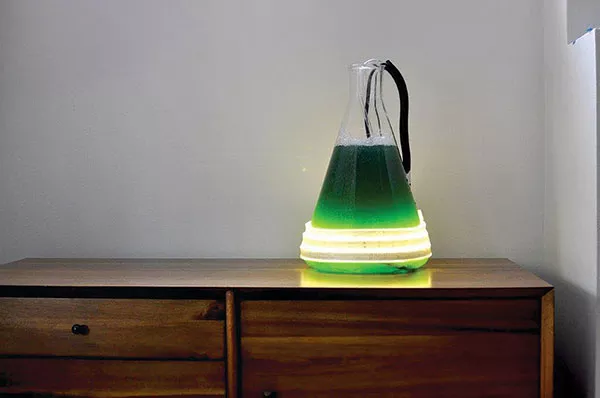 Image courtesy of the Mattress Factory
Art by Jacob Douenias + Ethan Frier.
Fri., May 15 — Art
Some 500 artists from 27 countries and across the U.S. applied for the Mattress Factory's Factory Installed; eight were accepted to create new room-sized installations. Four have work in part one of this two-part show, which opens tonight. New York-based Anne Lindberg, who has international exhibition credits, makes room-sized drawings in space with colored thread. Brooklyn's Julie Schenkelberg combines vintage domestic items with discarded industrial materials. Pittsburgh's John Morris makes installations with found objects, and Pittsburgh-based team Jacob Douenias + Ethan Frier works with beneficial microbes. BO 6-8 p.m. Exhibit continues through next winter. 1414 Monterey St., North Side. $15. 412-231-3169 or www.mattress.org
Fri., May 15 — Art
SPACE gallery opens the exhibit Repetition, Rhythm, and Pattern, a new version of a group show previously staged in San Diego and Brooklyn that features works in many media exploring the possibilities of abstraction. Says organizer Lindsey Landfried, "Each of the artists works with characteristic elements of abstraction such as geometry, monochromatic or limited color, plainspoken materials, seriality and precise craftsmanship." Artists Kim Beck, Alex Paik and Lilly Zuckerman unveil site-specific works at an opening reception tonight. ZM 6:30-8:30 p.m. Exhibit continues through June 28. 812 Liberty Ave., Downtown. Free. 412-325-7723 or www.spacepittsburgh.org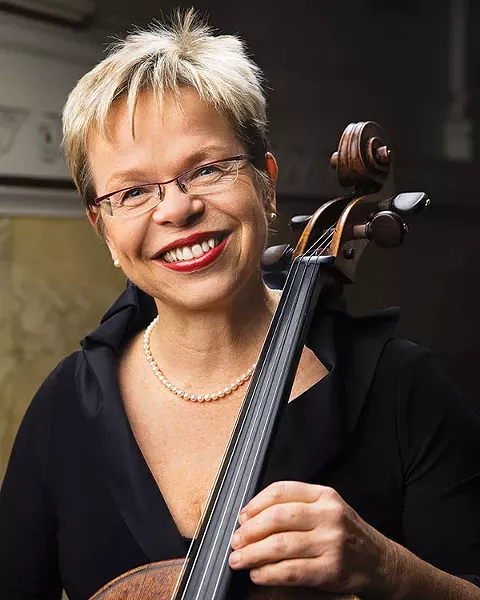 Fri., May 15 — Music
The Pittsburgh Symphony Orchestra highlights new symphonic music. Tonight and Sunday, BNY Mellon Grand Classics: The Sound of a Modern Symphony includes the orchestral world premiere of Jake Heggie's "The Work at Hand." This PSO co-commission by the composer known for his Dead Man Walking opera features PSO principal cellist Anne Martindale Williams (pictured) and guest mezzo-soprano Jamie Barton. All three days, the Heinz Hall program, conducted by British conductor Michael Francis, includes the PSO premiere of Composer of the Year Mason Bates' "Alternative Energy" and Bartok's "Concerto for Orchestra." BO 7:30 p.m. Also 7:30 p.m. Sat., May 16, and 2:30 p.m. Sun., May 17. 600 Penn Ave., Downtown. $25.75-105.75. 412-392-4900 or www.pittsburghsymphony.org
Fri., May 15 — Music
Referred to as a "sono-mosaic" in that it blends vocal and musical talent, Flamenco y Tango combines Spanish and Argentine music and dance in a performance-art piece. Presented at CAPA Theater by Pittsburgh-based Resonance Works, the show features songs not commonly sung together, but which complement both each other and the dancing to appeal to lovers of both concert music and opera. Flamenco dancer Fanny Ara, mezzo-soprano Maria Dominique Lopez, tenor Carlos Feliciano and violinist Greta Mutlu collaborate with the CAPA High School Concert Choir. ZM 8 p.m. Also 3 p.m. Sun., May 17. 111 Ninth St., Downtown. $15-50. 412-501-3330 or www.resonanceworks.org
Fri., May 15 — Comedy
Pittsburgh-native comedian Zach Miller has a tattoo on his right forearm that says "Steel City Jew," even though according to him, it's the least Jewish thing you could do. Appearing for two nights at Arcade Comedy Theater, Miller delivers standup that is both cheeky and cynical, incorporating impressions, conspiracy theories and dick jokes. Miller has appeared on The Best Comedy Show Ever, Amp Network's 5 Spot and at The Improv and The Comedy Palace. The first of two shows is tonight. ZM 10 p.m. Also 10 p.m. Sat., May 16. 811 Liberty Ave., Downtown. $15. 412-339-0608 or www.arcadecomedytheater.com
Sat., May 16 — Exhibit
Kids can learn about the hidden lives of ants, bats, chipmunks, raccoons and more in Animal Secrets, a new interactive exhibit at the Carnegie Museum of Natural History. The exhibit, which opens today, includes hands-on simulations like gathering food for winter with a chipmunk family, protecting baby raccoons from a fox, and matching tracks to their animals using puzzle pieces. How do mother bats find their babies in a cave? Here's your chance to find out. BO 10 a.m.-5 p.m. Exhibit continues through Jan. 10. 4400 Forbes Ave., Oakland. $11.95-19.95 (free for children under 3). 412-621-3112 or www.carnegiemnh.org
Sun., May 17 — Art
A hulking former factory in Point Breeze has in recent years become a hive of artistic activity, housing a cross-section of local visual-art and performance talent. It also shelters The MINE Factory, and starting tonight the gallery showcases its fellow occupants in No Vacancy: Works by Tenants of 201 N. Braddock Ave. The two dozen or so artists in the group show include Stephanie Armbruster, Kim Beck, Dave Bernabo, Corey Escoto and Blaine Seigel. BO Reception: 5-8 p.m. Point Breeze. Free. www.facebook.com (search "No Vacancy").