Spotlight: March 7 — Stage
While Thurgood Marshall was the first African-American Supreme Court Justice, by the time of his appointment in 1967, his legacy already loomed large. As chief counsel for the NAACP, he won victories including Brown vs. Board of Education, the Supreme Court case overturning segregation in public education. "It's almost like he lived two lifetimes in one lifetime," says Montae Russell, who's playing Marshall in a new production of George Stevens Jr.'s one-man show, Thurgood, at Pittsburgh Public Theater. While Marshall is a huge role, Pittsburgh native Russell has already made his mark on stage: He originated the role of Youngblood, in August Wilson's Jitney, while still a student at Steel Valley High. Though most folks likely know Russell as paramedic Dwight Zadro on TV's ER, he's also done Wilson on Broadway and many regional stages, including the Public's. Stevens, an author and documentary filmmaker, debuted Thurgood in 2006, and it later earned a Broadway run (and HBO special) starring Laurence Fishburne. The play is framed as a speech given by a retired Marshall, recounting his career. The New York Times called Thurgood "surprisingly absorbing, at times even stirring." Russell says he's most intrigued by Marshall's sense of humor in the show: "It comes out of nowhere in a serious moment." Bill O'Driscoll 8 p.m. Performances continue through April 7. 621 Penn Ave., Downtown. $15.75-60. 412-316-1600 or www.ppt.org
Thu., March 7 — Words
"Spencer Dew writes like a quiet maniac who sees the violence under the façade of everyday things, and the beauty under the violence," writes Karen Lillis. Also, she notes of his new dark-comic novel, Here Is How It Happens (Ampersand Books), Dew "finds redemption in the purity of longing and the shit coffee of an Amish country diner." Dew, who teaches in Louisiana and Chicago, visits Awesome Books tonight for a reading. Joining him are Pittsburgh-based poet Michael Begnal and other writers, including Lillis, herself a novelist and blogger. Bill O'Driscoll 6:30 p.m. 929 Liberty Ave., Downtown. Free. www.awesomebookspittsburgh.com
Thu., March 8 — Arts
The nationally active arts organization known as RAW debuted here last month, organizing a sold-out showcase for up-and-coming locals in everything from fashion to live music, visual art and film. Tonight's follow-up, at Cavo, is called Generation. The 26 featured artists include 10 visual artists, four photographers and live music by Universal Beat Union and Stranded Aliens. There's also a fashion show. And here's a request you don't always see 'round here: "fashionable attire." BO 8 p.m. 1916 Smallman St., Strip District. $10-15. www.RAWartists.org
Fri., March 8 — Dance
Two works by pioneering choreographers and one by a modern master make up Unspoken, Pittsburgh Ballet Theatre's latest show at the August Wilson Center. On the program: George Balanchine's "Serenade" — his first ballet choreographed in the U.S., set to Tchaikovsky; pioneering Balanchine contemporary Antony Tudor's "Jardin Aux Lilas (Lilac Garden)"; and Mark Morris' 1988 work "Drink to Me Only With Thine Eyes," originally created for American Ballet Theatre. Unspoken has seven performances over two weekends starting tonight. BO 8 p.m. Performances through March 17. 980 Liberty Ave., Downtown. $25.75-$68.75. 412-456-6666 or www.pbt.org
Fri., March 8 — Stage
Heard about "robot-human theater"? No, it's not the stage adaptation of Terminator. Rather, it's the latest boundary-defying effort by Tokyo's Seinendan Theater Company, whose director, Oriza Hirata, has collaborated with Japan's Intelligent Robotics Laboratory to fuse theater arts and science. Robot / Android - Human Theater features two short plays: "Sayonara," in which "an incredibly human-like android ... consoles the human actor dealing with a fatal illness," and "I, Worker," starring two robots and two human actors in a piece questioning the meaning and nature of work. The show's six-city tour hits The Andy Warhol Museum's Off the Wall series for performances tonight and tomorrow. BO 8 p.m. Also 8 p.m. Sat., March 9. 117 Sandusky St., North Side. $20-25. 412-237-8300 or www.warhol.org
Sat., March 9 — Flora
At the end of a long, cold winter, Phipps Conservatory and Botanical Gardens opens its Spring Flower Show. Based on Frances Hodgson Burnett's beloved children's classic The Secret Garden, this year's exhibit draws guests into Martha Sowerby's Cottage Garden, Archibald Craven's Topiary Court, Ben Weatherstaff's Kitchen Garden, the Secret Garden Alcove and many other corners of the conservatory filled with colorful spring flowers. The show opens today. Jeff Ihaza 9:30 a.m.- 5 p.m.  Exhibit continues through April 7. 1 Schenley Drive, Oakland. $11-15. 412-622-6914 or www.phipps.conservatory.org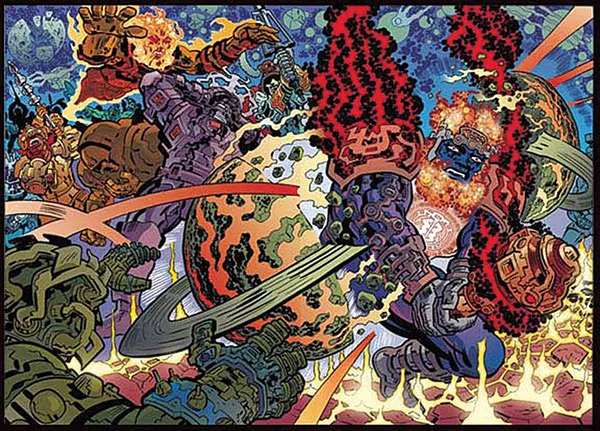 Sat., March 9 — Comics
Today, Pittsburgh-based graphic novelist Tom Scioli, known for his artistic style akin to comics legend Jack Kirby, conducts an in-depth seminar on graphic-novel illustration Downtown, at the Pittsburgh Cultural Trust Art Education Center. Scioli's resume includes Freedom Force, The Myth of 8-opus and perhaps his best known work, Gødland. The seminar will be a hands-on experience in which guests will learn the art of illustrating graphic novels and be able to create some works of their own. JI 11 a.m. 807 Liberty Ave., Downtown. $40. 412-456-6666 or www.trustarts.culturaldistrict.org
Sat., March 9 — Stage
Roland Hayes was born in 1897, in Georgia. Yet this son of former slaves went on to sing on the great classical-music stages of Europe and America. In Breath & Imagination, Hayes' story is told by playwright Daniel Beaty, whose one-man show Through the Night was a hit last year for City Theatre. Breath & Imagination, a world premiere co-produced with Hartford Stage, stars Jubilant Sykes, whose résumé as a vocalist — the Met, Deutsche Oper Berlin, Carnegie Hall — would do Hayes himself proud. Kecia Lewis plays Hayes' mother, Angel Mo, and pianist Tom Frey plays The Accompanist and other roles. Darko Tresnjak directs. Tonight is the first public preview performance; opening night is March 15. BO 5:30 p.m. Show continues through March 31. 1300 Bingham St., South Side. $15-55. 412-431-4400 or www.citytheatrecompany.org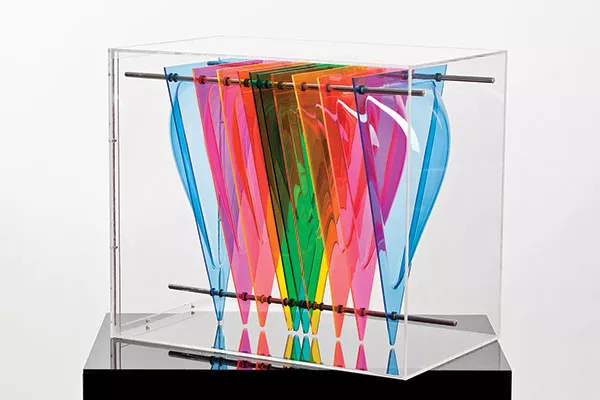 Art by Aaronel deRoy Gruber.
Collection: Aaronel & Irving Gruber
Sat., March 9 — Art
Aaronel deRoy Gruber began her art career as a painter, but it was after she moved into sculpture, in the early 1960s, that her experimentalism flourished. The locally based artist would become best known for her forays into welded steel, formed aluminum and colorful Plexiglas — works that were often illuminated, and even motorized. Gruber died in 2011; tonight, the Westmoreland Museum of American Art opens Aaronel deRoy Gruber: Art(ist) in Motion, a show highlighting her sculpture but also surveying her painting, video and photography. BO Opening reception: 6:30-8 p.m. Exhibit continues through June 2. 221 N. Main St., Greensburg. Free. 724-837-1500 or wmuseumaa.org
Sat., March 9 — Music
Contemporary music ensemble IonSound Project continues its season titled CreatION Sound:Music and Art for Humans and Robots. The latest installment, Android Ballet, weds original robot choreography to the world premiere of a commissioned score by local composer Phil Thompson, as performed by the group on flute, clarinet, violin, cello and piano. The robots here are kinetic fabric sculptures by Garth Zeglin, and the work is titled Separate Self. Tonight's show at Bellefield Hall Auditorium also features student performers from the Falk and Waldorf schools and their created instruments. BO 7 p.m. 315 S. Bellefield Ave., Oakland. $8-15. www.ionsound.org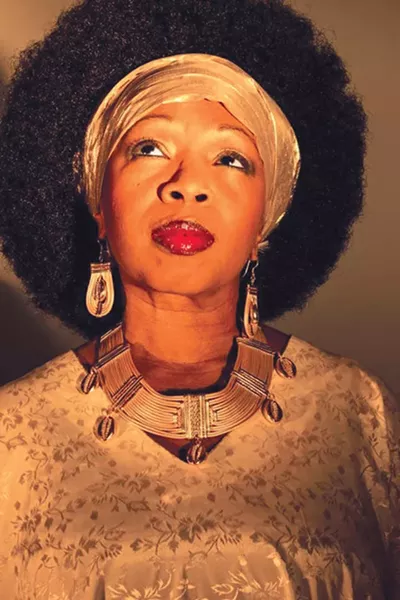 Photo courtesy of David Conley.
Sat., March 9 — Stage 
Pittsburgh Playwrights Theatre Co. launches its 10th season with Kim El's Straightening Combs. In the one-woman show, directed by Chrystal Bates, El incorporates spoken-word poetry and songs into short vignettes in which she embodies six different personas to portray an African-American female coming of age. Playwrights calls Straightening Combs "a story of the repercussions of low self-esteem and overcoming depression in urban America." Artistic director Mark Clayton Southers says the show has deepened his understanding of black women's journey. Tonight's opening-night performance is sold out. BO 8 p.m. Performances continue through March 31. 937 Liberty Ave., Downtown. $15-25.
Tue., March 12 —Music
Bassist Dwayne Dolphin has worked with Pittsburgh jazz greats like Roger Humphries, Pete Henderson and Carl Arter. His vast experience has brought his work to everything from the Pittsburgh Ballet Theatre's production of Indigo in Motion to his position as a Duquesne University adjunct professor of jazz. Tonight, Dolphin performs at the Backstage Bar at Theater Square as part of BNY Mellon and Pittsburgh Cultural Trust's Jazz Live series. The Downtown event is free. JI 5 p.m. 655 Penn Ave. Downtown. Free. 412-456-6666 or trustarts.culturaldistrict.org