Photo courtesy of Jil Stifel
Pittsburgh's queen of dance improvisation, Gia Cacalano, returns to Wood Street Galleries for her latest Gia T. Presents production, Blink. Cacalano, a resident artist at the Galleries, has created performances around some of the installations. On March 30 and 31, for Blink, Cacalano will collaborate with Norwegian artist HC Gilje's animated light and sound installation "In Transit" (running through April 8). "The title of our presentation is very much what I see when I go into the gallery space and see Gilje's installation," says Cacalano. "These lights appear, and in the blink of an eye, they are gone." Added to that theme of transiency is one of falling, to be reflected in the dancers' movements and in a film shot by dancer Allison Greene in the Turks & Caicos Islands, when she accidentally left her camera on in her bag. "The film looks like the sky is always falling," says Cacalano. Danced to live, improvised music by five performers, the 90-minute Blink features Cacalano, Greene (in a bubble-wrap costume) and Jil Stifel, along with guest dancers Vincent Cacalano (Gia's brother), from England; Wendell Cooper (New York); and Michael McDermott (Philadelphia). Steve Sucato 8 p.m. Fri., March 30, and 8 p.m. Sat., March 31. 601 Wood St., Downtown. $15-20 at the door. Limited seating; reservations at giatc3@yahoo.com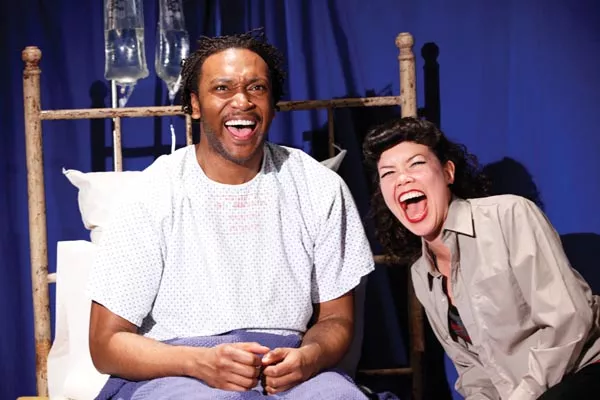 Monteze Freeland and Ruth Gamble in The Electric Baby
Stefanie Zadravec's The Electric Baby is set in Pittsburgh, and not by coincidence. The play — about a baby who glows like the moon, his parents and the seemingly random people in their orbit — was inspired by rising talent Zadravec's time at Pittsburgh Children's Hospital, where her infant son was being treated for a rare pulmonary disorder. Quantum Theatre presents the world premiere, staged at the Waldorf School of Pittsburgh, in Bloomfield's former Ursuline Convent. It's a highly theatrical, often comedic work, with direct-to-audience address, characters slipping in and out of identity and elements of folklore. Roles include the baby's parents, a Romanian woman and a Nigerian cab driver; a troubled young woman and the boy who's got no chance with her; and an older married couple with secrets from each other. The cast includes such Pittsburgh favorites as Robin Abramson, Monteze Freeland, Laurie Klatscher and John Shepard. The director is Daniella Topol, a Carnegie Mellon grad with national credits. Bill O'Driscoll Thu., March 29-April 22. 201 S. Winebiddle St., Bloomfield. $18-48. 888-718-4253 or www.quantumtheatre.com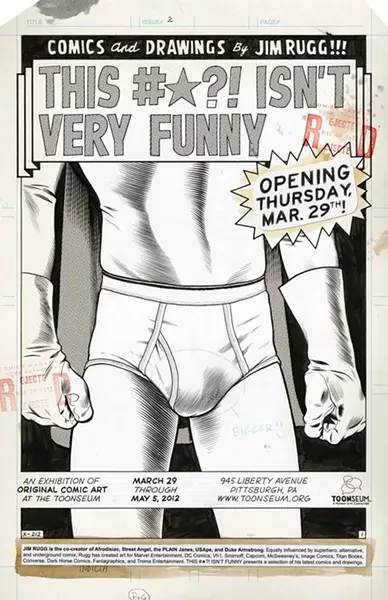 Thu., March 29 — Art
Jim Rugg has lately become one of Pittsburgh's best-known comic-book artists. His c.v. stretches from self-published mini-comics and indie houses to Marvel and DC, and his skilled hand is matched by a devilish wit. (He's an occasional CP contributor, too.) Tonight, Toonseum opens Rugg's first solo exhibition. This #*?! Isn't Very Funny highlights Rugg hits like Street Angel, a series about a girl skate-rat crime-fighter, and his parodic 2010 blaxploitation homage, Afrodisiac, alongside rarities. Rugg's comics have been translated into four languages. There's adult content, and parental discretion is advised. Bill O'Driscoll Opening reception: 7-9:30 p.m. Exhibit continues through May 6. 945 Liberty Ave., Downtown. Free. 412-232-0199 or www.toonseum.org
Thu., March 29 — Stage
Harvest is a futuristic satire that follows Om, an impoverished youth in Mumbai, India, who is among those forced to sell his organs to a multinational company named Interplanta, so he can feed his family. The University of Pittsburgh Repertory Theatre stages a new production of this 1996 play — winner of the Onassis Prize for Best International Play — by Delhi-based playwright, children's-book author and journalist Manjula Padmanabhan. Anjalee Deshpande Hutchinson directs a cast of students and artists in residence. The first performance is tonight. Mariluz Orbay 8 p.m. Show continues through April 7. Henry Heymann Theatre, Forbes Avenue at Bigelow. Oakland. $12-25. 412-624-7529 or www.play.pitt.edu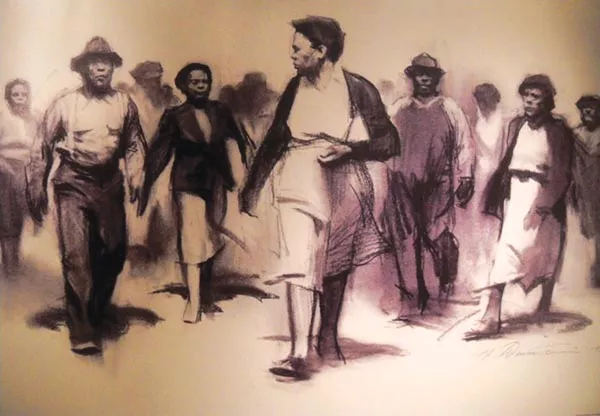 Images courtesy of Smithsonian Institution.
Fri., March 30 — Exhibit
Strength in the Struggle: Civil Rights opens today at the August Wilson Center for African American Culture. The exhibition is a collaboration between Philadelphia's African American Museum and the oral-history project In Sisterhood: Women's Movement in Pittsburgh. It features text, photography, memorabilia and film, in two separate displays. 381 Days is a Smithsonian Institution exhibit on Affrilachians — African Americans from the Appalachian region. And Bridge Builders celebrates African-American women in the women's movement from 1967-87. MO 11 a.m.-6 p.m. Exhibit continues through Jun. 30. 980 Liberty Ave., Downtown. $4-8.  412-258-2700 or www.augustwilsoncenter.org
Fri., March 30 — Art 
Anything might happen at Gestures, the Mattress Factory's long-running series of group shows featuring contributors who aren't primarily known as visual artists. The latest installment, somewhat uncomfortably titled Intimate Friction (ouch), is curated by Mary-Lou Arscott, of Carnegie Mellon's School of Architecture, who calls these artworks "interventions" that "reveal and perplex." Contributors range from artist and indie musician Jenn Gooch and architecture professor Pablo Garcia to activist art collective Transformazium. The opening reception is tonight. BO 6-8 p.m. Exhibit continues through Nov. 30. 1414 Monterey St., North Side. $12 (free to Pitt, Point Park and CMU students). 412-231-3169 or www.mattress.org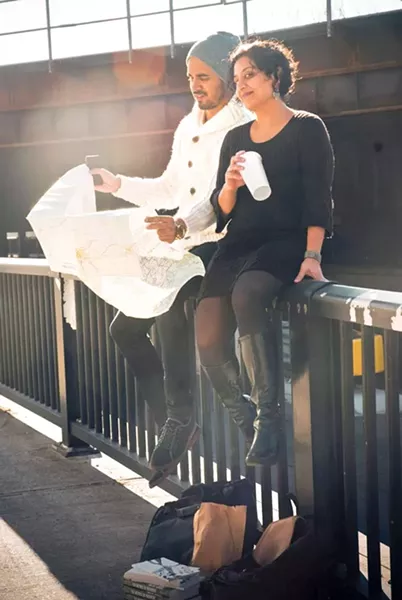 God Loves Pavement: Two Brown Authors Hit the Road.
Fri., March 30 — Words
Toronto-based authors Farzana Doctor and Vivek Shraya first bonded on a five-hour drive to a joint book reading. They had such a great time, they decided to keep driving into the U.S. — stopping only for snacks and more readings. Their seven-city tour includes New York and Washington, D.C. God Loves Pavement: Two Brown Authors Hit the Road hits The Big Idea Bookstore today. Farzana reads from her second novel, Six Metres of Pavement, one of NOW Magazine's Top Ten Books of 2011. Vivek reads from his first novel, God Loves Hair, a finalist in the 2011 Lambda Literary Awards. MO 7 p.m. 4812 Liberty Ave., Bloomfield. Free. www.godlovespavement.tumblr.com
Fri., March 30 — Party
Future Tenant was founded in 2002 as an experimental venue for Carnegie Mellon University graduate arts-management students to curate and program exhibits, performances and happenings. A decade later ... that's still what it does. It's also something of a Downtown institution. Tonight, Future Tenant marks its decennial. But, ironically enough, the fundraiser party's not at that intimate Downtown space. Instead, it's at Larimer's Bakery Square. There is, however, art — Extra Fancy, a new show by CMU fine-arts grad students — alongside DJs, food and drink, and live music by Lungs Face Feet. BO 7 p.m. 6425 Penn Ave., Larimer. $15-30. futuretenant.org
Sun., April 1— Screen
[[short13animation. Caption: Image from What Manner of Person Art Thou?]]
There's talk but offbeat movies too at the Animation Symposium. Carnegie Mellon's Center for the Arts in Society and School of Art, along with Pittsburgh Filmmakers, offer presentations and a roundtable exploring the role of the individual in animation. One of two feature-length animated films screening today is What Manner of Person Art Thou? (2008), internationally exhibited artist Erin Cosgrove's darkly comic story of the violent travels of two survivors of an epidemic that destroyed their isolated religious community. And Chicago-based animator Chris Sullivan premieres Consuming Spirits, his look at three dysfunctional people in a small industrial city. BO 4 p.m. (screenings at 5:20 and 7:30 p.m.). Melwood Screening Room, 477 Melwood Ave., N. Oakland. Screenings: $8. 412-681-5449 or www.cmu.edu/cas/events/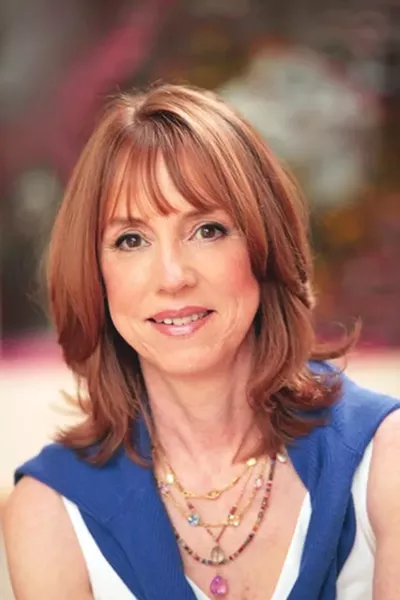 Mon., April 2 — Words
"We may look and act modern, but we can't escape that we are obedient Chinese daughters," Lisa See writes in Shanghai Girls, her 2010 novel about sisters Pearl and May, who leave Shanghai in the '30s for arranged marriages in the U.S. See's latest book, Dreams of Joy, follows the story of Pearl's daughter, who travels to Shanghai in 1957 to uncover the truth about her heritage. Tonight, the Chinese-American author talks about her life and work at Pittsburgh Arts & Lectures' Monday Night Lecture Series, with additional support from the Confucius Institute of Pittsburgh. MO 7:30 p.m. Carnegie Music Hall, 4400 Forbes Ave., Oakland. $10-35. 412-622-8866 or www.pittsburghlectures.org
Wed., April 4 — Words
Best known these days for her mystery series, Rita Mae Brown gives a talk and signing today at the Oakmont Carnegie Library, courtesy of Mystery Lovers Bookshop. Brown, who leapt to prominence in 1973 with her novel Rubyfruit Jungle, marks 20 years of her "Mrs. Murphy" mysteries, co-written with her cat Sneaky Pie Brown, and the series' 20th installment, The Big Cat Nap. Because Brown (Rita Mae, that is) is an animal advocate, the event is held in conjunction with the Animal Friends shelter, which will receive proceeds of tickets sales and a book raffle. BO 7 p.m. 700 Allegheny River Blvd., Oakmont. $5. 888-800-6078 or www.mysterylovers.com