SPOTLIGHT: Sat., June 24 — Event
Warning: If you are someone who likes narratives to make sense, takes things literally, or is otherwise averse to pop surrealism, the June 24 Multiple Choice Event Series might truly drive you insane. Of course, that could be a good thing: Kaiju Big Battel: Multiple Choice Versus, at the August Wilson Center, is headlined by Boston-based performance troupe Studio Kaiju, whose shows are basically professional-wrestling tournaments staged with combatants who are incredibly silly versions of creatures from classic Japanese monster movies. In a ring strewn with miniature cardboard skyscrapers, people in big funny foam costumes, representing characters like Kung Fu Chicken Noodle, Sky Deviler, Dusto Bunny and Uchu Chu the Space Bug, clobber each other; the story has something to do with an evil mad scientist named Dr. Cube who wants to rule the world. (Kaiju started in the 1990s; it used to be a Boston-only thing, but now it tours.) "Kaiju" means "mysterious beast" in Japanese; one combatant is a giant hamburger with bear limbs. Like we said, don't try to figure it out.
Multiple Choice is the Pittsburgh Cultural Trust series that on a given Saturday night lets you enjoy one of three recreational options, or any combo thereof. On June 24, you can Kaiju it up, but you can also partake in a party featuring Monster Trike Night, with adult-sized tricycles available for racing around a flat track, against other visitors and against the clock. The evening's possibilities also include a fleet of outdoor food vendors. To sum up: If you want to Kaiju, arrive before 8 p.m., and pay $25, then stick around for the other stuff. Or pay $5 and just do Monster Trike Night and food trucks. All options are all-ages.
— Bill O'Driscoll
8 p.m. Sat., June 24. 980 Liberty Ave., Downtown. $5-25. 412-456-6666 or www.trustarts.org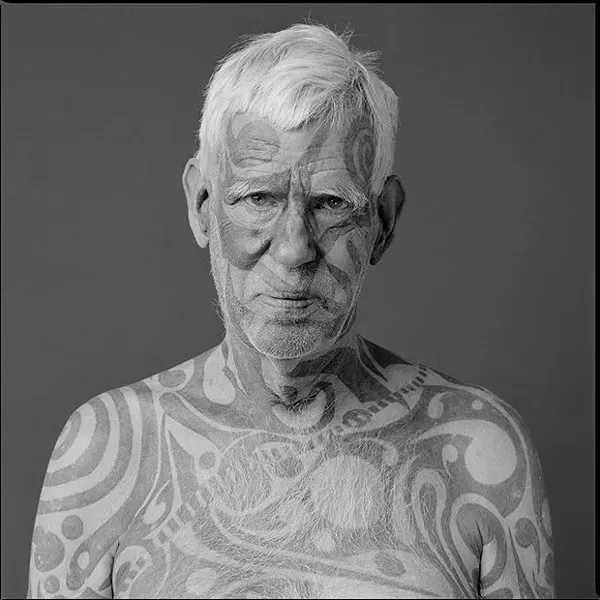 Thu., June 22 – Art
It's a big weekend for one of Pittsburgh's biggest photographers, as Mark Perrott continues his half-century career with not one but two gallery openings. Tonight, Signs, with work by Perrott and Chuck Biddle, opens at Concept Art Gallery, spotlighting old-school movie marquees, steel-mill signage, coastal motels and more. And if you're up for a road trip, on June 23, Erie Art Museum opens Ancient Ink, Perrott's solo exhibit that extends his four decades of documenting tattoo parlors, tattoo artists and tattooed people. Ancient Ink focuses on graying and inked baby boomers, with large-scale photos, and interviews, of a World War II-era Navy vet, a retired Cleveland cop, a former steelworker and more. Bill O'Driscoll Signs reception: 6-8 p.m.; exhibit continues through Aug. 26 (1031 S. Braddock Ave., Edgewood; free; www.conceptgallery.com). Ancient Ink: Exhibit continues through Jan. 28 (411 State St., Erie, Pa.; 814-459-5477 or www.erieartmuseum.org)

Thu., June 22 – Words
Haroon Moghul, a writer and public figure, brings the tour for his nonfiction book How to Be a Muslim: An American Story to White Whale Bookstore. "In the face of virulent anti-Islam discourse, Moghul treats Islam as a source of personal redemption and as a force for good in the world," wrote Ausma Zehanat Khan in a glowing review for The Washington Post. Moghul, the son of immigrants, has contributed to outlets including CNN and The Guardian. Matt Petras 7 p.m. 4754 Liberty Ave., Bloomfield. Free. 412-224-2847 or www.whitewhalebookstore.com
Fri., June 23 - Festival
Monster fans rejoice — the Monster Bash returns to Mars' DoubleTree Hotel for its 20th convention. This three-day event is packed with guests who have had a big impact on classic monster films and television shows. For instance: Ricou Browning, now 87, the original gill-man during the underwater scenes from 1954's The Creature From the Black Lagoon. There are movie screenings and a slew of vendors. MP 9 a.m.-2:30 p.m. Also 8 a.m.-2:30 p.m. Sat., June 24, and 9 a.m.-5 p.m. Sun., June 25. 1 Bigelow Square, Mars. $20-55. 724-238-4317 or www.monsterbashnews.com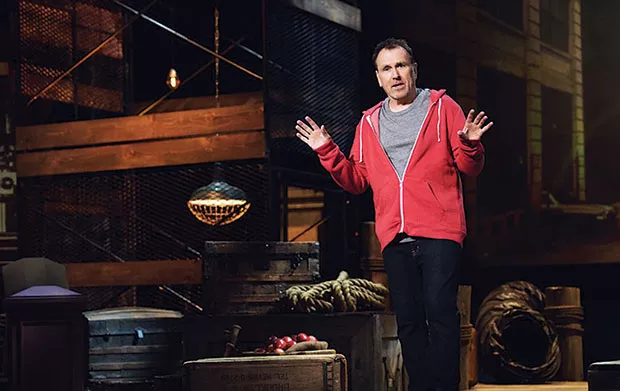 Fri., June 23 – Comedy
Colin Quinn knows why the country used to feel less divided. "Arizona and New York didn't know each other. The internet got invented, and, 'Oh, my god, there's states like that?'" Quinn, late of Saturday Night Live and Comedy Central's Tough Crowd With Colin Quinn, tops the bill at this year's DVE Comedy Festival. Also performing tonight at this Byham Theater showcase are Kevin Brennan, Robert Kelly, Rachel Feinstein and hometown kid Bill Crawford. BO 8 p.m. 101 Sixth St., Downtown. $56. www.trustarts.org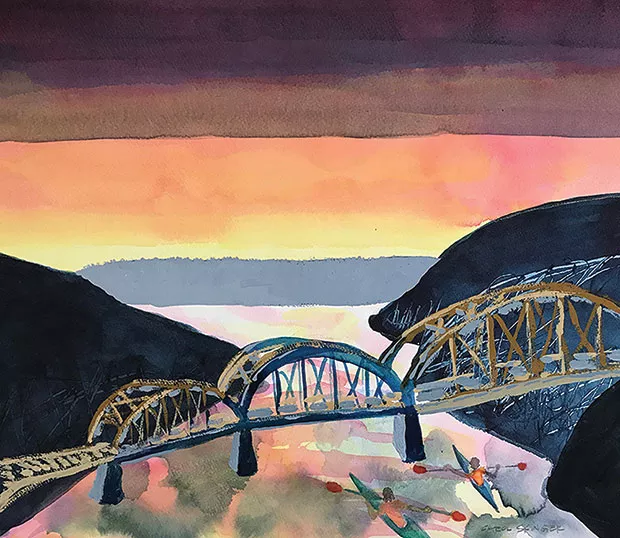 Sat., June 24 – Art
Looking at Fox Chapel-based Carol Skinger's artwork, you may start to see some familiar sites. While her watercolor and gouache paintings often employ an abstract style, many depict landmarks from places like Squirrel Hill and Sewickley. A new solo show, at Cooper Siegel Library, includes 40 paintings; Skinger will attend today's opening reception. MP 2-5 p.m. Exhibit continues through Nov. 8. 403 Fox Chapel Road, Fox Chapel. Free. 412-828-9520 or www.coopersiegelcommunitylibrary.org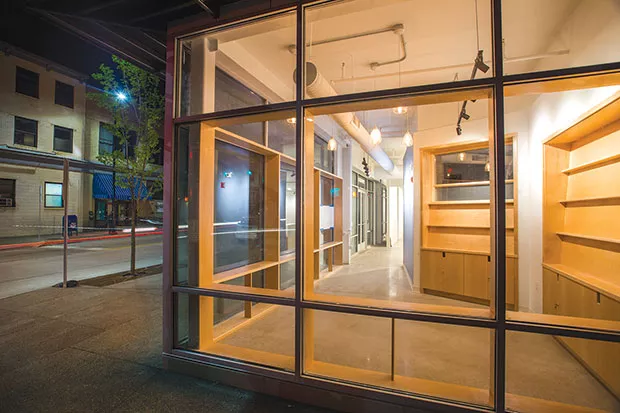 Photo courtesy of Sean Carroll
Sat., June 24 – Art
In October, Silver Eye Center for Photography shuttered its longtime home on the South Side; save one off-site exhibition, we haven't heard much from the group since. That's because it's been busy preparing its sleek new home in the Penn Avenue arts corridor. Tonight, Silver Eye holds its (re)Opening Celebration, complete with refreshments, a photo booth and dancing. (VIP tickets are sold out.) The event doubles as a preview for the space's inaugural exhibit: Past Present Future: Western Pennsylvania's People and Places, a showcase of landscapes and portraits of the region spanning a century from more than 40 artists, from icons like W. Eugene Smith, Esther Bubley and Duane Michals to contemporary artists. BO General admission: 8-11 p.m. 4808 Penn Ave., Bloomfield. $25. 412-431-1810 or www.silvereyecenter.org

Sun., June 25 – Outdoors
People have been merrily biking the Great Allegheny Passage, or sections of it, for years now. If you're not among them, today's GAP Bike and Lunch is a good excuse to try out the scenic, 150-mile path that runs from Pittsburgh to Cumberland, Md. Join Venture Outdoors in Boston, Pa., a Youghiogheny River town a few miles from McKeesport, for a 30-miles-total out-and-back ride, followed by lunch at a local restaurant. The minimum age is 12. BO 8:30 a.m.-1:30 p.m. Boston, Pa. $29. www.ventureoutdoors.org
Sun., June 25 – Outdoors
A distinct pleasure of last summer was the quiet, unhurried view of Downtown from the West End Bridge made possible by OpenStreetsPGH. Once again today, the event's City of Bridges Route closes streets to car traffic for three miles, from Market Square and through the North Side to the West End. Bring your bike, skates or walking shoes, and look for free fitness classes, arts activities and more along the way on the Bike Pittsburgh event. BO 9 a.m.-1 p.m. Free. www.openstreetspgh.org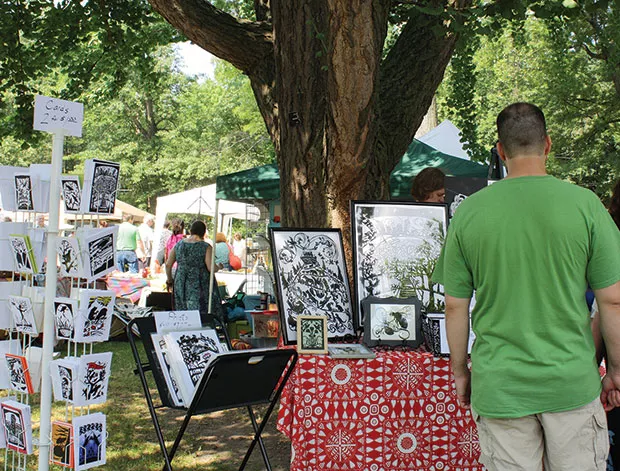 Sun., June 25 – Art
Not a yard sale, and not an art sale: This is a yART Sale. This event, held on the lawn of Pittsburgh Center for Arts, features more than 70 local artists selling a wide variety of items: "pottery, photographs, jewelry, fabric, glass, paintings, and more!" There will also be food trucks, like PGH Crepes and Stickler's, as well as hands-on activities for children, like screen-printing hosted by Conor McGrann, for which kids should bring their own T-shirt or tote. MP 6300 Fifth Ave., Shadyside. Free. 412-361-0873 or www.center.pfpca.org

Sun., June 25 – Magic
David Blaine is set to perform a new trick, his greatest yet: touring North America. The famed magician and endurance artist comes to the Byham Theater on his 40-city tour. No two shows are said to be the same, so audiences can expect something unique. Blaine is known for everything from head-turning illusions with playing cards to feats like being buried alive for days, and holding his breath for more than 17 minutes. MP 8 p.m. 101 Sixth St., Downtown. $39.50-75 (VIP tickets available). 412-471-6070 or www.trustarts.org

Tue., June 27 – Words
Margo Jefferson is a former Newsweek associate editor and Pulitzer Prize-winning critic for the New York Times. But lately, she's better known as author of Negroland, her 2015 memoir about growing up as part of Chicago's black social elite. The book, which won a National Book Critics Circle Award, was widely hailed for its insights into race and privilege in America. Jefferson, who's based in New York, visits City of Asylum tonight to read from Negroland at Alphabet City. The event is free, but registration is suggested. BO 8 p.m. 40 W. North Ave., North Side. Free. 412-435-1110 or www.alphabetcity.org

Wed., June 28 - Comedy
Doug Stanhope describes his fan base as "school shooters who didn't have bullets"; he recently told The Daily Beast that he's "more of an outlet than a comic." So if you're a fan, you probably already know that Stanhope's at the Pittsburgh Improv tonight. If you're not — but you're ready for a comedian who's as proudly vulgar as he is wickedly smart — here's a good chance to check out this gravel-voiced, drinkin' and smokin' cult favorite, who's as good a social-commentary ranter as anyone in the business. BO 8 p.m. 166 E. Bridge St., West Homestead. $35. 412-462-5233 or www.pittsburgh.improv.com