Photo courtesy of Dennis Wile
Most people who've read Charlotte's Web did so as children, at the behest of their parents. But Michael Sims, the Greensburg-based author of The Story of Charlotte's Web: E.B. White's Eccentric Life in Nature and the Birth of an American Classic, says the book didn't appeal to him during his early years. "I saw the cover, I thought it was about girls, I didn't want to read about girls," he says. That changed when Sims — who speaks June 21 at the Carnegie Library's Writers LIVE series — fell in love with White's essays and prose style, and eventually decided to write his acclaimed 2011 biography. Charting the course of White's life through 1953, the year after Charlotte's Web was published, the book examines the writer's eccentricities, upbringing and, perhaps most importantly, his love of nature. "He really did know spiders and geese and lambs and pigs the way the rest of us know Charlie that we work with at the next cubicle," he says. Andy Tybout 6 p.m. Thu., June 21. 4400 Forbes Ave., Oakland. Free. 412-622-6276 or www.clpgh.org 
Thu., June 14 — Convention
If it seems like just yesterday that thousands of adults were strolling Downtown dressed as cartoon animals ... it must be time again for Anthrocon. Time again for the David Lawrence Convention Center and the Westin Hotel to host an international menagerie of fans of humanlike animal characters for talks, art workshops ("The Philosophy of Cute") and more ("Reptile Meet and Greet"). We even recall spirited rounds of Furry-Oke. Though frankly, this is the seventh year Pittsburgh's hosted Anthrocon, and it's getting a little routine. Can old furries learn new tricks? Bill O'Driscoll Starts at 6:30 p.m. Continues through Sun., June 17. Downtown. $30-60. www.anthrocon.org
Image courtesy of Jeffrey Krsul.
Fri., June 15 — Art
Like many artifacts of days gone by, old photos have become a favorite subject of contemporary artists and their fans. But starting tonight, Wildcard's Adventures in Anachronism exhibit will showcase images that recall earlier time periods but depict contemporary ones. Artist Jeffrey Krsul used a variety of vintage techniques, including cyanotype, Van Dyke and tintyping, to lend recent photos the appearance of age. The premiere will feature free music and refreshments. Andy Tybout 6-9 p.m. 4209 Butler St., Lawrenceville. Free. 412-224-2651 or www.wildcardpgh.com
Fri., June 15 — Stage
NBC's new musical series Smash is set almost entirely in New York, but a recent competition the show hosted has helped bring Broadway to Pittsburgh. Tonight, Westinghouse High School performers put the lessons a network affiliate taught them into practice by staging Fame Jr., a one-hour version of the acclaimed 1980 musical about a performing-arts high school. The production — implemented by the Strayhorn Legacy Project, a local arts-advocacy initiative — marks the return of musicals to Westinghouse after a decade's absence, and features performances by a cast of 13 students. AT 7 p.m. Kelly-Strayhorn Theater, 5941 Penn Ave., East Liberty. $3-5. 412-363-3000 or www.kelly-strayhorn.org
Fri., June 15 — Party
Any event whose ads feature the typically reserved Barbara Luderowski dressing as Lewis Carroll's flamboyant Queen of Hearts piques one's curiosity. But who knows how the Mattress Factory director will costume tonight for the museum's annual Urban Garden Party, with its theme "Alice at the Factory"? Wander the exhibits and the Factory's singular courtyard; visit the "gigantic tea table," complete with Mad Hatter; listen to sounds by DJ Zimmie and DJ Eli Escobar; and do "eat me" and "drink me" one better with refreshments from more than 40 restaurants and caterers. If you can't descend the rabbit hole tonight, Sunday's free Community Garden Party is a family-oriented affair with live music and hands-on art activities. BO 7-11 p.m. ($95); VIP party: 6-7:30 p.m. ($250). Community Garden Party: Noon-5 p.m. Sun., June 16 (free).  www.mattress.org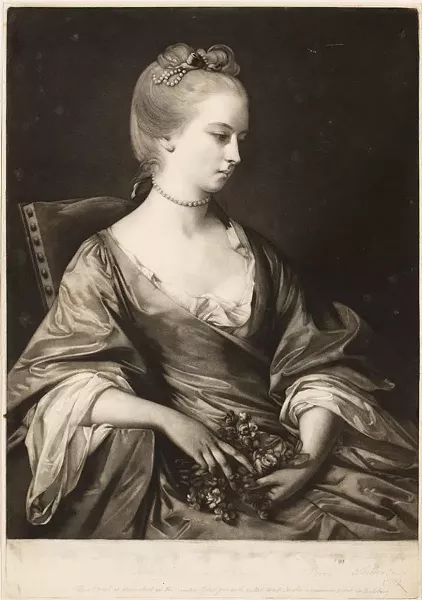 Image courtesy of the Frick Art & Historical Center
Sat., June 16 — Art
A wide array of artistic techniques and themes are on display in the Frick Art & Historical Center's new exhibit, Three Centuries of Printmaking. It's comprised of two gallery-owned collections — In the English Manner: Mezzotint Portraits and Picturesque Architecture by Thomas Shotter Boys — and a traveling collection, The Prints of Jacques Callot. The exhibit showcases various scenes from 17th-century Europe, portraits of distinguished 18th-century Englishwomen and romantic depictions of several 19th-century cities. Tours, lectures and workshops will take place throughout the summer. AT 10 a.m.-5 p.m. Exhibit continues through Sept. 2. 7227 Reynolds St., Point Breeze. Free. 412-371-0600 or www.thefrickpittsburgh.org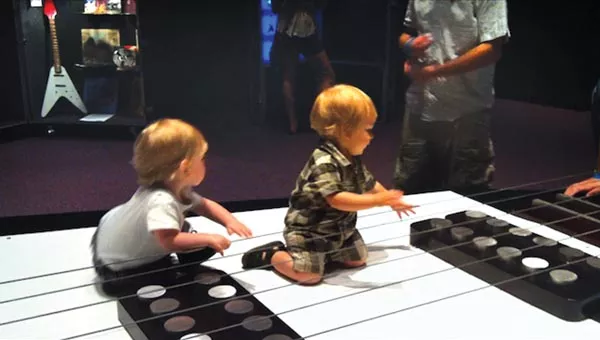 Sat., June 16 — Exhibit
Guitars are often associated with sex, drugs and short-lived 20th-century icons. But a traveling exhibition at the Carnegie Science Center, Guitar: The Instrument That Rocked the World, showcases more than their recent pop-cultural legacy. Featuring live performances (including an all-star acoustic jam on tonight's opening night), a range of interactive activities, and the world's largest playable guitar, the exhibition is a multi-faceted celebration of one of the most distinctive symbols of Western culture. AT 10 a.m.-7 p.m. Exhibit continues through Sept. 30. 1 Allegheny Avenue. $11.95-17.95. 412-237-3400 or www.carnegiesciencecenter.org
Caption: Khary Jackson at Speaking of ...
Sat., June 16 — Stage
While it began as a reading series (albeit one also featuring performance poetry), Speaking of ... quickly evolved into a kind of arts variety show. Its latest installment is headlined by both Pittsburgh's Texture dance company, previewing its summer show, and nationally known visiting poet Khary Jackson. (See YouTube for his "Open Letter from the Brothers Grimm to Disney.") The evening at the New Hazlett Theater, titled In Bloom, also features Faithful Sinners, a progressive-folk duo from Washington state, fronted by saw-player Erika Laing. And there are words from Pittsburgh-based flash-fiction writer Sherrie Flick and poet Brian Francis. BO 8 p.m. 6 Allegheny Square East, North Side. $10-18. speakingofpittsburgh.com
Sat., June 16 — Stage
Wünderstudies: You've gotta love a troupe whose name is simultaneously self-effacing and self-promoting. You've gotta love it more if it was the first in town to perform improvised musical theater: hour-long shows, complete with story lines, original songs and live music, made up on the spot based on a one-word audience suggestion. Similar groups have emerged since, but Wünderstudies was the pioneer. In the wake of their "near-Broadway debut at the New York City Improv Festival," join the performers for their first-anniversary show, late tonight at the Cabaret at Theater Square. BO 10:30 p.m. 655 Penn Ave., Downtown. $5. www.culturaldistrict.org
Sun., June 17 — Music
Pittsburgh's rites of summer include Bach, Beethoven and Brunch. This Citiparks concert series brings local musical groups to the Mellon Park lawn for classical tunes. But it's equally famed for its intermissions — when local gourmands square off in the Best Brunch competition. (So bring your "A" basket.) The nine-week series kicks off today with the Edgewood Symphony Orchestra. BO 10:30 a.m.-noon. Fifth Avenue near Shady, Shadyside. Free. 412-255-2493 or www.citiparks.net
Mon., June 18 — Words
In 2004, Columbia University research psychiatrist Mindi Fullilove published Root Shock, her book documenting how misguided urban-renewal efforts harmed communities, and black neighborhoods in particular; case studies included the Hill District. The good news, Fullilove says, is that these days we're doing a little better. She'll explain how in tonight's talk at the August Wilson Center, "Pittsburgh's 21st-Century Triumph Over 20th-Century Urban Renewal." The event is sponsored by the Community Design Center of Pittsburgh. BO 6 p.m. 980 Liberty Ave., Downtown. Free; RSVP requested at 412-391-4144 or terickson@cdcp.org
Mon., June 18 — Words
Each year, nationally known poetry group Cave Canem hits town for a writing residency and a series of readings by top-flight African-American poets. The group's Pittsburgh visitation begins tonight at the University of Pittsburgh's Greensburg campus, with Cave Canem co-founders Toi Derricotte and Cornelius Eady reading alongside the legendary Amiri Baraka. On Thu., June 21, City of Asylum/Pittburgh hosts Thomas Sayers Ellis, Angela Jackson, and National Book Award-winners Nikky Finney and Terrance Hayes. Pitt Greensburg also hosts student readings June 19, 20 and 22. BO 7:30 p.m. Greensburg. (June 21 event at 7:30 p.m., 1410 Monterey St., North Side). Free. www.cavecanempoets.org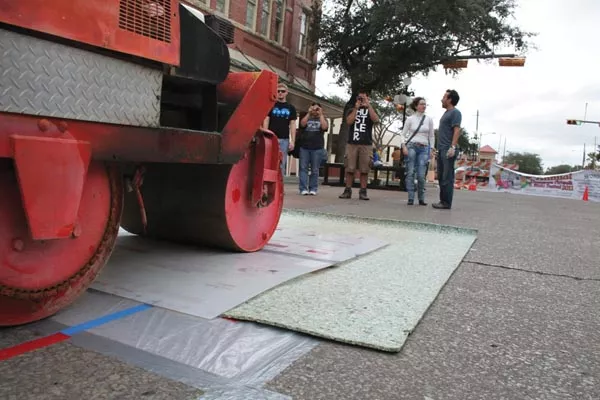 Thu., June 21 — Call for Artists
Construction Junction is seeking eight artists to craft woodblock representations of different Pittsburgh neighborhoods. The finished blocks will be assembled into a single 4-by-8-foot panel that will be printed with a steamroller during the used-building-supply emporium's annual Big Pour craft-beer festival, in September. Among other submission requirements, Steamrolled Pittsburgh asks applicants to submit 10 images of their work by today's deadline. Neighborhoods on offer include Downtown, the Hill District and South Side. For complete submission requirements, email steamrolledpgh@gmail.com AT