SPOTLIGHT: Sat., July 27 — Outdoors
A group of 25 will hike through McConnells Mill State Park this Saturday on Venture Outdoors' day-long Waterfall Hike. The group will tackle the 6.2 rocky miles of the Slippery Rock Gorge trail that tracks Slippery Rock Creek. Dramatic sloping mountainsides frame the trail and descend to the creek, which gives way to rapids and waterfalls; while attempting to conquer the trails, hikers will look down on white-water rafters. The group will move at a steady pace through a rocky terrain, so prior hiking experience is required. A Venture Outdoors guide will lead the hike, stopping along the way to discuss the natural history of the land, dating back 300 million years to the bedrock that formed and then eroded to create the park's rugged landscape. The group will stop along the way for brown-bag lunches. Once the Slippery Rock Gorge Trail is conquered, those who haven't seen enough of the gorge, the waterfalls and the trails will take Hells Hollow Trail, a short path that follows one of the creek's tributaries to Hells Hollow falls. The trip totals 7.2 miles. Olivia Lammel 10 a.m.-4 p.m. Sat., July 27. 2697 McConnells Mill Road, Portersville. $10. Register by 5 p.m. Fri., July 26, at 412-255-0564 or www.ventureoutdoors.org.  
Thu., July 25 — Art
Ever wonder what's the deal with those six stone chairs all facing each other on Grant Street? Or those poles shooting fog behind the Children's Museum? Pittsburgh Art in Public Places: Downtown Walking Tour knows. The third edition of the Office of Public Art's free guidebook gets its launch party tonight. The 185-pager is written by the OPA's Renee Piechocki and Laura Zorch, with most photos by frequent CP contributor Renee Rosensteel. The Wood Street Galleries event includes artists represented in the book, and attendees get cake, champagne ... and a free copy. Bill O'Driscoll 5-7 p.m. 601 Wood St., Downtown. Free. RSVP at www.pittsburghartscouncil.org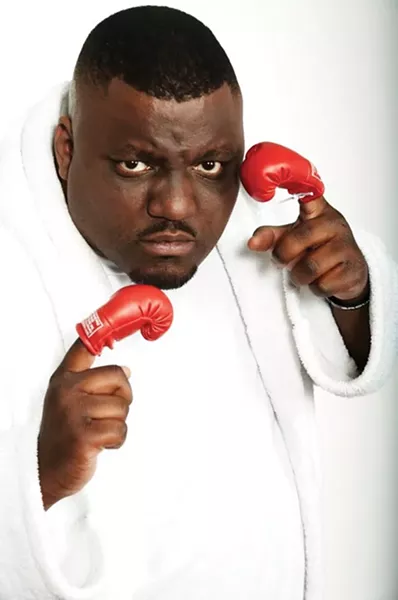 Thu., July 25 — Comedy
Tonight, Aries Spears performs the first of his six shows this weekend at Pittsburgh Improv. This Chicago native has decades of experience, including a long stint as a principal cast member on Fox's Mad TV and a role in Jerry Maguire. He is perhaps best known for the impressions he's been cultivating since childhood family dinners. His standup routines include versions of Jay-Z, Denzel, Michael Jackson, De Niro, Pacino, Schwarzenegger and drunk white people. Olivia Lammel 8 p.m. Continues through Sun., July 28. 166 E. Bridge St., Homestead. $22. 412-462-5233 or pittsburgh.improv.com 
Thu., July 25 — Talk
After all the time he spends trying to freak you out with gore and mayhem, go figure why you'd want to spend time with Tom Savini. But here's your chance. Tonight, the Shaler North Hills Library's weekly discussion series Art and Inspiration With William Rock hosts the cult-favorite actor, filmmaker and special-effects master whose résumé includes Dawn of the Dead and two installments of Friday the 13th. Hear the local-lad-made-good-and-bloody talk about his work; add to the discussion yourself; and stick around for the reception. BO 7 p.m. 1822 Mount Royal Blvd., Glenshaw. Free. 412-486-0211 or www.shalerlibrary.org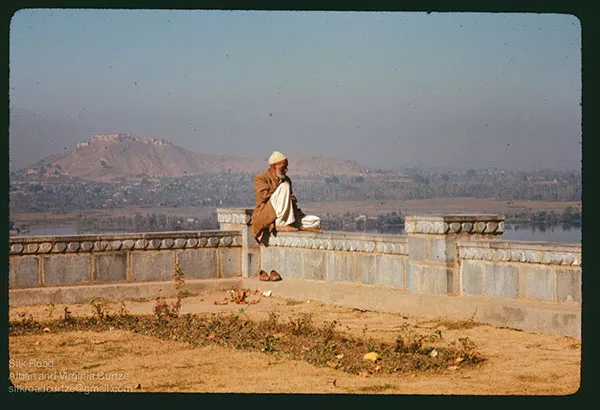 Photo by Virginia and Alban Curtze.
Fri., July 26— Art
The Silk Road exhibit is partly the story of Virginia and Alban Curtze, a cosmopolitan couple from Erie, Pa. The show at Point Park University's Lawrence Hall Gallery draws from a collection of 1,286 color Kodak slides the couple took in the late '60s and early '70s, when they visited Nepal, India, Pakistan and Afghanistan, along the ancient Silk Road trade route. One photo shows a large stone Buddha that was demolished by the Taliban in 2001. Somewhat of a time capsule, this unique collection, owned by Point Park University photography instructor Chris Rolinson, is on exhibit two more weeks. OL 9 a.m.-6 p.m. Continues through Aug. 9. 212 Wood St., Downtown. Free. www.pointpark.edu
Sat., July 27 — Exhibit
Each summer, the National Historic Landmark known as the Carrie Blast Furnaces relives its past as a world-class industrial behemoth with guided tours by the River of Steel National Heritage Area. The site that once produced iron for U.S. Steel's Homestead Works is now a historical touchstone and often a film set ... with a solar-powered visitor center. Today is Carrie Blast Furnaces Community Day, with free tours every half-hour from 9-10:30 a.m. for residents of neighboring ZIP codes 15120, 15218 and 15104. Ticketed tours for anyone ($25, with student and senior discounts) continue today and at 10 a.m. every Friday through August and Saturdays through October. BO Rankin. 412-464-4020 or www.riversofsteel.com
Sat., July 27 — Stage
It starts with a round of drinks at the bar. (Always a good idea.) Then Pearlann Porter, of the ever-experimental Pillow Project, persuades a diverse group of musicians, visual artists and dancers to wield each other's tools of the trade: pianist dancing, dancer drumming, etc. Out of all this eventually develops a performance with everyone back doing what he or she does best. Out of Elements, at the loungey Space Upstairs, features musicians James Andrezj Rushin, David Bernabo and Colin Pinto-Martin; dancer Porter; and visual artist Jordan Bush. BO 10 p.m. 214 N. Lexington St., Point Breeze. Suggested donation: $10. www.thespaceupstairs.org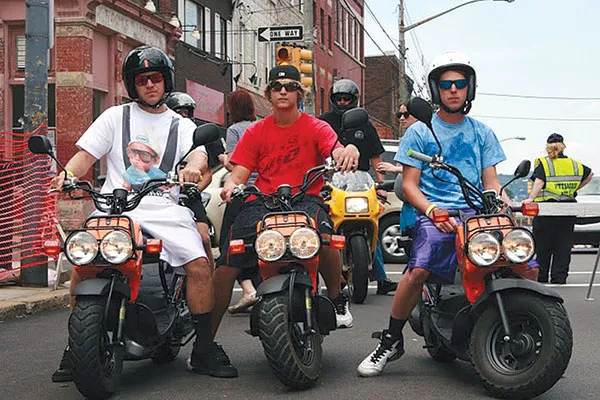 Sat., July 27 — Rally
In 1960s England, suit-jacketed scooter riders clashed with leather-jacketed motorcyclists. The Fourth Annual Steel City Mods vs. Rockers Rally recreates this youth-subculture rivalry, but swaps the streets of southern England for the streets of Western Pennsylvania, and replaces the violence with good-natured competition. For the first time, this rally rolls over to Millvale, where vintage bikes and scooters will be judged in a handful of categories. There will also be the traditional pin-up contest, and DJ Ian will provide the background music. Two bands perform: The Pressure, a local reggae/ska act, and rock group The Bessemers. OL Noon-5 p.m. Grant and North avenues, Millvale. $5. www.steelcitymodsvsrockers.com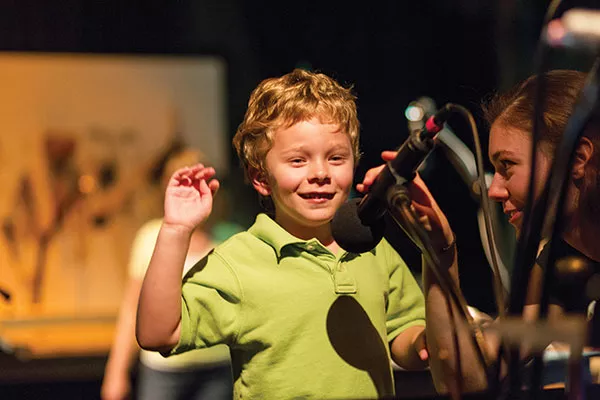 Sat., July 27 — Stage
Bricolage launches its second season of Midnight Radio Jr. — the kid-friendly version of its popular "live radio" series. This weekend and next, take an Underwater Voyage, as the cast uses voices and live sound effects to summon mermaids, sunken ships, coral reefs, Dragon Kings and the adventures that develop. The program includes live music by The Josh and Gab Show. Kids are invited to stay afterward to learn some tricks of the radio trade in a 45-minute hands-on Foley sound-effects workshop. BO 2 p.m. Also 2 p.m. daily Sun., July 28, and Aug. 3 and 4. 937 Liberty Ave., Downtown. $8-15. www.bricolagepgh.org
Tue., July 30 — Screen
Birds of a feather, as they say: Pittsburgh's sideshow-inspired Kabarett Vulgare, the gothic Atrocity Exhibition showcase and Most Wanted Fine Art gallery are showing Todd Browning's Freaks. The unnerving 1932 cult classic — set in a circus sideshow, and cast with real performers — screens at the Hollywood Theater to benefit production of another film, Brian Cottington's documentary House of Oddities: The Story of the Atrocity Exhibition. Expect live performances from members of the local vaudevillian set, plus thematically appropriate vendors. If it's not an actual circus, it's at least a carnival. BO 7 p.m. 1449 Potomac Ave., Dormont. $10. www.thehollywooddormont.org
Tue., July 30 — Stage
Few '50s rockers were as seminal as Buddy Holly: The Stones' first U.S. single was Holly cover "Not Fade Away," and The Beatles named themselves in homage to his band, The Crickets. In 2011, a tribute album featured covers by the likes of The Black Keys, Modest Mouse and She & Him. Buddy — The Buddy Holly Story, one of the first jukebox musicals, premiered in 1989 and ranks among the longest-running London musicals. From "That'll Be the Day" to "Rave On," the show remains a crowd-pleaser. Starting tonight, Pittsburgh CLO hosts eight performances of a touring production featuring Andy Christopher and Kurt Jenkins alternating in the title role. BO 8 p.m. Continues through Sun., Aug. 4. Benedum Center, 719 Liberty Ave., Downtown. $10-75.75. 412-456-6666 or www.pittsburghCLO.org
Tue., July 30 — Words
The two months of Hemingway's Summer Poetry Series conclude with a bang tonight. The long-running poetry-series-in-a-bar wraps up with its traditional all-star Grand Finale. Featured poets include Nikki Allen, Marilyn Bates, Jason Irwin, Amanda Reynolds, Alicia Salvadeo, Kayla Sargeson (who curates CP's online feature "Chapter & Verse), Scott Silsbe and Bob Ziller. Rounding out the line-up is Jimmy Cvetic, the famed local character (and occasional CP contributor) who co-organizes the series. BO 8 p.m. 3911 Forbes Ave., Oakland. Free. JBauer103w@aol.com