SPOTLIGHT: Sat., Jan. 18 — Stage
"I grew up in a puppet family," says Heather Henson. Understatement alert: Henson is the youngest daughter of the late Jim Henson, the guy who created the Muppets. As a kid, she learned about every kind of puppetry there is. After art school, she returned to the family profession, launching IBEX Puppetry in 2000. While the Orlando-based troupe embraces the Muppet legacy — its productions include "Sing Along With The Muppet Movie" — the internationally touring group's own aesthetic is distinct. IBEX's Celebration of Flight (pictured), for instance, combined large- and small-scale rod puppets, kitework, dance and music to evoke birds. Now, thanks to Annmarie Dugan — the IBEX lighting designer who also chairs Pitt's theater department — IBEX is here to premiere Flight: A Crane's Story, at Pitt's Charity Randall Theatre. For this hour-long reworking of Celebration of Flight, Henson hired a playwright and director to help tell the story of a young crane named Awaken, who is separated from her family and must learn how to fly — and migrate — on her own. At each of the two performances, the program includes a half-hour pre-show workshop where families can make their own crane puppets to perform with as part of the show. Henson adds that Flight has an environmental message: "Back to nature. Simplify. Listen." Bill O'Driscoll 8 p.m. Sat., Jan. 18, and 2 p.m. Sun., Jan. 19. 4301 Forbes Ave., Oakland. $12-25. www.play.pitt.edu
Thu., Jan. 16 — Talk
David Sobel says that schools can learn a thing or two from farmers' markets: They could use the natural and historic resources of the local community to teach ecology, culture and economics. Sobel, of New England's Antioch University, is known as "the father of place-based education" and is the author of books including Beyond Ecophobia: Reclaiming the Heart in Nature Education. He speaks tonight at the Inspire Speaker Series. The Green Building Alliance event, at Phipps Conservatory, also features Jane Werner, executive director of the Children's Museum of Pittsburgh. Bill O'Driscoll 5-8 p.m. (talk at 6 p.m.). Schenley Plaza, Oakland. $15-45. Register at www.go-gba.org.
Thu., Jan. 16 — Art
As of today, just two months remain in the 2013 Carnegie International. The Carnegie Museum of Art is busy supplying more reasons to visit (or revisit) this massive show of contemporary work. At tonight's Culture Club: These Aren't Your Kids' Puppets!, watch Tom Sarver reprise his original puppet show from the exhibit's opening, and try your own hand at puppet-making. And Jan. 20 is 2013 Carnegie International Family Day, with art-making activities, a self-guided gallery search, storyteller Alison Babusci, and more puppetry. BO Culture Club: 5:30-9 p.m. ($10; includes drink ticket). Family Day starts at 11 a.m. Mon., Jan. 20 (free with museum admission). 4400 Forbes Ave., Oakland. 412-622-3131 or www.cmoa.org
Fri., Jan. 17 — Art
Local artist Terry Boyd debuts Neverlands, his collection of Peter Pan-inspired artwork, at 709 Penn Gallery. Mixed media such as ink, Mylar and thread on paper reflect themes found in the novel: life, death and war. Yet the silhouettes of the coffin and ship in works like "and the echoes seemed to cry savagely" are ripe for the viewer's own interpretation, too. The exhibition, presented by the Pittsburgh Cultural Trust, kicks off with tonight's opening reception. Angela Suico 5:30 p.m. Exhibit continues through Feb. 23. 709 Penn Ave., Downtown. Free. 412-456-6666 or www.trustarts.org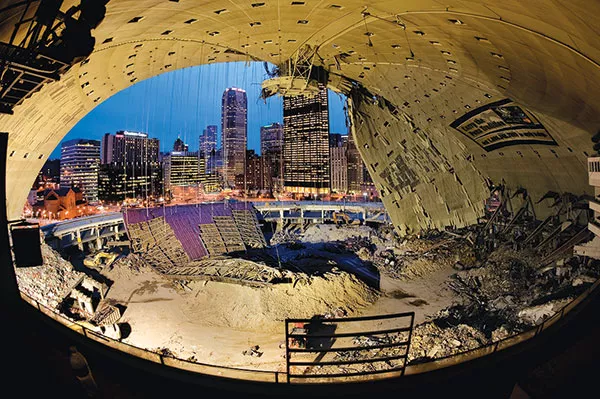 Fri., Jan. 17 — Art
Veteran Pittsburgh-based photographer David Aschkenas has shot for publications from Time and Men's Health to Der Spiegel, and his work is held in collections including the Carnegie Museum of Art's. In 2010, he turned his lens on the Civic Arena, during its year-long demolition process. A few of Aschkenas' 10,000 images of the now-vanished landmark comprise Arena: Remembering the Igloo, an exhibit that opens today at 707 Penn Gallery. (There's also a book of the same title.) The images range from dramatic night-time shots of the Igloo's half-demolished dome to forlorn views of the Penguins' abandoned locker room. Tonight is the opening reception. BO 5:30-8 p.m. Exhibit continues through March 2. 707 Penn Ave., Downtown. Free. www.trustarts.org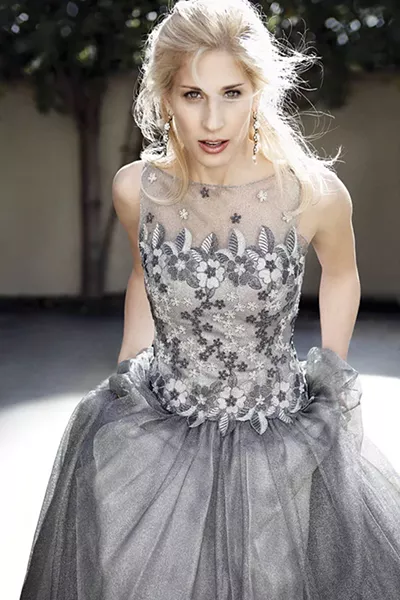 Photo courtesy of Marc Royce
Fri., Jan. 17 — Music
The Pittsburgh Symphony Orchestra presents Haydn and Zarathustra, featuring guest conductor Christoph Köning and Grammy-winning soprano Hila Plitmann. The concert begins with Haydn's "The Philosopher," followed by a collaboration with Plitmann (pictured) on contemporary composer Richard Danielpour's "Darkness in the Ancient Valley." The evening concludes with Strauss' famous "Also Sprach Zarathustra." This BNY Mellon Grand Classics event also features a special Saturday performance explaining the mechanics of "Zarathustra." (Note that Plitmann will not be performing Saturday.) AS 8 p.m. Also 8 p.m. Sat., Jan. 18, and 2:30 p.m. Sun., Jan. 19. Heinz Hall, 600 Penn Ave., Downtown. $25.75-109.75. 412-392-4900 or www.pittsburghsymphony.org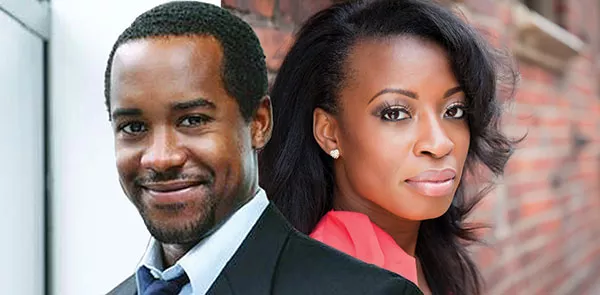 Sat., Jan. 18 — Stage
As a rising young American playwright, Katori Hall took on a daunting task with The Mountaintop: The show depicts the last night in the life of Dr. Martin Luther King Jr. through his fictional interplay with a maid at Memphis' Lorraine Motel. The premiere production, in 2011, in the U.K., won the Olivier Award for best new play. The Broadway staging starred Samuel L. Jackson and Angela Bassett. Now the play comes to City Theatre. Peter Flynn, a veteran of Broadway and off-Broadway, directs a cast featuring Albert Jones (from City's excellent The Brothers Size) as King, and Bianca LaVerne Jones as Camae. The first performance is tonight. BO 5:30 p.m. Continues through Feb. 9. 1300 Bingham St., South Side. $15-55. 412-431-2489 or www.citytheatrecompany.org
Photo courtesy of the author.
Sat., Jan. 18 — Words
Widely acclaimed novelist Philipp Meyer, author of American Rust, visits for An Evening With the Authors. Meyer won railcars-full of critical praise for that 2009 debut, set in a small, economically depressed Pennsylvania town, and followed it up with the similarly lauded The Son. Joining Meyer is area native Brian McGreevy, whose 2012 horror novel Hemlock Grove became an Emmy-nominated Netflix series. The event, at Waverly Church in Point Breeze, is moderated by Pittsburgh Post-Gazette book editor Tony Norman. BO 7 p.m. 590 S. Braddock Ave., Point Breeze. $10 ($15 includes post-program, reservation-only reception). 412-242-0643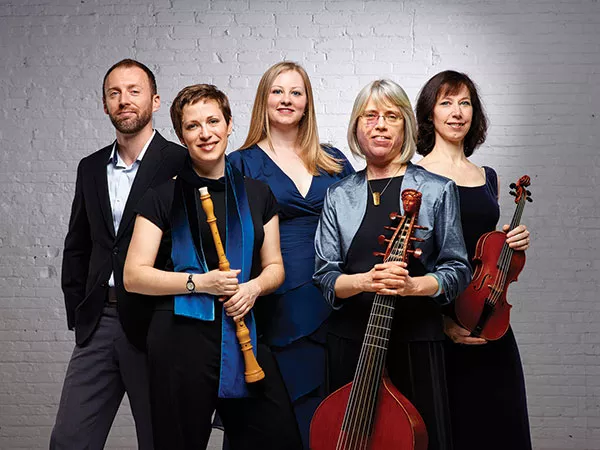 Sat., Jan. 18 — Music
Les Délices, a Cleveland-based group of French Baroque musicians, performs Myths and Allegories tonight at Synod Hall. Inspired by The Odyssey, the music will feature both instrumental and vocal re-tellings of Homer's epic tale from 18th-century composers. The music of Les Délices has been featured on NPR's Harmonia and at the Metropolitan Museum of Art. The group's performance here is presented by Renaissance and Baroque of Pittsburgh. AS 8 p.m. Sat., Jan. 18. Synod Hall, 125 N. Craig St., Oakland. $10-35. 412-361-2048 or www.rbsp.org
Mon., Jan. 20 — Festival
Martin Luther King Jr. was gunned down in hatred 46 years ago. Today his birthday is a national holiday, and his legacy of peaceful protest for justice and equality lives on in events like East Liberty Celebrates Dr. Martin Luther King Jr. The free, annual festival at the Kelly-Strayhorn Theater highlights the work of social-justice-minded groups including Project Silk, Love Front Porch, the Union Project and Assemble. There are also live performances by talented youth ensembles from Hope Academy, Soundwaves Steelband, CHANCE, Dreams of Hope and 1Hood Media. BO Noon (live performances at 2 p.m.). 5941 Penn Ave., East Liberty. Free. 412-363-3000 or www.kelly-strayhorn.org
Thu., Jan. 23 — Art
The Westmoreland Museum of American Art is undergoing a major expansion, and in the meantime is operating Westmoreland @rt 30, a pop-up space east of Greensburg. The site features both work from the museum's permanent collection and Pop-Up Exhibitions. The current Pop-Up, But I Am the Fire with Laurie Trok, showcases 16 paintings and three installations by the local artist, including laser-cut, birch-panel works that blur the line between painting and sculpture. Tonight there's a salon with Trok herself. BO 6 p.m. Exhibition continues through Feb. 2. 4764 State Route 30 (between Greensburg and Latrobe), Westmoreland County. Free. 724-837-1500 or www.wmuseumaa.org