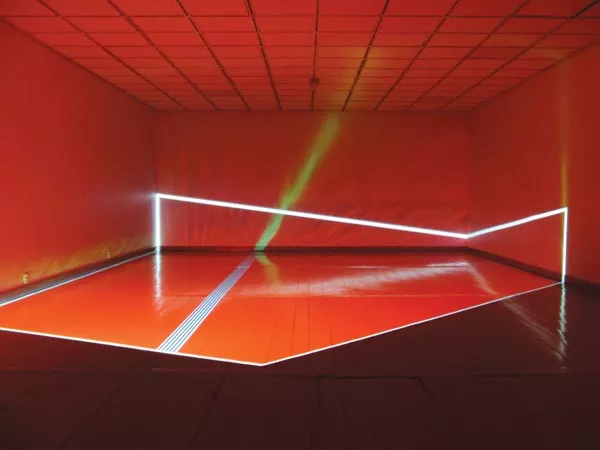 Art courtesy of HC Gilje
in transit.
There are more than 20 venues participating in the Pittsburgh Cultural Trust's Jan. 27 Gallery Crawl, and several Downtown presenters seem especially committed to keeping things fresh. Wood Street Galleries opens its first show of the year: in transit, the U.S. debut of Norwegian artist HC Gilje, is a site-specfic installation incorporating video and projected light. Just up Liberty Avenue, Shaw Galleries goes tongue-in-cheek with The Bad Art Sale, featuring "dozens of thrift-store paintings and amateur art ... at rock-bottom prices!" Practically next door, at the Trust Arts Education Center, kNOT Dance is creating custom dances based on visitors' drawings of their dreams. Upstairs, see a show by the Three Rivers Arts Festival's Emerging Artists, painter Ryan Woodring and ceramacist Danna Eve Rzecnik. Meanwhile, on the same block, the Harris Theater screens locally made short films. Just up the street from there, the gallery at 937 Liberty Ave. opens Windows and Mirrors: Reflections on the War in Afghanistan, a touring show. Over on Penn, attractions include Paper Thin Theater, featuring Kathryn Carr's cut-paper art and shadow-puppet shows, from children's tales to opera, at 709 Penn Gallery. And if you're feeling chilly, warm up with an outdoor performance, in Katz Plaza, by flame-wielding troupe Steel Town Fire. Bill O'Driscoll 5:30-9 p.m. Downtown. Free. 412-456-6666 or TrustArts.org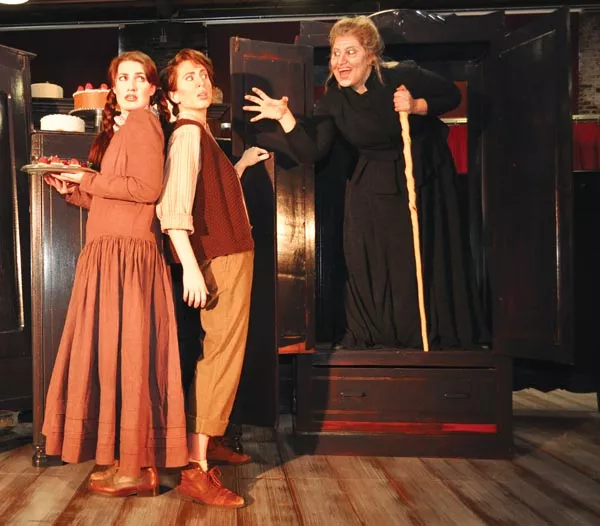 Thu., Jan. 26 — Opera
For the first time in a quarter-century, Pittsburgh Opera presents a new production of Engelbert Humperdinck's Hansel & Gretel. The 1893 work — its first performance was directed by Richard Strauss — tracks the Grimm fairy tale with appropriately dark shadings. (The composer, a German disciple of Richard Wagner, inspired a 20th-century British pop singer to take his name.) The show's cast of resident Opera artists includes Stephanie Lauricella, Suzanne Vinnik and Alexandra Loutsion; the opera is sung in German, with English titles projected above the CAPA Theater stage. The first of five performances is tonight, but act fast: At press time, ticket availability was already limited.  Bill O'Driscoll 6:30 p.m. Continues through Sun., Feb. 5. Ninth Street and Fort Duquesne Boulevard, Downtown. $40-50. 412-456-6666 or www.pittsburghopera.org
Photo courtesy of Heike Steinweg.
Thu., Jan. 26 — Words
Wayne Koestenbaum is a poet, though he's best known as an essayist and social critic, for books like 1993's The Queen's Throat: Opera, Homosexuality and the Mystery of Desire; works on Jackie Onassis and Andy Warhol; and last year's Humiliation, about our public relationship with that particular emotion. The New York City-based Koestenbaum, whose four books of poetry include Best Selling Jewish Porn Films, visits the Pitt Contemporary Writers Series tonight. He's joined by Myung Mi Kim, a Korean-born poet whose collections include River Antes. Their readings are followed by a conversation about literary friendship. BO 8:30 p.m. Frick Fine Arts Auditorium, Schenley Drive, Oakland. Free. 412-624-6508 or www.english.pitt.edu>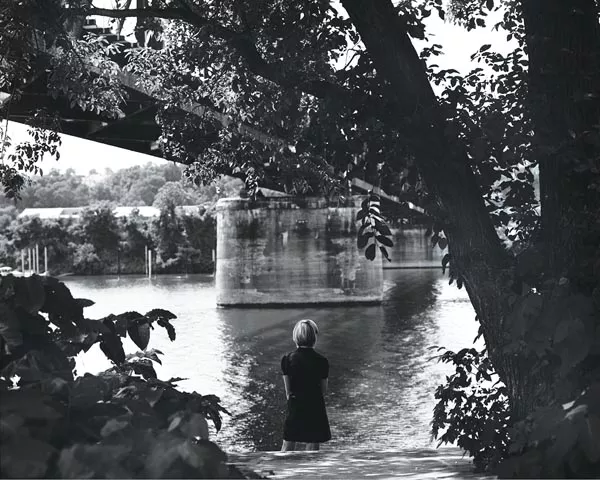 Sat., Jan. 28 — Art
Ivette Spradlin
identifies as "a recent transplant to Pittsburgh." And she's coping with the transition partly via her art form, photography. Spradlin has documented subcultures from skateboarders to Cuban exiles in the U.S.
Everything Changed, Then Changed Again
is her
Filmmakers Galleries
show of photographs of women with Pittsburgh as the backdrop, including 14 large-scale, digitally printed images scanned from black-and-white film. The show also includes a video created from black-and-white Super 8 film footage.
Everything Changed
gets its opening reception tonight.
BO
6-8 p.m. Show continues through April 1. 477 Melwood Ave., North Oakland. Free. 412-681-5449 or www.pghfilmmakers.org
Sat., Jan. 28 — Art
For eight years, Fe Gallery has helped anchor the Butler Street arts scene. Tonight, the Lawrenceville gallery reintroduces itself, unveiling its new image (the result of a rebranding process) with a party, one-night exhibit and off-the-wall auction. Fete features work by more than 40 regional artists, including the likes of Elizabeth Castonguay, Seth Clark, Ron Donoughe, Paula Garrick-Klein and Michael Lotenero. There's a ticketed VIP event early, then an open house. The refreshments come accompanied by music DJed by 720 Café. BO VIP event: 7-9 p.m. ($75). Open house: 9-11 p.m. (free). 4102 Butler St., Lawrenceville. www.fegallery.org
Sat., Jan. 28 — Words
Not content with its own now-venerable monthly poetry slams, Steel City Slam is branching out. Tonight marks the debut of Young Steel, Pittsburgh's only youth-poetry slam. Poets ages 13-19 are welcome to this first monthly "slamjam" at Cannon Coffee, in Brookline. The initiative also includes quarterly workshops, coaching and mentoring by Steel City Slam poets, and other local and national performance opportunities. The slams are three rounds, the judges from the audience. BO 7:30 p.m. 802 Brookline Blvd., Brookline. Free. 412-563-0202
Sat., Jan. 28 – Dance
The Kelly-Strayhorn Theater's Next Stage Residency helps up-and-coming choreographers create new work. This year, the week-long residency — which includes a stipend, rehearsal time and lighting design — is hosting Dahlia Nayar and Shana Simmons. Massachusetts-based Nayar, who has presented at venues as prestigious as the Venice Biennal, is a first-generation American whose residency is exploring the cultural boundaries of belonging. Pittsburgh-based Simmons, meanwhile, is developing a site-specific, multi-disciplinary performance installation. See the results of both of their residencies at tonight's special performance. BO 8 p.m. Dance Alloy Theater, 5530 Penn Ave., Friendship. $10-25. 412-363-3000 or www.kelly-strayhorn.org
Sun., Jan. 29 — Words
Once again, art explores the chaos of war as SPACE gallery's Out of Rubble exhibit culminates this weekend with "Disarming Words." A talk by curator Susanne Slavick is followed by readings by award-winning Pittsburgh poets Terrance Hayes and Lynn Emmanuel. Afterward, a singing escort by activist group Raging Grannies will lead visitors to the 937 Liberty gallery for a preview of Windows and Mirrors: Reflections on the War in Afghanistan. The two-week exhibit represents a conversation between two Pittsburgh artists:  a U.S. Iraq-war veteran and a 17-year-old Iraqi refugee. Mariluz Orbay 1:30 p.m. 812 Liberty Ave., Downtown. Free. 412-371-3607 
Mon., Jan. 30 — Stage
Do Pittsburgh playwrights know enough about local theater troupes, and vice versa? Theater fans should be intrigued by From the Ground Up, the brainchild of acclaimed local playwright Tammy Ryan. As presented by Organic Theater Pittsburgh's Jaime Slavinsky, tonight's slam-style format has a dozen playwrights each performing five minutes of a new script for an audience of a dozen artistic directors. The playwrights include names like Frank Gagliano, Kim El and Michael McGovern; the troupes include Quantum Theatre, No Name Players and Bald Theater Co. Come watch potential theatrical matchmaking as it happens, at Pittsburgh Playwrights. BO 7 p.m. 937 Liberty Ave., Downtown. Free. www.organictheaterpgh.org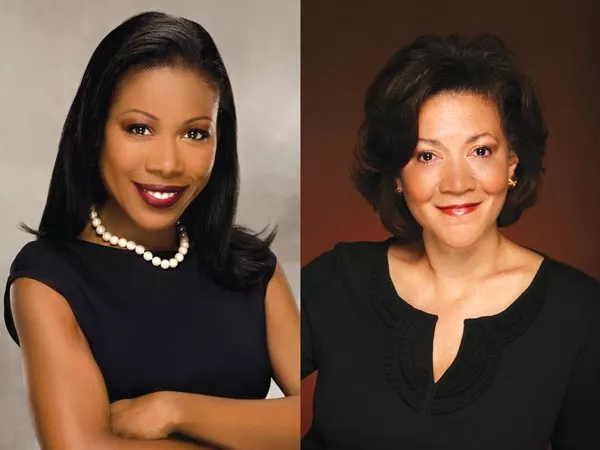 Mon., Jan. 30 — Words
The Civil Rights movement fought racial segregation in America a half-century ago, yet very few would say African Americans are now fully integrated, and the "hidden conversation on race" continues. Tonight, Pulitzer Prize-winning historian Isabel Wilkerson (The Warmth of Other Suns) and NPR's All Things Considered host Michele Norris share the stage to celebrate the forthcoming Black History month with a discussion that includes personal stories and historic insights about the migration of African Americans from the South to northern cities like Pittsburgh. The talk is presented by the Monday Night Lectures series. MO 7:30 p.m. Carnegie Music Hall, 4400 Forbes Ave., Oakland. $10-25. 412-622-8866 or www.pittsburghlectures.org
Tue., Jan. 31 — Music
It's a night with the symphony ... in Braddock. OK, it's actually the Pittsburgh Symphony Chamber Ensemble, but the seven-piece group is performing a special free evening at the Braddock Carnegie Library Music Hall. The ensemble — violin, bass, clarinet, bassoon, trumpet, trombone and percussion — will perform Stravinsky's "L'Histoire du Soldat (A Soldier's Tale)" and Piazzolla tangos. BO 7:30 p.m. 419 Library St., Braddock. Free. 412-351-5356.