FREE EVENT: Mon., March 3 — Reading
The Big Read, a national program promoting literacy, begins in Allegheny County on March 3 with a kick-off event at Soldiers & Sailors Memorial Hall & Museum. The venue is fitting: This year's selection is Tim O' Brien's The Things They Carried, a collection of short stories about the Vietnam War. The event, organized by the Community College of Allegheny County's One College ... One Community initiative, features keynote speaker Jan Scruggs, founder of the Vietnam Veterans Memorial Fund in Washington, D.C.; a dance and drama piece presented by CCAC students; and the Pittsburgh Gospel Choir. But today is just the tip of the iceberg. As students from Allegheny County high schools and CCAC participate in writing and art contests throughout the month, the public can attend book discussions, film screenings and talks given by military-veteran speakers. (To find events near you, go to www.ccac.edu and search for "Big Read 2014.") In keeping with the Big Read's mission to engage the whole community, CCAC faculty will also hold book discussions at local correctional facilities. The school offers all these activities thanks to a grant from the National Endowment of the Arts — it was among the only three Pennsylvania organizations to receive one. Angela Suico Kick-off: 6 p.m. Mon., March 3. Events continue through April. 4141 Fifth Ave., Oakland. Free. 412-469-6301 or www.ccac.edu
Thu., Feb. 27 — Art
It's day one of DRAW2014, a three-day Carnegie Mellon University symposium. Yes, even in the digital age, people still draw. But this program of exhibits, workshops, talks and performances highlights how the practice is changing. Registration for the workshops is closed, though you might try the waiting list. The keynote lectures and exhibitions are free and open to the public, as is Saturday's day-long expo-style Drawing Arcade at CMU's Miller Gallery. Speakers include visiting artists Amy Sillman and Stephen Farthing. And on Saturday night, there's a drawing exhibition, with reception, at Artists Image Resource, on the North Side. Bill O'Driscoll Symposium continues through Sun., March 2. Various locations; prices vary. www.cmu.edu/art/specialevents/draw2014
Thu., Feb. 27 — Words
We all love a good story, whether we hear it seated near a campfire or while standing in a circle, sipping White Russians. Knowing this, the brains behind True Story Podcast invite people across the nation to hold storytelling parties, record the stories and send in the best ones to be featured on the podcast. Eight local story-tellers will share their experiences tonight at East End Book Exchange. The event, titled True Story: Arrested Development, is hosted by Stacy Keene. Instead of being BYOB, tonight's party is BYOC — "bring your own cookies." Angela Suico 7 p.m. 4754 Liberty Ave., Bloomfield. Free. 412-224-2847 or www.eastendexchange.com
Thu., Feb. 27 — Showcase
RAW: Pittsburgh is the local incarnation of an international showcase series for emerging artists in many mediums. Last year, monthly RAW events here drew hundreds. Launching its second season tonight, RAW now takes place every other month, but promises each event will be bigger, with some 40 participating artists in a festival-like atmosphere. Tonight, at its new home, Club Zoo, RAW welcomes 27 visual artists and photographers; hair and make-up artists; a fashion show for local designers; musical acts Shad Ali and Web Three featuring Kaaren Styles; and performances by Yes Brain Dance Theater and burlesque artist Nikki Telladictorian. The evening's over-21 with a cash bar, and fashionable attire is requested. BO 7 p.m. 1630 Smallman St., Strip District. $15-20. www.rawartists.org/pittsburgh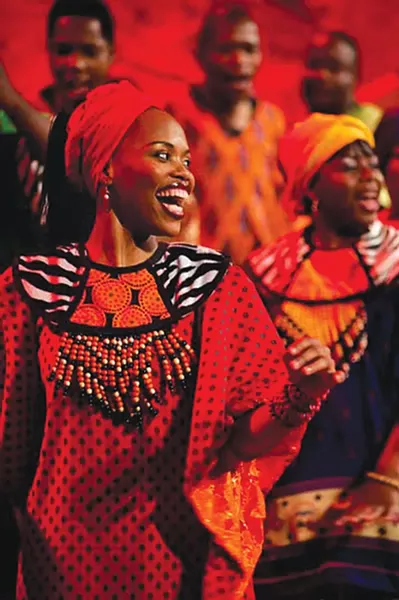 Photo courtesy of Soweto Gospel Choir.
Thu., Feb. 27 — Music
On the heels of its fifth album, two-time Grammy-winner Soweto Gospel Choir is touring the U.S., with a stop tonight at the Byham Theater. Despite its name, the choir performs tunes from many different genres, with covers including Sarah McLachlan's "Angel" and The Jackson 5's "I'll Be There." While showcasing its versatility, the choir's tour also honors "the life and legacy of their late President and friend, Nelson Mandela." The Pittsburgh concert is part of the Cohen & Grigsby Trust Presents series. AS 7:30 p.m. 101 Sixth St., Downtown. $20-45. 412-456-6666 or www.trustarts.org
Fri., Feb. 28 — Comedy
At first glance, you'd swear that comedian Mike Bocchetti's face was one only a mother could love. Not so. "My girlfriend works at a strip club — she's the bouncer" is one from the New York-based comedian's trove of one-liners. The veteran comic and actor is the announcer for syndicated The Artie Lange Radio Show. His everyman presence enlivens the jokes he delivers with an entertaining and sometimes wild rapid-fire style: "I was once a victim of identity theft. I hope they have better luck with it than I have." He's got two shows tonight, at Arcade Comedy Theater. Charlie Deitch 8 and 10 p.m. 811 Liberty Ave., Downtown. $15. www.arcadecomedytheater.com
Sat., March 1 — Art
An American Odyssey: The Warner Collection of American Painting, at the Frick Art & Historical Center, traces the history of our nation's art. Works date from the country's formative years to the early 20th century. Genres highlighted include the Hudson River School, the first formal artistic school in America, and the works of American impressionists. Artists include Gilbert Stuart, Childe Hassam and Winslow Homer (whose "Picking Flowers" is pictured). The exhibit opens to the public today. AS 10 a.m.-5 p.m. Exhibit continues through May 25. 7227 Reynolds St., Point Breeze. Free. 412-371-0600 or www.thefrickpittsburgh.org
Sat., March 1 — Dance
The Yanlai Dance Academy celebrates its 10th anniversary in Pittsburgh with an original — yet also familiar — production. The Chinese Nutcracker borrows elements from the classic ballet, but substitutes Chinese New Year for Christmas, and incorporates traditional Chinese music, dance and costuming from some of that country's many ethnicities. Yanlai teaches everything from ballet to contemporary, as well as classical Chinese styles. This 75-minute show, choreographed by academy director Yanlai Wu (a former principal dancer with the Beijing Youth Dance Troupe), has a cast of 80, ranging from age 3 to adults. BO 4:30 and 7 p.m. August Wilson Center, 980 Liberty Ave., Downtown. $15-20. www.yanlaidanceacademy.com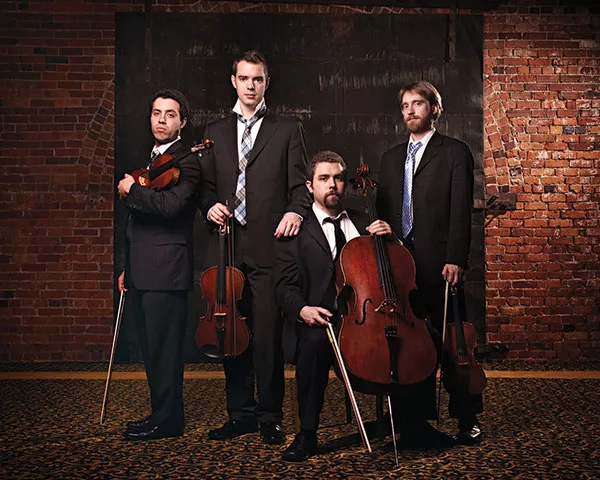 Sat., March 1 — Music
The string quartet is a venerable format, but JACK Quartet keeps it fresh by performing the music of the 20th century along with challenging new work. Violinists Christopher Otto and Ari Streisfeld, violist John Pickford Richards and cellist Kevin McFarland have been called "mind-blowingly good" and hailed by critics for their "explosive virtuosity." The New York-based outfit returns to Pittsburgh to close out this season's Music on the Edge series. Tonight at The Andy Warhol Museum, JACK plays works by contemporary masters John Zorn, Morton Feldman, Witold Lutoslawski and Hans Abrahamsen. BO 8 p.m. 117 Sandusky St., North Side. $10-20. 412-624-7529 or www.music.pitt.edu/tickets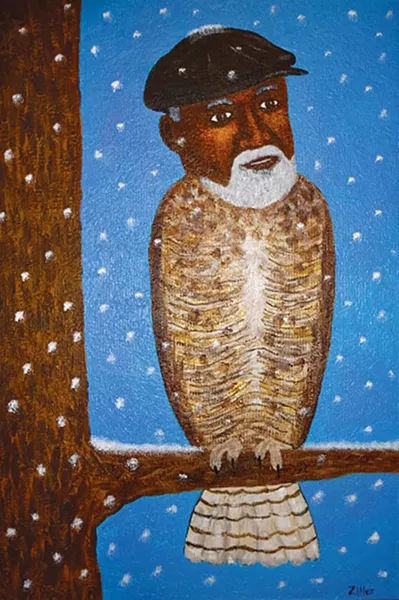 Sun., March 2 — Art
Wilkinsburg has a new art gallery, called Percolate, and its next show features two seasoned, locally based painters, doing work that sometimes rhymes. Samir Elsabee was born in Egypt, and his work is in the Alexandria Museum as well as in Washington, D.C.'s Children's Museum. Bob Ziller is a Pittsburgh fixture who's exhibited nationally. Their two-man show, Traveling Souls, features work including Elsabee's gorgeous "Owl" and Ziller's whimsical "Thad Mosley Owl," which imagines the iconic local sculptor in wise avian form. BO Opening reception: 3-6 p.m. Exhibit continues through April 27. 317 Trenton Ave., Wilkinsburg. Free. www.facebook.com/PercolateArt

Mon., March 3 — Exhibit
The Battle of Iwo Jima, one of the final and bloodiest fights in World War II's Pacific theater, took place from Feb. 19-March 26, 1945. Soldiers & Sailors Memorial Hall & Museum's new exhibit, War in the Pacific 1941-1945, includes artifacts from this and other battles, including a local marine's Purple Heart; a captured Japanese Arisaka rifle and bayonet; a hand-painted pin-up girl from the USS Sangay; and photos, uniforms and more. BO 10 a.m.-4 p.m. 4141 Fifth Ave., Oakland. $5-8. 412-621-4253 or www.soldiersandsailorshall.org
Tue., March 4 — Art
Dinh Q. Lê grew up partly in Vietnam, during the "American War." When he was 10, his family emigrated to the U.S., where Dinh studied art; he later returned to his native land, and his installation Light and Belief — featuring drawings and paintings made by Vietnamese soldiers during the war — is part of the Carnegie International. Tonight, Dinh visits Carnegie Mellon for an artist talk about his work. Tomorrow night, he joins a Carnegie Museum of Art panel talk on art, war and image with Duquesne University professor Daniel Lieberfeld and Vietnam historian Philip Nash. Both events are free. BO 5-6 p.m. (Kresge Theater, CMU campus, Oakland). Also 6:30-7:30 p.m. Wed., March 5 (4400 Forbes Ave., Oakland). 412-622-3212 or www.cmoa.org.