SPOTLIGHT: Thu., Feb. 13 — Music
It's been said that if you get stage fright, just imagine the audience in their underwear. New York City-based performers Lauren Molina and Nick Cearly turn that advice on its head with their group The Skivvies. The duo performs original songs and mashups of pop and Broadway tunes wearing only ... well, their skivvies. The idea formed when the two planned to film a YouTube cover of Rihanna's "We Found Love" in Molina's apartment. Standing in her underwear, Molina couldn't decide on an outfit, so Cearly suggested she just play as she was, and — voilà! — The Skivvies were born.  According to Molina, the band's MO is taking "pop songs that have absurd or trite lyrics, and [exposing] them ... in a brand-new way. To hear me playing the cello and singing in a soprano style a dirty rap song is a comedic twist." As for whether audience members strip to their skivvies, she has yet to encounter a semi-naked fan. But "we are now selling merch that includes underwear, so I feel like we should offer a discount for somebody who's wearing our underwear [when] they show up." The Skivvies perform four shows this weekend at City Theatre. Angela Suico 8 p.m. Thu., Feb. 13; 8 p.m. Fri. Feb. 14; and 8 and 10:30 p.m. Sat., Feb. 15. 1300 Bingham St., South Side. $25 ($15 by phone for ages under 30). 412-431-2489 or www.citytheatrecompany.org
Thu., Feb. 13 — Festival
It's year seven for Pittsburgh's answer to Burning Man. We mean of course Frostburn, the annual multi-day winter campout and chill-defying, snow-embracing celebration of music, art, fire, food and community. The long list of events comprising the five-day fest located at Brookville's rural Camp Kevin (near I-80, east of Clarion) and starting tonight includes dance parties, a polar-bear beach party, the Miss Frostburn contest, a midnight happy-hour Lou Reed tribute and the inevitable snowman-effigy burn. Note: As attendance has risen into the hundreds, prices have climbed a bit. The snowballs are still free. Bill O'Driscoll Continues through Mon., Feb. 17. Brookville, Pa. $100. www.frostburn.org
Thu., Feb. 13 — Stage
Scott Erickson is known for his live painting at concerts and other events. Now the Portland-based artist has another story to tell. In town for Jubilee (an annual spiritually themed conference), Erickson visits Wood Street Galleries with his one-man multimedia show We Are Not Troubled Guests. This "journey through belief, pain and 'Bohemian Rhapsody'" incorporates live painting, video, spoken word and audience karaoke. "This whole thing is about when you stop believing in a certain thing, is there a place where you feel like you still belong," Erickson tells CP. The first of three free performances is tonight. BO 8 p.m. Also 10:30 p.m. Fri., Feb. 14, and Sat., Feb. 15. 601 Wood St., Downtown. Free. www.scottericksonart.com
Thu., Feb. 13 — Stage
barebones productions had a hit last year with The Motherfucker With the Hat, a relatively big production for the troupe, with revolving stage and cast of six. To conclude its 10th season, Patrick Jordan's troupe revisits its namesake roots with a two-hander. Keith Huff's A Steady Rain follows Joey and Denny, Chicago cops and life-long best friends whose relationship is tested when a domestic-disturbance call gone wrong sends them into a moral shadowland. The Broadway cast featured Hugh Jackman and Daniel Craig; this Pittsburgh-premiere production, at the New Hazlett Theater, stars Jordan and David Whalen, directed by Melissa Martin. BO 8 p.m. Show continues through March 2. 6 Allegheny Square East, North Side. $30-35. www.barebonesproductions.com
Image courtesy of Tom Radenz
Sat., Feb. 14 — Screen
While most discussions of Occupy Wall Street have focused on the protesters' unrest and anger, Occupy Love takes the opposite approach. Director Velcrow Ripper argues that movements like Occupy are based on protesters' love — for the earth, for fellow protesters and for humanity as a whole. Come see a different take on political action when the University of Pittsburgh Sociology Grad Student Organization hosts its first film screening tonight, at The Big Idea Bookstore. A discussion follows. Angela Suico 5 p.m. 4812 Liberty Ave., Bloomfield. Free. 412-687-4323 or www.thebigideapgh.wordpress.com
Fri., Feb. 14 — Outdoors
A romantic evening under the stars is just what Cupid ordered, so bundle up and bring your loved one to Schenley Park Skating Rink for Valentines on Ice. The event features ice-skating and free roses and chocolate for the first 300 couples. The festivities are presented by Citiparks and 100.7 Star. Additional motive: The rink closes for the season in March. AS 7 p.m. Overlook Drive, Oakland. $4 per couple ($3 per student couple). 412-422-6523 or www.pittsburghpa.gov
Fri., Feb. 14 — Comedy
Diversity is the watchword for Arcade Comedy Theater. The motto has served the Downtown-based company well: In its first full year, it suffered not a single dark weekend. Aptly, Arcade marks its anniversary with an eclectic three-night, six-show lineup of improv, standup, sketches, music and magic. Tonight's three separate shows include short-form improv by Player One; long-form improv (with storyteller Joe Wos); music; and a monologue. Tonight's first-ever midnight show is a Best of Blue Light Special, featuring off-color humor by six comics including Alex Stypula, Molly Sharrow and Derek Minto. Other weekend guests include Gene Collier and Spinster Comedy; the Sunday-night show features all six of Arcade's in-house improv troupes. BO 8 p.m., 10 p.m. and midnight. Continues through Sun., Feb. 16. $5-15 (BYOB). www.arcadecomedytheater.com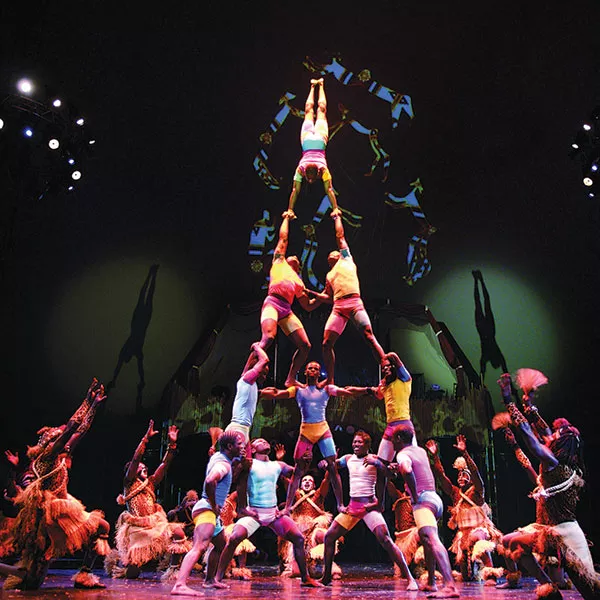 Photo courtesy of Cirque Zuma Zuma
Sat., Feb. 15 — Circus
Cirque Zuma Zuma calls itself "African-style Cirque du Soleil." The troupe brings together 120 African artists representing 16 nations. The production involves drumming, dancing, tumbling and incredible displays of upper-body strength. See performers balance atop each other and contort their bodies in ways that will inspire you to finally take that yoga class. The show is the latest in the Hillman Performing Arts Series. AS 7:30 p.m. 423 Fox Chapel Road, Fox Chapel. $10-25. 412-968-3040 or www.thehillman.org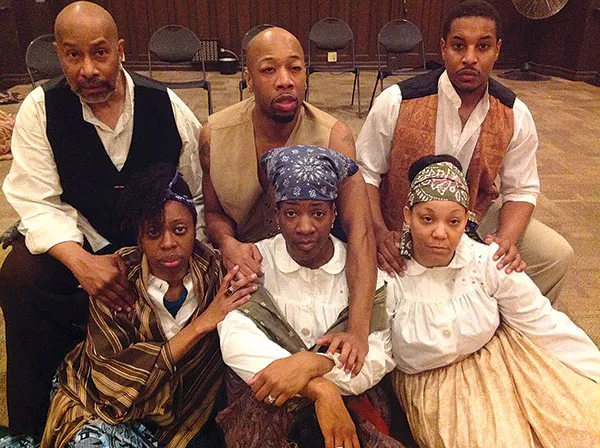 Photo courtesy of Renee Sorrell
Sat., Feb. 15 — Stage
James de Jongh's play Do Lord Remember Me tells the story of slavery, based on firsthand accounts collected by the Federal Writers' Project in 1935. The play's characters describe the hardships of working in the cotton fields and being physically abused by their masters. But there's humor, too, with comic bits about slave rituals and tricks played on slave-holders. Presented by New Horizon Theater and directed by Eileen Morris, the show opens tonight. AS 7:30 p.m. Continues through March 2. Union Project, 801 N. Negley Ave., Highland Park. $20 ($15 for students and seniors). 412-431-0773 or www.newhorizontheater.org
Sat., Feb. 15 — Fashion
Every year, a group of Carnegie Mellon students take a break from writing papers to present Lunar Gala. Held in honor of Chinese New Year, this fashion show features clothes created and modeled by students, with flashy motion graphics created by student artists. This year's show is titled Hypnose; press materials say it will "invite Pittsburgh to become lost in the fluctuation between simplicity and intricacy, clarity and ambiguity." Sounds a lot more fun than getting lost in real life. AS 8 p.m. Weigand Gymnasium, 5000 Forbes Ave., Oakland. $20 ($30 VIP). 412-628-8451 or www.cmulunargala.com
Photo courtesy of Josh Snider Photography.
Sun., Feb. 16 — Sport
They're rolling again: The ladies of Steel City Roller Derby are playing bouts, and Sunday's no day of rest. The SCRD (part of the international Women's Flat Track Derby Association) has both regionally touring teams and intra-league home teams. Tonight at Romp N' Roll, in Glenshaw, watch two of the latter — the Mon Monsters and the Penn Bruisers — face off. Game 2 is the annual Valentine's Day scrimmage. Because what says Valentine's Day better than hell on wheels? In March, look for the Steel Hurtin' squad's travel-season opener. BO 6 p.m. 1661 E. Sutter Road, Glenshaw. $10-15 (free for kids under 10). www.steelcityrollerderby.org
Photo courtesy of Andrew Eccles.
Tue., Feb. 18 — Music
Given Renée Fleming's track record and her knockout national anthem at the Super Bowl, it's rather remarkable that at press time, tickets still remained for the famed soprano's recital tonight, at Carnegie Music Hall. Here's your chance to hear the internationally known National Medal of Arts winner — and Indiana, Pa., native — sing works by Mozart, Wagner, Weill, Schoenberg, Rodgers & Hammerstein and more.  She'll be accompanied by Gerald Martin Moore on piano. BO 8 p.m. 4400 Forbes Ave., Oakland. $40-150 (post-performance VIP reception: add $100). 412-281-0912 or www.pittsburghopera.org