Photo courtesy of Brian Cohen.
Inspired by the frenzy associated with the holidays, Attack Theatre's dance work Holiday Unwrapped follows four characters caught up in the madness of holiday consumerism, and how they come to realize that what is inside the gift box is not what is most important. The 40-minute family-friendly show, now in its third season, is set to classical, jazz, klezmer and hip-hop treatments of traditional holiday music and features four dancers, a table, a stool and a whole lot of presents. Each of the four characters receives gifts that on the surface might not seem like much, but which, through some creative thinking, prove even more meaningful. One gift is a big red sock with which two characters create a special moment, using it as a makeshift ice-skate to twirl and dance around. "A sense of play is what ends up saving these characters from the stress of the holiday season," says Attack's managing artistic director Michele de la Reza. "There is a transformation in them, from worrying about the hubbub of the holidays to embracing the joy of gathering with others and having fun." This year's three performances take place at Attack's studios, located inside Pittsburgh Opera headquarters. Steve Sucato 6 p.m. Fri., Dec. 9; 11 a.m. and 2 p.m. Sat., Dec. 10. 2425 Liberty Ave., Strip District. $5-$15. 888-718-4253 or www.attacktheatre.com
Photo by Maurice Molyneaux
Thu., Dec. 8 -- Stage
San Francisco-based "dragapella beautyshop quartet" The Kinsey Sicks revels in debauched humor and four-part harmony in the Pittsburgh premiere of Oy Vey in a Manger. Bedecked in '50s-style poly-blends, Winnie, Rachel, Trixie and Trampolina (a.k.a. Irwin Keller, Ben Schatz, Jeff Manabat and Spencer Brown) scurry to prepare for an open house. Holiday jubilation ensues, along with tunes like "Tis the Season to Drink Stoli." As Trixie says, "I just can't wait one more minute for Christmas: the mistletoe, the eggnog, the amphetamines!" The first of five performances is tonight at City Theatre. Amy Kuhre 8 p.m. 1300 Bingham St., South Side. $35-40. 412-341-2489 or www.citytheatrecompany.org.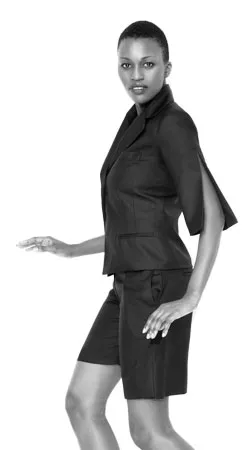 Fri., Dec. 9 -- Fashion
Fashion model Demeatria Boccella co-founded Fashion AFRICANA in 2001 to redefine industry beauty standards. This year marks the East Liberty-based organization's 10th anniversary with colorful catwalk displays of original designs by Lois Samuels and commissioned works by local artists, including a wearable sculpture by Vanessa German. Honorary chair and choreographer Dwana Smallwood dances, in addition to a special concert from Grammy nominees Kahil El'Zabar. The event is followed on Saturday by a holiday bazaar featuring handmade, African-inspired wares. Both events take place at Kelly-Strayhorn Theater. AK Fashion show: 8 p.m. ($25-30). Bazaar: 11 a.m.-5 p.m. Sat., Dec. 10. 5941 Penn Ave., East Liberty. 412-363-3000 or www.kelly-strayhorn.org
Fri., Dec. 9 -- Stage
More, and more varied, performances in one place you won't find than at Tenacity. The Sprout Fund's 10th-anniversary benefit celebration is a retrospective of more than a dozen original performances for which the group provided seed grants during its first decade. Tonight, on the August Wilson Center stage, see spoken-word artist Vanessa German; theater by barebones productions and Bricolage Productions; an all-accordion musical revue by Accordion Pool Party; original music by David Bernabo and Barrett Black; and film screenings, dance and more. Bill O'Driscoll 8 p.m. (reception at 7 p.m.; post-show party at 10 p.m.). 980 Liberty Ave., Downtown. $125 (or $200 per pair). tenacity.sproutfund.org
Sat., Dec. 10 -- Exhibit
The Carnegie Art and Natural History Museums conjure holiday spirit with a day of free admission to activities and attractions as part of a month-long celebration. The "Solid Gold" theme for this year's 50th anniversary of the Carnegie Trees welcomes visitors to the Hall of Architecture's famous Neapolitan presepio, its 250-square-foot Nativity. You can also participate in a family holiday sing-along and visit ongoing Museum of Art exhibition Teenie Harris, Photographer: An American Story, chronicling the fabled Harris' images of African-American life in Pittsburgh. AK 10 a.m.-5 p.m. 4400 Forbes Ave., Oakland. Free. 412-622-3131 or www.carnegiemnh.org/holidays
Sat., Dec. 10 -- Music
A mix of the beguiling and the slightly cheeky awaits at Don We Now Our Gay Apparel. The Renaissance City Choirs (men's and women's) annual holiday concert, at Carnegie Music Hall, features everything from Vivaldi to David Maddux's "Thriller Christmas." (Yes, it's a tribute to Jacko.) There's even a fun take on Nutcracker Suite, a guest appearance by The Edgewood Symphony and sing-alongs. Bittersweet note: It's the farewell concert for artistic director Andres Cladera, who's leaving town. BO 8 p.m. 4400 Forbes Ave., Oakland. $25-30. 412-362-9484 or rccpittsburgh.org
Sat., Dec. 10 – Stage
Nothing says Christmas like remembering a failed Victorian-era assassination. Arts collective LOSER (including musician/performer Steve Pellegrino) hosts its fourth annual Alexander Berkman Labor and Music Festival to commemorate anarchist Berkman's 1892 attempt to kill industrialist Henry Clay Frick. This XMAS Extravaganza, at ModernFormations Gallery, features music by house bands HOA and dSBCb; the DVD release of acclaimed local filmmaker Tony Buba's "Playing to An Empty House at Christmas"; and contest for best haiku and Berkman/Frick coloring skills. BO 8 p.m. 4919 Penn Ave., Garfield. Donation requested. loserpittsburgh.weebly.com
Sun., Dec. 11 -- Art
The Andy Warhol Museum concludes its The Word of God Series with The Word of God: Jeffrey Vallance, a collection of published works and art objects from the internationally exhibited, Los Angeles-based artist. The mixed-media show examines Vallance's offbeat artistry with an emphasis on objects of religious commentary like the Big Bang-friendly "The Vallance Bible" (re-issued for John Calvin's 500th birthday) and 2007's reliquary "Holy of Holies: Lutheran Relics" -- in the shape of a Buddhist shrine -- that holds mementos from his Protestant upbringing, a recurring theme in Vallance's work. The show opens today with a reception. AK 3 p.m. 117 Sandusky St., North Side. $8-15. 412-237-8300 or www.warhol.org
Mon., Dec. 12 -- Rights
Every day, of course, should be International Human Rights Day. But officially there's just one, so spend it at Amnesty International Pittsburgh Group 39's 25th Annual Write-a-thon. Fortified by snacks and sample letters, you'll hand-write letters to officials to protest rights abuses in China, Mexico, the U.S. and elsewhere -- including Zimbabwe, where members of the group Women of Zimbabwe Arise have been repeatedly harassed, intimidated, beaten and jailed for peaceful demonstrations. Help Group 39 reach its goal of 1,000 letters at Shadyside's Calvary Episcopal Church. BO 5:30-8:30 p.m. 315 Shady Ave., Shadyside. info@amnestypgh.org
Tue., Dec. 13 -- Music
A cappella group Straight No Chaser could be described as one part music, two parts personality. Its eccentric renditions of holiday classics, like the chaotic, five-songs-in-one version of "The 12 Days of Christmas," gained notoriety over the web. The 10-member group began at University of Indiana more than a decade ago and though a few members have changed, its success continues. With holiday releases including last year's All I Want For Christmas, the tuxedo-clad fellas return to Pittsburgh for tonight's concert at the Benedum Center. AK 8 p.m. 237 Seventh St., Downtown. 412-456-6666 or www.trustarts.org
Image courtesy Madhouse Ltd/Sony Pictures Japan
Thu., Dec. 15 -- Screen
The Toonseum is conducting its own particular -- that is to say, geeky -- brand of holiday celebration. Tonight, visit the gallery to watch Tokyo Godfathers, Satoshi Kon's 2003 anime favorite about three homeless folks who find an abandoned newborn on Christmas Eve. The fun continues with a Sat., Dec. 17, Toon-a-Gift card-making workshop. Then come to the special expanded Dec. 22 and 23 editions of Geek TV Night, highlighting cult-classic TV specials from the Muppets, MST3K and more. BO 7 p.m. 945 Liberty Ave., Downtown. Free. 412-232-0199 or Toonseum.org