SPOTLIGHT Sat., Dec. 22 — Comedy
Pittsburgh is home to many talented improv groups, but they tend to be unknown to those outside the improv community. That's why, since August, Steel City Improv Theater performer and instructor Brian Gray has produced a monthly Improv Double Feature at the Cabaret at Theater Square. "It's a different crowd," Gray says. Unlike the weekly Improv Jam at the same location, which any individual can sign up to perform in, Gray's double bill is carefully curated. "The idea of this show was to take a couple groups who have really shown that they can pass muster and put them in front of an audience that's not as improv-savvy." he says. "These groups have been performing together for a long time." Tonight's bill consists of Cream Stain (pictured), a young trio with a conversational style, and the more seasoned intellectual quartet The Writer's Room. Both groups are SCIT regulars, and it's worth familiarizing yourself with them. In January, SCIT will move from its secluded North Side basement to Shadyside. The evening is hosted by actor and speech therapist Amy Portenlanger. "You can go see a movie for  $12, or for $5 you can see two improv groups and really laugh heartily at least half the time," says Gray. Catherine Sylvain 10:30 p.m. 655 Penn. Ave., Downtown. $5. 412-456-666 or www.trustarts.com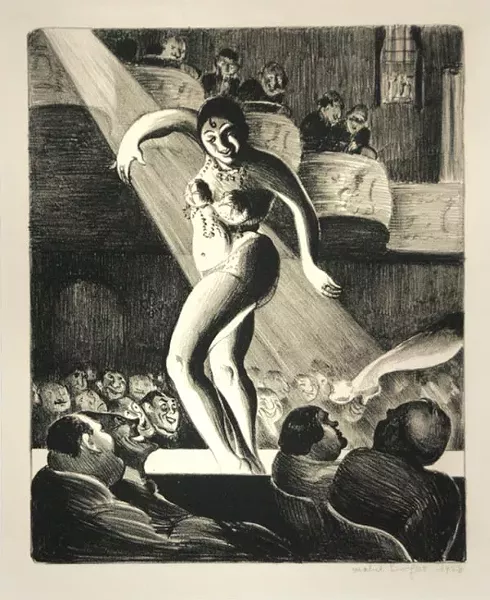 Thu., Dec. 20 — Art
If you're eastbound for the holidays, consider an interesting little exhibit at the Southern Alleghenies Museum of Art at Loretto. The museum — located off Route 22 just west of Altoona — features Red, White and Blue in Black and White: The American Scene in Prints, Drawings and Photographs. The 35-odd works on paper from the museum's collection, from photographs to lithographs, highlight artists like Thomas Hart Benton, Luke Swank, Mabel Dwight and Frederick Remington. The images documenting everything from street scenes and football matches to steel mills date from 1890 through 1991, though most are from the 1920s and '30s, when Regionalist art peaked. Bill O'Driscoll 10 a.m.-5 p.m. Exhibit continues through May 4. (Closed Dec. 23-Jan. 1.) Saint Francis University Campus, Loretto. Free. 814-472-3920 or www.sama-art.org
Photo courtesy of Melissa McMasters
Fri., Dec. 21 — Outdoors
While the exact time of today's apocalypse due to planetary alignment is in dispute, astronomers agree that the winter solstice will take place at 11:12 a.m. At this time, the sun is at its lowest altitude in the Northern Hemisphere. To mark the astronomical occasion, Venture Outdoors holds a guided Winter Solstice Hike around Riverview Park, home to the Allegheny Observatory. This is an easy three- to four-mile hike, perfect for beginners. Registration is required. The hike will stop to observe star formations and to hear woodland creatures. Catherine Sylvain 6:30-8:30 p.m. North Side. $10. 412-255-0564 or www.ventureoutdoors.org
Fri., Dec. 21 — Stage
How many sitcoms have ever not ripped off A Christmas Carol? The story's damn near irresistible, of course. But putting it live on stage, in a version more like Dickens' original, has been the specialty of the Pittsburgh CLO for years. The CLO's 21st annual production of A Musical Christmas Carol is in its final weekend of 2012 at the Byham Theater, complete with songs, ghosts, Christmas geese and local icon Tom Atkins as Scrooge. The big cast includes top local performers Paul Domencic, Lisa Ann Goldsmith, Tim Hartman, Jeff Howell and Daniel Krell. Six performances remain through Sunday. BO 7:30 p.m. Continues through Sun., Dec. 23. 101 Sixth St., Downtown. $14.75-60.75. 412-456-6666 or www.pittsburghCLO.org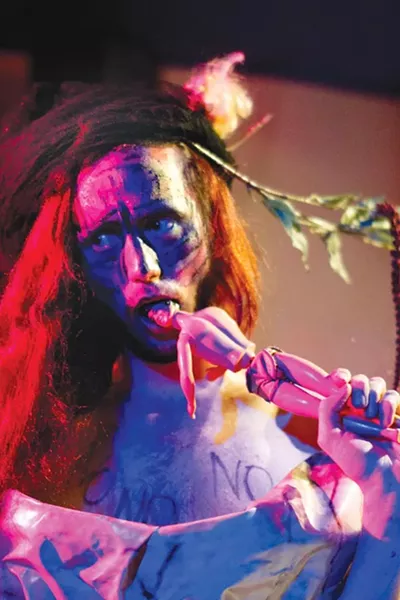 Photo courtesy of Anna Bender.
Fri., Dec. 21 — Stage
Last month was National Novel Writing Month and it can coax all kinds of creativity out of the woodwork. Especially from an experimental multi-disciplinary artist like Sam Perry. The Pittsburgh local completed a novel exploring identity through the mythic "moon baby," a character he has been performing as for some months. Tonight, at Assemble gallery, Perry adapts his novel Twin Fawns into a drag opera. It includes a live band, original music, ambient pop covers and monologues. Perry previously held an exhibition at Assemble, in July, and also completed a residency at the now-defunct Waffle Shop. CS 7:30 p.m. 5125 Penn Ave., Garfield. $2 suggested donation. 724-799-5410 or www.facebook.com/assemblePGH
Art by Kensington Falls Animiation.
Fri., Dec. 21 — Art 
The Pirates tanked, the Steelers are limping and the Penguins aren't even on ice. But you can cheer on the art of sport tonight as The Toonseum opens Pittsburgh Scores! The Pro Scoreboard Art of Kensington Falls Animation. The local studio was founded in 1979 to do TV, corporate and educational work. In the mid-1980s, Kensington Falls became prominent on scoreboards at the Civic Arena (the "Steroid Penguin") and Three Rivers Stadium ("Pirate Train"). Its hand-drawn, digitally painted character animations still capture eyeballs at local professional sporting contests today. Meet producer and company founder Michael Schwab at tonight's opening reception, where original works will be available for purchase. BO 7:30 p.m. 945 Liberty Ave., Downtown. $5. 412-232-0199 or www.toonseum.org
Fri., Dec. 21 — End Times
Go ahead, laugh at all those people buying into, and misinterpreting, the "Mayan Prophecy." But one of these days, it really is going to be the end of the world, and then you'll be sorry. Don't say we didn't warn you, and have a nice cosmic afterlife. (Don't worry, either, about the alternate interpretation, that humankind is entering a new age of post-materialist enlightenment; we're pretty sure that's never going to happen.) On the other hand, if you're reading this Dec. 22 or later ... um ... happy holidays! BO 
Sat., Dec. 22 — Crafts
Holiday themes are permitted but far from mandatory at today's Paper Doll Workshop at the Irma Freeman Center for Imagination. The Bloomfield gallery hosts the latest in this Jane Street Doll Collective series for creative types ages 6 to adult. Artist Chris Fondi will guide you in using found and upcycled materials (like junk mail or scraps) to create art-doll characters. "These will be true art dolls, as there may be times they do not resemble the usual human form, or even close," notes the gallery. Mermaids, aliens and dinosaurs are among the starter suggestions. BO 1-4 p.m. 5006 Penn Ave., Bloomfield. $5-15 sliding scale. www.irmafreeman.org
Sat., Dec. 22 — Music
If we had our druthers, everybody'd lay off the holiday music each year at least until the weekend before Christmas. Still, that would be just in time for today's Family Sing-along with Frank Cappelli. The grandly mustachioed singer/songwriter and guitarist best known for his Pittsburgh-produced, nationally syndicated children's-TV series Cappelli & Co., leads an afternoon of festive sing-alongs of seasonal favorites. Sing 'em now, before everyone moves on to "Auld Lang Syne." The venue is the Carnegie Museum of Natural History's Hall of Architecture, currently home to seven giant Christmas trees and the museum's famous Neapolitan presepio, an 18th-century Italian Nativity. BO 2-4 p.m. 4400 Forbes Ave., Oakland. Free with museum admission ($11.95-17.95; children under 3 free). 412-622-3131 or www.carnegiemnh.org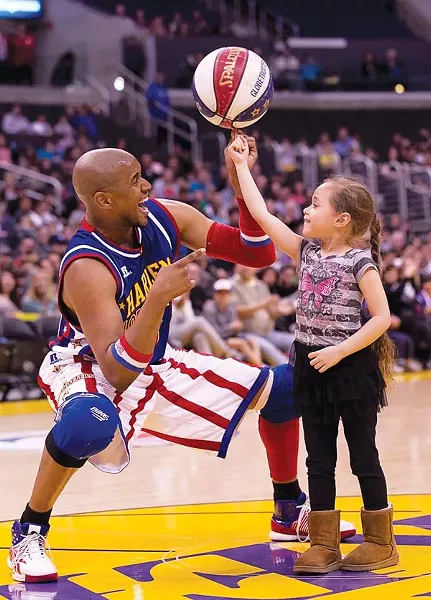 Wed., Dec. 26 — Sports
What would basketball look like if it were played with two basketballs at once? Or with double the points per basket? Or a four-point shot (from 35 feet), a penalty box or a six-on-five option? Try it yourself ... or watch the Harlem Globetrotters give it a fingertip spin. The world-famous team's annual Boxing Day visit to Pittsburgh coincides with the launch of its "You Write the Rules" World Tour (including 240 U.S. cities). Fans can vote online for one of the five nontraditional rules under which the Globetrotters will take on those perennially hapless Washington Generals at CONSOL Energy Center tonight. BO 7 p.m. Uptown. $19-163. 800-745-3000 or www.harlemglobetrotters.com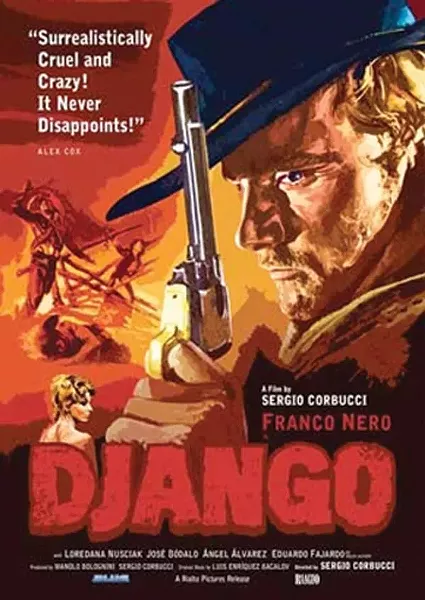 Weds., Dec. 26 — Screen
"There were all these complete rip-offs, unrelated sequels to Django and I am proud to say that my film, Django Unchained, can join the long line of unrelated Django rip-offs," says Quentin Tarantino. Tonight and tomorrow, in conjunction with the theatrical release of Tarantino's unrelated rip-off, Pittsburgh Filmmakers screens seminal Italian spaghetti Western Django at Regent Square Theater. The 1966 film, now digitally restored, was one of the most violent films of its time and inspired the ear-cutting scene in Reservoir Dogs. It was directed by Sergio Corbucci, stars Franco Nero in the title role, and is subtitled. CS 8 p.m. Also 8 p.m. Thu., Dec. 27. 1035 Braddock Ave., Edgewood. $4-9. 412-682-4111 or pfm.pittsburgharts.org