Four years ago, when she switched from film to digital photography, Charlee Brodsky started photographing her dogs, and incorporating the images into short handmade books. The playful color images departed from the longtime Carnegie Mellon University art professor's signature documentary style: black-and-white renderings of things like decaying mill towns and people with mental illness. But eventually, Brodsky says, "What was really just play became stuff that I'm calling 'my work.'" Brodsky's forthcoming Artist of the Year show at Pittsburgh Center for the Arts fills three galleries with images juxtaposing her two West Highland White terriers — Max, 2, and Sam, 12 — with excerpts from classic literature. The book titled The Monster pulls lines from Mary Shelley's Frankenstein ("Hateful the day when I received life"); other series plumb Dostoyevsky's Notes From Underground and Beckett's Waiting for Godot. Yet the existential angst is rendered poignant, and humorous, by the pairing with charismatic little dogs. Other works quote naturalist John Muir, political philosophers and artists. "I still do swear that I'm a documentary photographer!" says Brodsky, though she adds about her artistic departure: "I'm really quite nervous about this." Also new at PCA is a show by Emerging Artist of the Year Vanessa German, known for her compelling contemporary interpretations of African tribal power-figure sculptures. Bill O'Driscoll Opening reception: 5:30-8:30 p.m. Fri., Aug. 10. Exhibitions continue through Oct. 28. 6300 Fifth Ave., Shadyside. $5. 412-361-0873 or pittsburgharts.org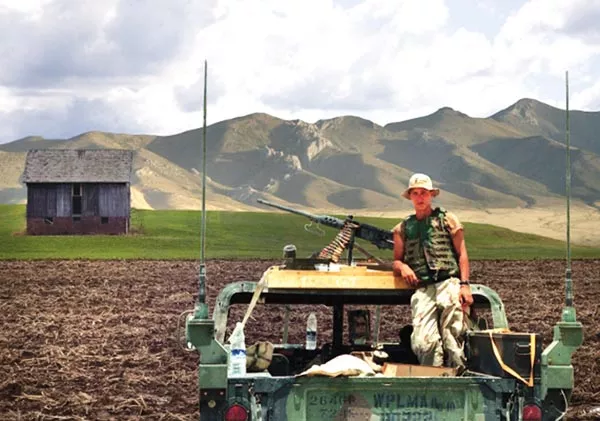 Photo courtesy of Ash Kyri
Fri., Aug. 10 — Art
America's recent military engagements have inspired countless works of art, but many relied on secondhand accounts from the battlefield. Fe Gallery, a volunteer-run nonprofit, bucks this trend by featuring artwork that 16 former members of various armies — both foreign and American — created themselves. Starting Aug. 10, the Lawrenceville gallery showcases Veteran Expression, paintings, sculptures, drawings and poetry influenced by conflicts ranging from Vietnam to Desert Storm. Curator Jared Boyer, an Fe board member and Iraq War veteran, says he created the show hoping to stimulate veterans' critical-thinking abilities. "It's a different way to be proactive with your experience," he says. "It keeps you moving forward." The exhibition is free and open to the public; a portion of the proceeds from art sales and donations will benefit the Veterans Leadership Program, an organization that provides housing, employment and other support services for former members of the military. Andy Tybout Opening reception: 7-10 p.m. Fri., Aug. 10. Exhibit continues through Sept. 1. 4102 Butler St., Lawrenceville. Free. 412-254-4038 or www.fegallery.org 
Fri., Aug. 10 — Stage
Future Tenant's twice-yearly Trespass Performance Residency — which gives three artists or groups a week each in the gallery planning a new show — kicks off tonight. In Larie Shapiro and Hannah Thompson's Fools of Transport, visitors are led through poorly lit tunnels before encountering a "live oracle"; the residency concludes tomorrow with a DJ dance party, featuring costumed performers from the show. (Costumed attendees are also encouraged.) Trespass continues Aug. 17 and 18 with a performance by Eclectic Laboratory Orchestra and Shana Simmons, and Aug. 24 and 25 with work by Laura Zorch and Lura Odegaard. Andy Tybout 7 p.m. (donations accepted). Dance party: 7 p.m. Sat., Aug. 11 ($5 donation suggested). 819 Penn Ave., Downtown. 412-325-7037 or www.futuretenant.org
Fri., Aug. 10 — Art
America in the 1930s and '40s was a dynamic, rapidly developing and often troubled place, and contemporaneous artwork depicted it accordingly. Tonight, the Westmoreland Museum of American Art opens Modern Dialect: American Paintings from the John and Susan Horseman Collection, encompassing everything from pastoral landscapes and industrial scenes to abstract compositions. Well-known artists like Charles Burchfield, George Ault, Charles Sheeler and Clarence Carter are on display. Tonight's free opening party coincides with the museum's montly Art on Tap happy hour. AT 6-8 p.m. Exhibit continues through Nov. 4. 221 N. Main St., Greensburg. Free; reservations appreciated at 724-837-1500, x129, or www.wmuseumaa.org. 
Fri., Aug. 10 — Showcase
The fifth in the seasonal Solstice series of music-and-arts showcases hits Shadow Lounge and Ava tonight. Entertainment outfit Touchfaster hosts a diverse musical line-up featuring Tracksploitation, The Grifters, White Like Fire, Steel Town Soul and more. Visual artists include Pierce Marratto, Morgan Mikula and Laura Gyre, with live painting and sculpture by James Gyre and Devin Dysart. The evening-length event also includes food, drink and musical chairs (with prizes). Proceeds benefit WYEP's Music Education Program. Bill O'Driscoll 8 p.m.-2 a.m. 5972 Baum Blvd., East Liberty. $10-15. www.touchfaster.com
Fri., Aug. 10 — Screen
Take ironical auteurs the Coen Brothers; Jeff Bridges in the iconic role that spawned a thousand memes; and a skewed, noirish plot revolving around a mistaken identity and an ill-fated rug that really tied that room together. Also a lot of bowling. Mix like you would a White Russian. It's The Big Lebowski, starring Bridges as Jeff "The Dude" Lebowski, with John Goodman, Steve Buscemi, Julianne Moore and Ben Gazzara. The 1998 cult favorite continues the Oaks Theater's Moonlit Matinee series tonight and tomorrow in the Oaks' grand, old-school single-screen theater. BO 10 p.m. Also 10 p.m. Sat., Aug. 11. 310 Allegheny River Blvd., Oakmont. $6-8. 412-828-6311 or www.oakstheater.com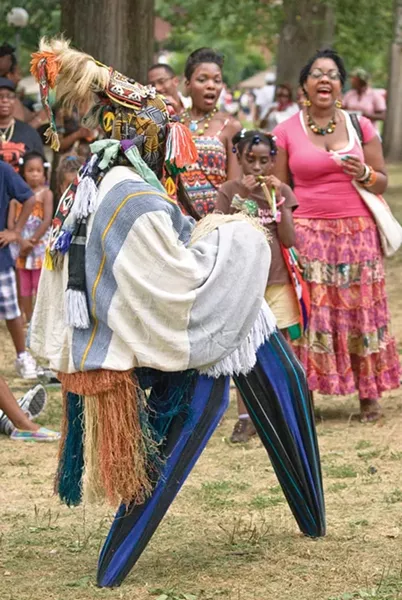 Sat., Aug. 11 — Festival
With this morning's opening Sankofa Village Drum Call, Umoja African Arts Company's eighth annual African Arts in the Park announces two full days of free fun in Point State Park. The main stage features African drumming, gospel music and top Pittsburgh jazz names like Roger Humphries and Dwayne Dolphin. Then there are the festival's signature "huts." At the Children's Hut, find a petting zoo, "bounce house," arts and crafts, and a stiltwalker. The Culture Hut has an African-drum workshop, storytelling and a cooking demo. The Empowerment Hut covers voter ID laws and more. BO 11 a.m.-7 p.m. Also 11 a.m.-7 p.m. Sun., Aug. 12. Downtown. Free. 412-290-0894 or www.africanartsinthepark.org
Sat., Aug. 11 — Art
For one night only, visitors to UnSmoke Artspace can partake in a tradition typically reserved for rural regions: carnivals. The group show celebrating this summertime ritual features DJ Shawn Watson and interactive booths and displays by artists including Mike Budai, Jen Cooney, Mary Tremonte and Heather White. "It's supposed to be pretty low-key, lowbrow," says Heather White, who organized Carnival, adding that she was inspired partly by a Fourth of July festival she attended in Warren, Pa. The art in the Braddock venue will remain available to view by appointment until the end of August. AT 7-10 p.m. 1137 Braddock Ave., Braddock. Free. 415-518-9921 or www.unsmokeartspace.com
World Jazz with Preach Freedom & Friends.
Sun., Aug. 12 — Music
The Reservoir of Jazz Concert Series is in full swing. Tonight, the joint venture of Citiparks and the Highland Park Community Council spotlights World Jazz with Preach Freedom & Friends. Preach is a singer, songwriter and percussionist, of One World Tribe and Rusted Root fame, who draws on African, diasporic and Native American traditions. The free jazz on the Highland Park lawn continues Aug. 19, with local sax icon Kenny Blake, and Aug. 26, with Dave Throckmorton featuring Tony Grey. BO 5 p.m. Highland Park. Free. 412-255-2493
Mon., Aug. 13 — Outdoors
You've seen those folks paddling their kayaks up and down the rivers. Ever wish you could join them but feel a bit nervous, or underprepared? Kayak Pittsburgh can help. Today's two-hour Beginner Paddle session starts with landside instruction, and then you'll put in on placid North Park Lake. (No current, no wakes, etc.) You'll find it easy and safe, and you'll be ready to take on the Allegheny in no time. BO 6-8 p.m. North Park. $27. 412-255-0564 or www.ventureoutdoors.org
Mon., Aug. 13 — Call for Artists
Forty days from now, selected metered parking spots across the city will temporarily become free, attention-grabbing public spaces. In preparation for the seventh annual PARK(ing) Day — a worldwide celebration of urban space started in 2005, in San Francisco — the Pittsburgh event's steering committee is calling on artists, activists and other residents to submit proposals for art installations, interactive demonstrations and other displays that can fit in a car-sized area. Don't worry if your suggestions seems far-fetched; last year's installations included a miniature campground and a replica of a psychiatrist's office. AT Registration form, event rules and more at ParkingDayPGH@gmail.com. www.facebook.com/ParkDayPGH