SPOTLIGHT: Sat., Aug. 10 — Stage
Rewatching Twin Peaks in recent years, Michael McGovern was reminded why the show was so refreshing when it premiered on network TV back in April 1990. "It pulls you in immediately. ... It was a perfect show," especially that first season, he says. "There was none of that formula feel." David Lynch and Mark Frost's series about a murder mystery in a small Northwestern town broke the mold with its oddball characters, unsettling scenes, surreal narrative and lush cinematography. On Aug. 10, the local playwright honors the critically acclaimed cult classic at his Beat Cabaret series. The Twin Peaks Show will be hosted by The Log Lady (Jennifer Schaup, pictured) and The Giant; ModernFormations Gallery will be remade as "a Twin Peaks playground." Included are readings from the diary of Laura Palmer by actress Joanna Lowe and a reprise of one inspiration for the night: chanteuse Dessa Poljak singing "Crying," from Mulholland Drive. (Poljak sings with Silencio, a local band inspired by music from Lynch films.) McGovern, Lowe and Richard Eckman recreate the audition scene from Mulholland Drive, and other performers (Lynch-themed or otherwise) include: poet Crystal Morgan; saxophonist Dale Mangold; and performance artist Smokifantastic. Meanwhile, Jocelyn Hillen performs as her character Candy Warhol — who, as McGovern notes, isn't a David Lynch character, but "could be." Bill O'Driscoll 8 p.m. Sat., Aug. 10. 4919 Penn Ave., Garfield. $10 ($5 if you come in costume). www.modernformations.com
Thu., Aug. 8 — Art
This month, national photography collective ADP moves into Unsmoke Systems Artspace for Making It Home. The exhibit showcases eight documentary artists exploring diverse concepts of "home." Julie Reneé Jones, for instance, frames scenes in the suburban Midwest. John Francis Peters contributes a photo of men riding horses toward mountains in Qinghai, China. Other contributors include Matt Austin, Josh Birnbaum, Talia Herman, Kelly Kristin Jones, Ed Panar and Ben Rasmussen. This year's workshop begins tonight and tomorrow, with artist presentations and discussions. The opening reception is Saturday. Olivia Lammel 7 p.m. Also 7 p.m. Fri., Aug. 9. Reception: 7-11 p.m. Sat., Aug. 10. 1137 Braddock Ave., Braddock. Free. 415-518-9921 or unsmokeartspace.com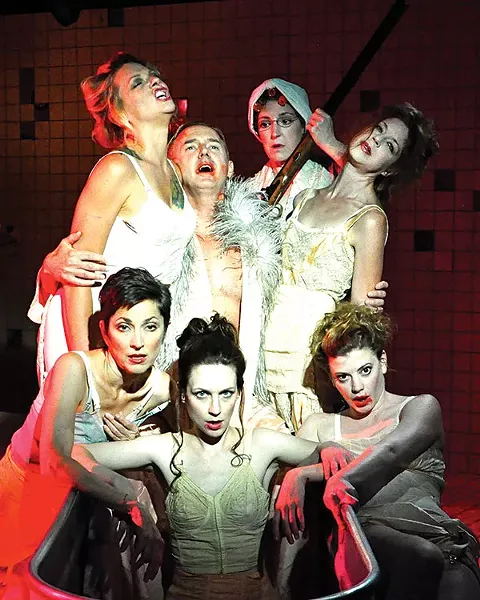 Thu., Aug. 8 — Stage 
It should be his dream: Don Juan returns from the Great War to a Berlin populated solely by women. But in Odon Von Horvath's famous 1936 play, Don Juan Comes Back From the War, the legendary lover isn't so lucky: Berlin's not the same, and neither is he. Pittsburgh Irish & Classical Theatre stages the U.S. premiere of award-winning British playwright Duncan Macmillan's new adaptation of this story of dislocation, isolation and lost love. Alan Stanford directs PICT favorite David Whalen in the title role; the seven-member cast also includes Nike Doukas and Karen Baum. The first performance in the intimate Henry Heymann Theatre is tonight. Bill O'Driscoll 8 p.m. Show continues through Aug. 31. 4301 Forbes Ave., Oakland. $25-48. 412-561-6000 or www.picttheatre.org
Thu., Aug. 8 — Stage 
Organic Theater Pittsburgh brings you Scarcity. Lucy Thurber's 2007 drama tells of an affluent, educated young woman who suddenly takes a keen interest in the potential of a teenage boy from a poor rural family. The premiere production's admirers praised the play's insight into domestic dynamics. Justin Zeno directs a cast including Matt Bonacci, Jaime Slavinsky and Michael Young. The show opens tonight at Pitt's Studio Theatre; bring a pair of shoes to donate to sustainable-water nonprofit Water Step and save $5 on your ticket. BO 8 p.m. Show continues through Aug. 18. Cathedral of Learning, Forbes Avenue at Bigelow, Oakland. $15-20. www.organictheaterpgh.org
 Thu., Aug. 8 — Art
It appears the public isn't ready for the credits to roll on Craft Hard at Wildcard. To celebrate the extended run of this group show of crafts inspired by action movies, tonight there's a free 7 p.m. screening of 1987 cult classic The Miami Connection. On Saturday, Wildcard welcomes Thrifted, a new show proving that one man's trash is another man's artwork. The Lawrenceville gallery will be decorated with vintage art, curated from thrift stores, flea markets and yard sales. All pieces will be for sale and all proceeds benefit the nonprofit group MGR-Youth Empowerment. OL Thrifted continues through Sept. 6. 4209 Butler St., Lawrenceville. 412-224-2651 or www.wildcardpgh.com  
Fri., Aug. 9 — Festival
BikeFest cycles 'round again. As usual, BikePGH's 17-day celebration of all things bike kicks off with a big fundraiser and party, tonight at the Pittsburgh Opera headquarters. Then follows dozens of themed rides, races, classes and more, all around the region. Highlights include the Aug. 10 Church Ride, in Homestead and McKeesport; the Aug. 11 Pinball Ride, to the PAPA championships; the Aug. 12 Exploring Urban Appalachia Ride; and rides about moonlight, public art, the Trees of Pittsburgh, the Lost Streams of Four Mile Run and more. Most events are free. BO Party: 8 p.m. (2425 Liberty Ave., Strip District; $50-125). Fest continues through Aug. 25. www.bikepgh.org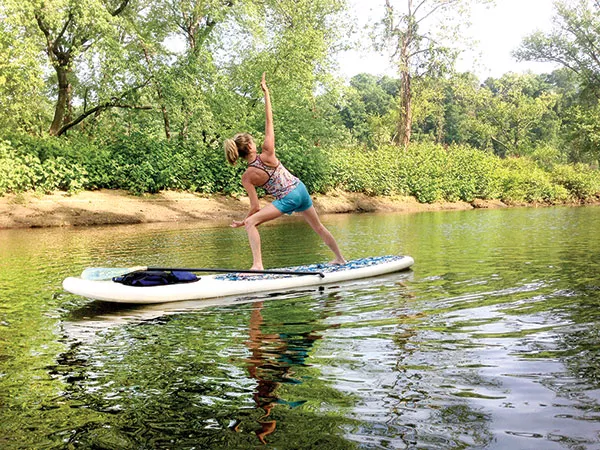 Photo courtesy of Ian Smith, SurfSUP Adventures.
Sat., Aug. 10 — Outdoors
Sorry — stand-up paddleboarding is so trendy right now that all three of today's Venture Outdoors/SurfSUP programs are sold out. But other opportunities to explore this adventure sport are upcoming. The night of Aug. 16, for instance, SurfSUP offers a stand-up paddleboarding yoga workshop for all skill levels. For those with more traditional cravings, SurfSUP also offers eco-tours and private instruction for whitewater SUP and creek-surfing. OL Paddleboard yoga class: 5:15 p.m. Aug. 16. Deer Creek Boat Launch, 2526 Wenzel Drive, Oakmont. $50. 724-989-7259 or surfsupadventures.com   
Sat., Aug. 10 — Making
In August, the last thing some kids want to hear about is learning. But Hive Pittsburgh is about making learning fun. At today's Hive Pittsburgh Maker Party, you're invited to "hang out, mess around and geek out" at Bakery Square's TechShop. You'll find learning stations for DIY projects in design, music, videos and more, not to mention free food and live music. Sponsors of this Sprout Fund-backed teen learning network's summer's-end shindig include the Mozilla Maker Party — a global initiative that encourages people to become makers, rather than just consumers of the Web. BO 4-8 p.m. 192 Bakery Square Blvd., Larimer. RSVP at hivepgh.sproutfund.org
Photo courtesy of Joe Madziarczyk.
Sun., Aug. 11 — Fireworks
Everybody likes to watch stuff blow up. So the pyrotechnists at the 2013 PGI Pyrotechnic Convention open the show to the public on four nights starting tonight. Each of the public displays at Cooper's Lake Campgrounds includes three concerts, each starting at 4 p.m. The eclectic list of bands changes nightly and ranges from funk to folk. The music merely sets the stage, however, for each night's extensive fireworks show, starting at 8 p.m. OL 4 p.m. Also 4 p.m. daily, Tue., Aug. 13, Wed., Aug. 14, and Fri., Aug. 16. 205 Currie Road, Slippery Rock. $35-40 per carload. 724-234-4619 or www.visitbutlercounty.com
Mon., Aug. 12 – Talk
The 2030 District is among Pittsburgh's more ambitious enviro-initiatives: Business-district building-owners commit to reduce their usage of energy, water and transportation by half by 2030. Pittsburgh is one of just four cities with a 2030 District, and so far ours includes 100 Downtown buildings. Now, Pittsburgh's Green Building Alliance hosts the inaugural 2030 Districts Summit. Tonight's keynote address, at Point Park University, is open to the public, and it's headlined by none other than Santa Fe, N.M.-based architect and 2030 Challenge founder Ed Mazria. BO 5:30-8 p.m. Lawrence Hall, 212 Wood St., Downtown. Free. Register at www.gbapgh.org.
Tue., Aug. 13 — Words
Operation Better Block, Inc. headquarters, in Homewood, has four edible walls. These walls are the product of the group's urban-gardening initiative, which involves kids in the community in the planting and harvesting process. The walls, which are portable, are divided into planting cells. Each wall sprouts a different vegetable: The current gravity-defying crops include lettuce, Swiss chard, parsley and collard greens. Tonight, senior community organizer Jose Diaz will speak about edible walls as part of the Carnegie Library of Pittsburgh's Gardening Thyme program. OL 6:30 p.m. Quiet Reading Room, Carnegie Library Main Branch, 4400 Forbes Ave., Oakland. Free. 412-622-3114 or www.carnegielibrary.org 
Thu., Aug. 15 — Words
In 1997, working as Human Equity through Art, poet Leslie Anne McIlroy and writer Don Morrow launched HEArt, a Pittsburgh-based print quarterly devoted to wielding art for social justice. Though it published work by nationally known contributors, HEArt stopped publishing in 2002. Now it's back, in expanded digital format. HEArt Online —  "the nation's only journal of literature and art devoted to fighting discrimination and promoting social justice" — goes live today with work by Pittsburgh's own National Book Award-winning poet, Terrance Hayes, and poems, stories, essays, interviews, photos, visual art and music by the acclaimed likes of Tim Seibles, Jericho Brown, Sonia Sanchez, Denise Duhamel and more. A live, in-person HEArt reading series is set to begin in October, at the New Hazlett Theater. BO www.heartjournalonline.com