SPOTLIGHT: Wed., Aug. 27 — Words
The Moth is a Peabody-award winning radio program celebrating the art of storytelling. Its radically honest format has attracted raconteurs ranging from Molly Ringwald to Run-DMC's Darryl McDaniels. Tonight, the group's touring arm makes its annual stop in Pittsburgh to explore the theme of bravery in a show it's calling Don't Look Back. "We're interested in provocative but broad themes," says senior producer Maggie Chino. "We want to tell great stories, but we also want to approach the theme from as many angles as possible." The speakers providing tonight's angles at the Byham Theater include three-time Moth GrandSLAM champion Cole Kadzin, Detroit standup comedian Horace Sanders, and Richard Price (pictured), author of novels including Clockers as well as the screenplays for Martin Scorsese's The Color of Money and episodes of The Wire. "Everything he does is quintessential Price. He has such a unique and powerful voice," says Chino, "but not a lot of people realize he's a great performer too, which is pretty unusual for a writer." And given that Price's contributions to The Moth have included stories about wrestling-obsessed grandmothers and the importance of bicycle safety, his distinct voice is not at all predictable. You can also listen to The Moth Radio Hour every Sunday at 6 p.m. on 90.5 WESA. Dan Willis 7:30 p.m. 101 Sixth St., Downtown. $20-35. 412-622-8866 or www.pittsburghlectures.org
Photo courtesy of John Cheng/USA Gymnastics
Thu., Aug. 21 — Sports
For the first time since 2001, Pennsylvania hosts the national championships for USA Gymnastics. More than 100 of the nation's top competitors will bound into CONSOL Energy Center, including defending U.S. all-around champ and 2012 Olympian Sam Mikulak and 2013 all-round and floor-exercise world champion Simone Biles (pictured). The P&G Championships run today through Saturday, with two sessions daily. Things kick off this afternoon, with the women's juniors competition. Bill O'Driscoll 1 and 7:30 p.m. Also Fri., Aug. 22, and Sat., Aug 23. Single-session tickets start at $20. www.pgchamps.com
Thu., Aug. 21 — Stage
Always-experimental Bricolage Productions keeps finding new ways to involve the community onstage. Its In the Raw (R)Evolution began July 21, when writers, performers, directors and even the audience collaborated to conceive of two plays inspired by Pittsburgh itself. Writers then drafted ensemble members from a talent pool and began an intensive, four-week creation process. The working themes for the two still-untitled plays are "home" and "change"; the playwrights are Connor Pickett and Maureen McGranahan. One play gets the first of its four performances starting tonight, the other tomorrow. BO 8 p.m. Also 8 p.m. Fri., Aug. 22. Performances continue through Aug. 30. 937 Liberty Ave., Downtown. $25 ($40 for both shows). www.bricolagepgh.org
Photo courtesy of Patti Brahim
Thu., Aug. 21 — Stage
After last year's warmly received production of In the Heights, Front Porch Theatricals is mounting the Tony Award-winning 1998 musical Parade, which opens tonight at the New Hazlett Theater. Dramatizing the 1913 murder trial of Jewish factory superintendent Leo Frank, Jason Robert Brown and Alfred Uhry's controversial work examines anti-Semitism in the American South and the role of the media in justice. Jesse Manocherian stars as Leo, and local favorite Daina Michelle Griffith plays his wife, Lucille. Dan Willis 8 p.m. Continues through Aug. 31. 6 Allegheny Square East, North Side. $40. 412-320-4610 or www.frontporchpgh.com
Sat., Aug. 23 — Books
Few Pittsburgh artists or authors have made a bigger splash lately than Ed Piskor. The first volume of his graphic history Hip Hop Family Tree (now in its third printing) was lauded by everyone from Fab Five Freddy to The Washington Post. The 2013 book was both thoroughly researched and outrageously entertaining, all in life-long hip-hop fan Piskor's trademark gritty throwback style. Be in the house for tonight's Copacetic Comics release party for Book 2, which covers 1981-83 and limns such seminal figures as Afrika Bambaataa, Run-DMC and NWA. BO 7-10 p.m. 3138 Dobson St., Polish Hill. Free. 412-251-5451 or www.copaceticcomics.com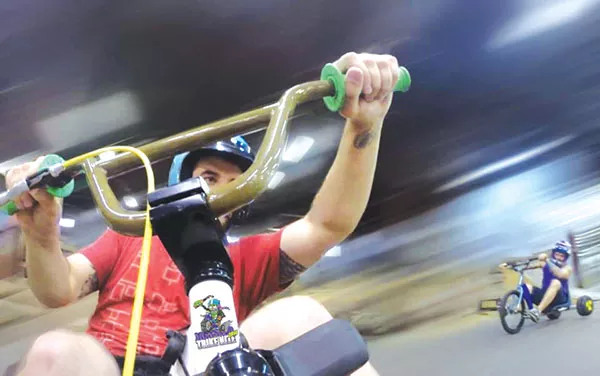 Sat., Aug. 23 — Sport
With a joyously crass hair-metal attitude, a cash bar and a fleet of "Adult Big Wheels," Monster Trike Night might be the most absurd thing on three wheels. Attendees are given tricycles to race in various time trials and head-to-heads until a winner is crowned. Discounts are provided for racers who arrive in costume, or who register their punny racer name online beforehand. (Just bear in mind, Wheel Ferrel and Alex Tri-Beck are taken.) DW 9 p.m. The Wheel Mill, 6185 Hamilton Ave., Homewood. $6-12. 412-613-4707 or www.monstertrikenight.com
Sat., Aug. 23 — Comedy
It might be hard to define a hipster, but we bet John McIntire knows one when he sees one. Indeed, McIntire has some notable guests for his latest attempt to parse Pittsburgh's hipster inundation. Tonight's John McIntire Dangerously Live Comedy/Talk Show is titled "Hipsterization Too, The 2nd One!" and features Pittsburgh Post-Gazette columnist Tony Norman, mayoral chief of staff Kevin Acklin and local activist Ellie Gordon (known for her ride-sharing advocacy). Special guests Zack and H of local garage-rock revivalists The Nox Boys add their own brand of hip. BO 10:30 p.m. 655 Penn Ave., Downtown. $10 (free with same-night Cultural Trust ticket stub). www.trustarts.org
Photo courtesy of Annie O'Neill.
Art by Alexandre Arrechea.
Mon., Aug. 25 — Talk
Alexandre Arrechea, the Cuban-born sculptor, gives a free talk at the Trust Arts Education Center, where a documentary on his creative process will also be screened. Arrechea's 2013 NOLIMITS series blended mundane utility with grandiose architecture by warping and re-contextualizing scale replicas of famous skyscrapers. Three of these sculptures, including his elongated and coiled interpretation of New York's MetLife building, currently reside Downtown. Tomorrow, at noon, the artist also hosts a free walking tour of his works, starting from 10th and Penn. DW 6 p.m. 805 Liberty Ave., Downtown. Free. 412-391-2060 or www.pittsburghpublicart.com
Mon., Aug. 25 — Comedy
Sex is funny. Everyone knows that. But how many people can mime it? The New Movement comedy troupe's touring National Air Sex Championship is seeking local comedy talent to compete tonight at the Rex Theater, in its first visit to Pittsburgh, part of a 13-city tour. Local comedians, sex-shop owners and adult-film stars in each city (says the press release) do the judging as contestants "simulate a coital experience" with an imaginary stage partner. Winners advance to December's finals, in Austin, Texas. Aspiring contestants should contact christrew@gmail.com. You can also show up to just watch, because some people prefer that anyhow. BO 8 p.m. 1602 E. Carson St., South Side. $12. www.airsexworld.com
Tue., Aug. 26 — Words
Oprah Book Club honoree and Western Pennsylvania native Tawni O'Dell draws upon the backwoods coal-mining town where she grew up as inspiration for her tense literary thrillers. And tonight, she'll present her latest novel, One of Us (Gallery Books), with a free talk and signing at Mystery Lovers Bookshop. Set in the fictional mining town of Lost Creek, the book details a forensic psychologist's search for a serial killer whose crimes force the town to revisit its history of violence against rebellious miners. DW 7 p.m. 514 Allegheny River Blvd., Oakmont. Free. 888-800-6078 or www.mysterylovers.com
Wed., Aug. 27 — Music
Give him 45 minutes, and he'll make you see the accordion in a whole new way. That's Steve Pellegrino's goal at the final installment of the lunchtime Solar Concert Series. Sure, this veteran musician and performance artist will play "Lady of Spain" and a polka or two — but he'll also do "Satin Doll," boogie-woogie and some originals, all interlaced with stories about growing up in the Mon Valley, and about the lore and lure of "the world's finest instrument." The solar-powered sound system at Buhl Community Park comes courtesy of SLB Radio Productions and the nearby Children's Museum and New Hazlett Theater. BO 12:15-1 p.m. Allegheny Square, North Side. Free. www.slbradio.org
Wed., Aug. 27 — Talk
With farm-market stalls overflowing with fresh produce for the next few months, it's a great time of year to go vegan. If you're intrigued by the health, ethical or environmental possibilities of eating only plant products, but have questions, Rebecca Gilbert has answers. The local author and founder of vegan-lifestyle website Yummy Plants presents It's Easy to Start Eating Vegan! The free talk covers everything from easy egg and dairy substitutions to turning traditional recipes vegan. Tonight's Carnegie Library-Homewood event is sponsored by Vegan Pittsburgh and the East End Food Co-op. BO 6:30 p.m. 7101 Hamilton Ave., Homewood. Free. Register at 412-242-3598.