SPOTLIGHT: Fri., Aug. 19 – Art
When Pittsburgh Center for the Arts named Richard Pell its 2016 Artist of the Year, it could hardly have expected Pell's AOY exhibit to involve traditional art objects. After all, the Carnegie Mellon University art professor and a Smithsonian Artist Research Fellow founded the Center for PostNatural History, a unique storefront museum in Garfield dedicated to living organisms bred or engineered by humans. His The Myth of the Great Outright Extraordinary! is similarly novel.
The installation, opening Aug. 19, is anchored by an "old-style cabinet of curiosities," showcasing Pell's personal collection — items like the Lord's Prayer written in a space the size of a dime by Martha Honeywell, an American artist who, born without hands in 1787, worked with three toes and her mouth. Other items include a titanium shard from an early-1960s experimental aircraft that flew out of New Mexico's fabled Area 51, and is tied to UFO lore. The Myth … also includes audio from Pell's old record label, Specific Recordings, and his trove of large-scale 3D photographs of skull specimens. Each display includes a handset playing an interpretative message.
Pell was inspired by studying early museums — pioneering venues like Pittsburgh-born James Lambdin's Pittsburgh Museum of Natural History and Gallery of Fine Art, which showcased paintings alongside fossils, taxidermy and human oddities starting in 1829. Much of The Myth … involves the framing and interpretation of Pell's objects. "Almost everything in the show has two different meanings — maybe more than two," says Pell. "What art has always been to me is storytelling. … These are all just different ways of telling stories"
Also opening Aug. 19 at PCA are a show by 2016 Emerging Artist of the Year Sarika Goulatia; Surface / material, a group exhibition in partnership with the upcoming Re:NEW Festival; and an exhibit of glass sculptures by Barrie Kaufman. Bill O'Driscoll Opening reception: 5:30-9 p.m. Fri., Aug. 19 ($10). Exhibits continue through Oct. 30. 6300 Fifth Ave., Shadyside. 412-361-0873 or www.pfpca.org
Photo courtesy of Juan Carlos Silva. Model: Amber Tamar. Designer: James Houk.
Thu., Aug. 18 – Fashion
Style Week Pittsburgh returns for its fourth year of showcasing the latest trends and the creatives who bring fashion to life. The women's-rights movement receives the spotlight in opening show Freestyle, tonight at the Carnegie Museum of Art, highlighting fashion from the 1920s to the '60s. A dance party hosted by the museum and techno club Hot Mass follow. The Style Awards (at Downtown's Culture restaurant); local makers and bands at East Liberty's Ace Hotel; and a brunch discussion of the impact of the arts, at Revel + Roost, round out the four-day program's festivities. Tyler Dague 7 p.m. Continues through Sun., Aug. 21. 4400 Forbes Ave., Oakland. $15-60. 412-294-9892 or www.styleweekpittsburgh.com
Thu., Aug. 18 – Stage
Joe Orton's satiric dark comedy Loot almost didn't make it, famously surviving a disastrous first run, in 1965, before rewrites turned it into a contemporary classic. The fiery young British playwright's story about buddies Hal and Dennis, who hide the spoils of a bank robbery in the coffin of Hal's newly deceased mother, takes on religion, the police and more with crackling wit. A new Little Lake Theatre production, directed by Art DeConciliis, gets its first performance tonight. BO 8 p.m. Continues through Sept. 3. 500 Lakeside Dr., Canonsburg. $12-20. 724-745-6300 or www.littlelake.org
Photo courtesy of Bike Pittsburgh
Fri., Aug. 19 – Cycling
Like a downhill racer, cycling keeps picking up speed in Pittsburgh. Prime time to celebrate is advocacy group Bike Pittsburgh's annual Bike Fest, some 60 themed rides and bike-related events spread over 10 days. Highlights include: Aug. 20's 72-mile Every Pittsburgh Neighborhood Ride (covering all 90 communities); a historical tour of the Allegheny Cemetery graves of Pittsburgh mayors (Aug. 21); a trails tour of Settlers Cabin Park (Aug. 23); a 30-minute Lunch Loop ride Downtown (Aug. 23); and — of course! — a midnight Pokémon Go! Ride (Aug. 24). While the fest culminates Aug. 28 with Pedal Pittsburgh, it all starts with tonight's big fundraiser at East Liberty's Ace Hotel, featuring food and drink, top local DJs and even bike-powered lighting (as provided by volunteer pedalers). BO Festival continues through Aug. 28. Various venues. Most events free; Aug. 19 party is $10-35. www.bikepgh.org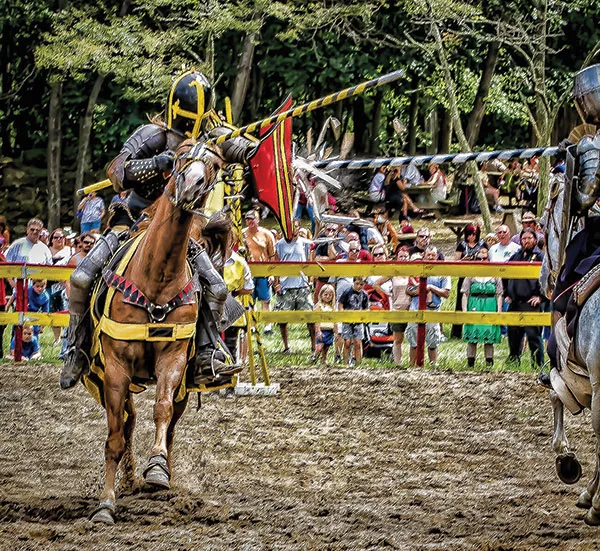 Sat., Aug. 20 – Festival
If Cinderella's castle didn't give you that medieval ambiance (or offer roasted turkey legs), Pittsburgh Renaissance Festival is back starting today. With hundreds of costumed performers and artisans dotting the village thoroughfares of rural West Newton, the festival is highlighted by fire-eating, sword-fighting, live music and three jousting competitions. Opening weekend also celebrates the king and queen's arrival to the castle in song and dance. In addition, comedy duo the Washing Well Wenches will ensure the funniest time you ever had watching someone do laundry. TD 10:30 a.m.-6:30 p.m. Continues weekends through Sept. 25. 112 Renaissance Lane, West Newton. $8-18.45 (free for children under 5). 724-872-1670 or pittsburghrenfest.com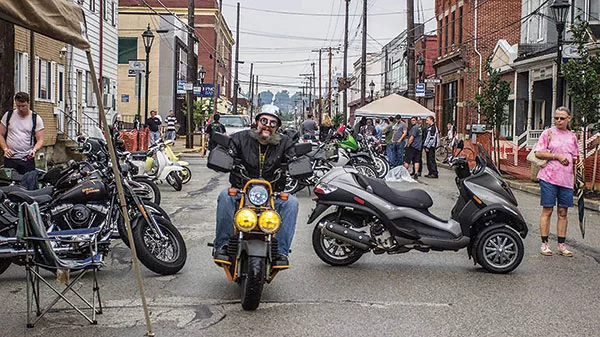 Photo courtesy of Nanci Goldberg
Sat., Aug. 20 – Festival
If you were a young buck in early '60s England, you probably fell into one of two camps: leather-jacket-wearing, pompadour-styling, motorcycle-riding rockers or sharp-suited, R&B-listening, scooter-riding mods. Legendary brawls occurred between the two cultures, feeding a media frenzy and shocking the public. To celebrate the era, Steel City Mods vs. Rockers returns today with its annual vintage-scooter and -motorcycle show, the bands Vertigo Go and The Nox Boys, and a pin-up contest, all taking over Grant Avenue in Millvale. Visitors are encouraged to break out vintage clothing. Which side are you on? TD Noon-5 p.m. Grant Avenue, Millvale. $5 ($10 with a bike or scooter). www.steelcitymodsvsrockers.com


Sat., Aug. 20 – Art
"Upcycling" is a term flea-market fans and antique-store bargain-hunters love to throw around. Can parts of this old bike add character to a wall? Can fabric from this ripped armchair be salvaged? At Sweetwater Center for the Arts, tonight's artist reception kicks off ReMIX: The Art of Reuse. In a step beyond DIY décor, artists from across the country present works created from all sorts of discarded materials repurposed in unexpected ways. The exhibit is part of Pittsburgh's multi-organization festival, Re:NEW, which focuses on sustainability and creative reuse. TD Reception: 7-9 p.m. (free). Exhibit continues through Sept. 16. 200 Broad St., Sewickley. 412-741-4405 or www.sweetwaterartcenter.org


Sat., Aug. 20 – Puppets
From King Friday to those giant Cheryl Capezutti puppets in every civic parade, Pittsburgh loves puppets. And thanks to the brand-new Puppetry Guild of Pittsburgh, we can show how much at tonight's Pierogi Power Puppet Slam, at the Union Project. The noncompetitive slam features acts of 10 minutes or less by each of 12 local troupes. Expect comedy, singing, dancing and audience participation. The performers range from pros to hobbyists, wielding everything from hand puppets and marionettes to ventriloquist dummies and animatronics. Names include Capezutti and Kelle Van Aken's Fuzzy Boundary Productions; Pittsburgh Puppetworks' Gwen Bowman (pictured); and Bonnie Bogovich, of Bwak Choir and Super Smash Opera. Tom Sarver and Scott KuechenmeisterHall host. Your ticket includes pierogis and beer. Bonus: Arrive at 6:30 p.m. and you can greet the crowd as a giant puppet yourself. BO 7-10 p.m. 801 N. Negley Ave., Highland Park. $5-10. 412-363-4550
Sat., Aug. 20 – Art

In the heyday of print journalism, but before photographs were easily reproduced, institutions like the Draw Me! School thrived. These cartooning correspondence schools advertised everywhere ("Draw Winky!") and lured famous instructors (Al Capp, Rube Goldberg), soon-to-be-famous students (Charles Schultz) — and thousands who never got anywhere. Tonight, the ToonSeum opens what might the be first show ever of its kind: Draw Me!, exploring a century of the art of cartooning schools and how-to-draw culture in America. Curated by the ToonSeum's John Kelly, it includes art from the schools, rare how-to-draw books ("instructions for putting life and pep into your drawing") and more. The opening reception is Aug. 26. BO Exhibit continues through Oct. 23. 945 Liberty Ave., Downtown. $4-8 (free for kids under 5). 412-232-0199 or www.toonseum.org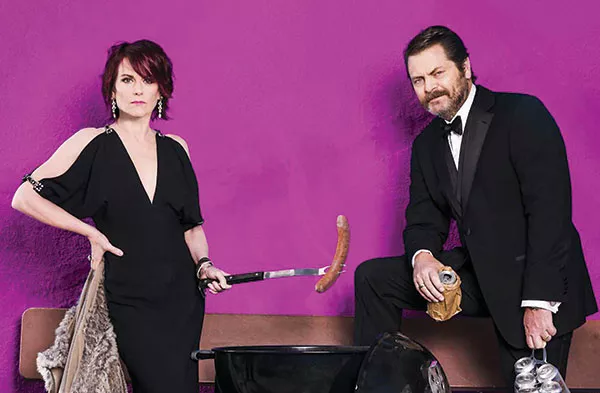 Sun., Aug. 21 – Comedy
When an event description includes "funny talking, heavy ribaldry, light petting and an astonishing final act," you know this variety show isn't quite like any other. It's probably because Nick Offerman and Megan Mullally are starring. The award-winning mainstays of TV's Parks and Recreation and Will and Grace, respectively, arrive at the Benedum Center tonight on their comedy tour Summer of 69: No Apostrophe. Expect humorous anecdotes, songs and surprising details from their showbiz marriage of 13 years and counting. TD 8 p.m. 237 Seventh St., Downtown. $40-60. 412-456-6666 or
www.trustarts.org
Tue., Aug. 23 - Words
Contrary to many a Hollywood film ending, sometimes couples simply don't work out. However, that doesn't mean the premise can't be mined for humor. Suzanne Heagy's first novel, Love Lets Us Down (All Nations Press), gives a multi-layered look at doomed romance through the guests and staff at an aging Indianapolis hotel — and a pair of newlywed ghosts. The West Virginia-based author visits City Books this evening for a reading and signing. TD 7 p.m. 908 Galveston Ave., North Side. Free. 412-321-7323 or www.citybookspgh.com